There are three Christmas movies that I need to watch at least once per year during Christmastime: Home Alone, Die Hard (yes, it's a Christmas movie), and National Lampoon's Christmas Vacation. Released in December of 1989, this American comedy film has become a cult classic. With an unforgettable cast and hilarious lines we've been quoting every Christmas since George H. W. Bush was President, this timeless movie has also given us hundreds of officially licensed Christmas Vacation collectibles over the years.
Whether you're a collector of some sort or just looking for something funny to deck the halls with this year, this list of the best Christmas Vacation collectibles is a great place to start. So grab a glass of egg nog and enjoy!
Funko Pop! Movies Christmas Vacation Vinyl Figures

Since their introduction in 2010, no list of pop culture collectibles would be complete without the inclusion of Funko Pop vinyl figures. If you didn't know, Funko has secured licenses for more than 1000 brands, television shows, and movie properties – including National Lampoon's Christmas Vacation. Released individually and as an FYE exclusive 2 pack, the Everett, Washington-based toy company made Funko Pop vinyl figures of Clark Griswold and his crass Cousin Eddie. More recently in October 2020, they introduced a Funko Pop! Rides Clark Griswold with Station Wagon available exclusively from Walmart. These big-headed Christmas Vacation collectibles make a great gift for any fan of the classic movie. We've included links to buy them on eBay below.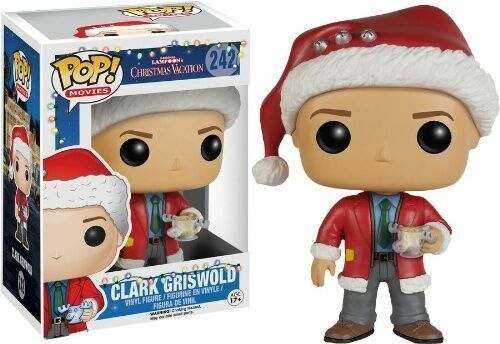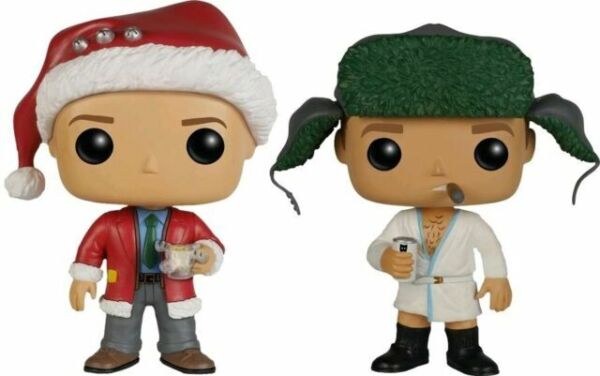 Funko Dorbz Christmas Vacation Vinyl Collectibles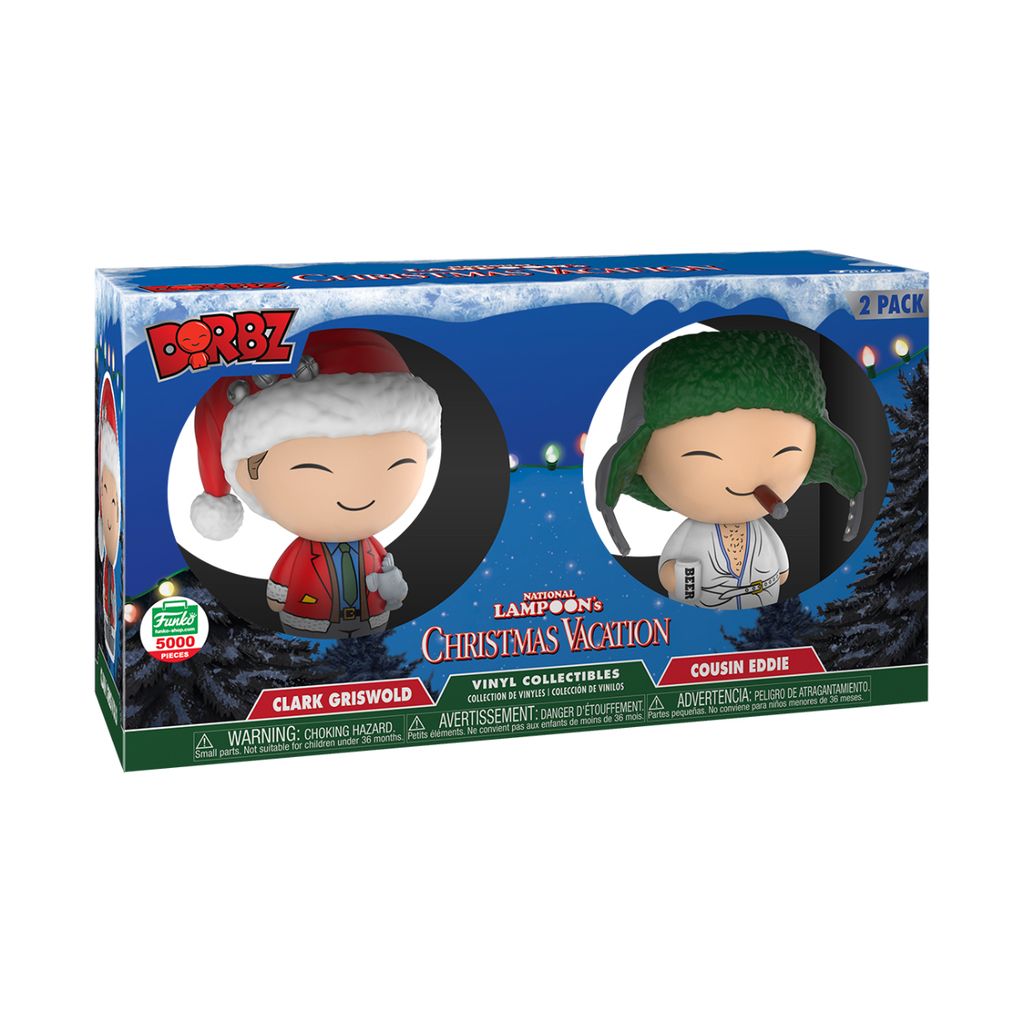 In addition to the previously mentioned Funko Pop vinyl figures, Funko also gifted us with this Dorbz 2 Pack of Clark Griswold and Cousin Eddie. Released in 2017 exclusively through the Funko Shop, and limited to 5000 pieces, you'll need to hunt for this one on eBay to find it these days. We've included a link below.

Hallmark Keepsake Ornaments
The only person who might love Christmas trees more than Clark Griswold is Kevin McCallister from Home Alone. And any list of Christmas Vacation collectibles would be incomplete with the quintessential Christmas decoration that is Hallmark Keepsake Ornaments. Since their introduction in 1973, Hallmark has released nearly 10,000 of these ornaments that adorn families' Christmas trees every year. So it probably comes as no surprise to not only find these on our list, but learn that the Christmas Vacation-inspired ones are among the most valuable Hallmark Keepsake ornaments ever made. The ornament of Cousin Eddie's RV released in 2009 (pictured below) sells for as much as $600 on eBay these days, even after it was rereleased!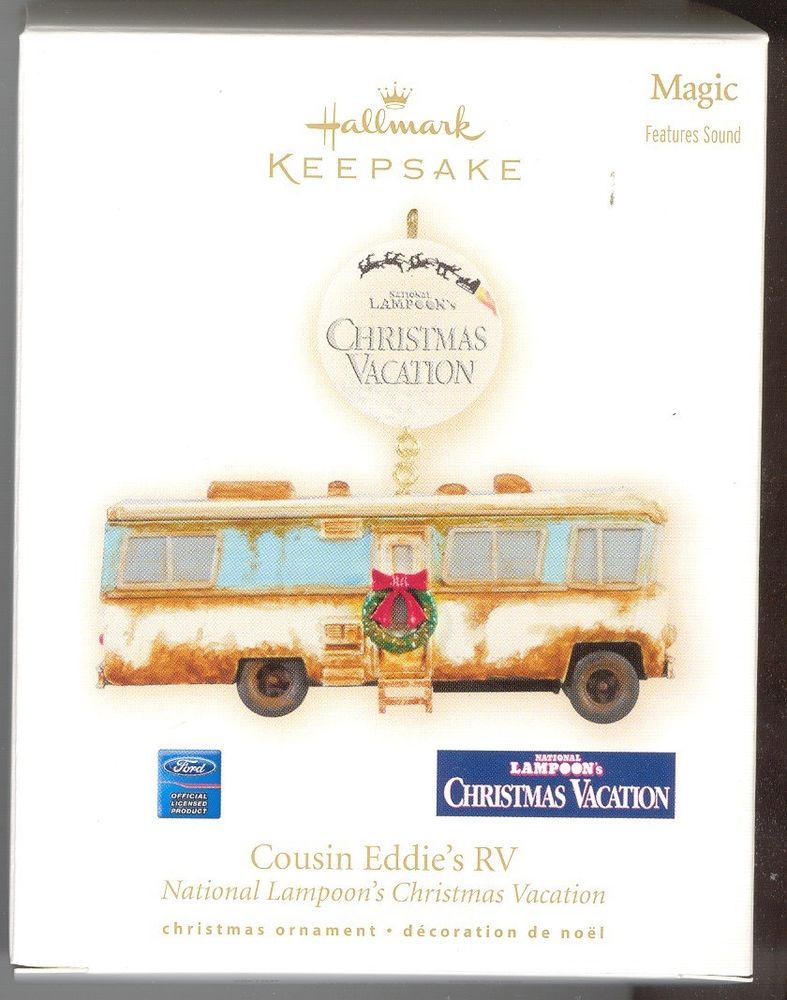 Department 56 Original Snow Village Houses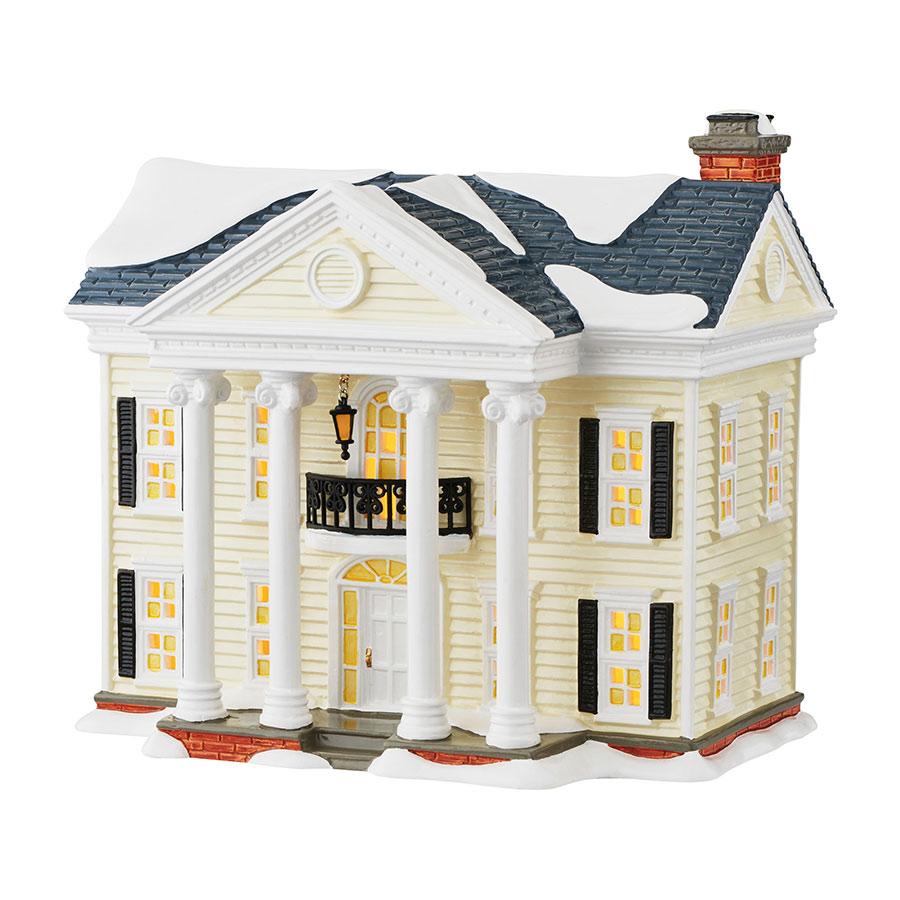 Not unlike Hallmark Keepsake Ornaments, Department 56 collectibles are made for Christmas. And two of the rarest and most expensive Department 56 collectibles are both houses from National Lampoon's Christmas Vacation. The Department 56 Original Snow Village "Boss Shirley's House" was released in 2015 and now sells for more than $1K on eBay.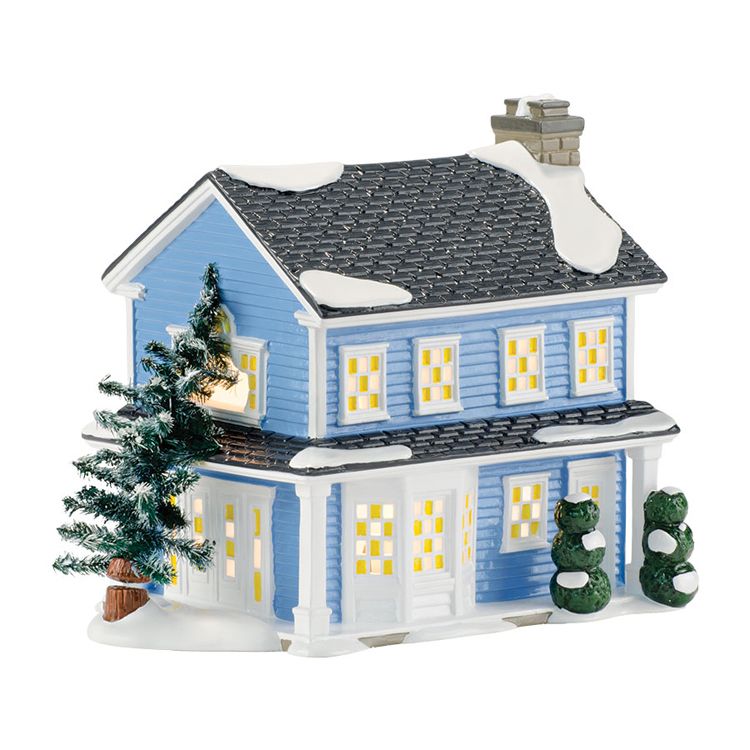 Not to be outdone, "Todd & Margo's House" from 2014 is now valued at more than double that with some examples selling for as much as $2,500!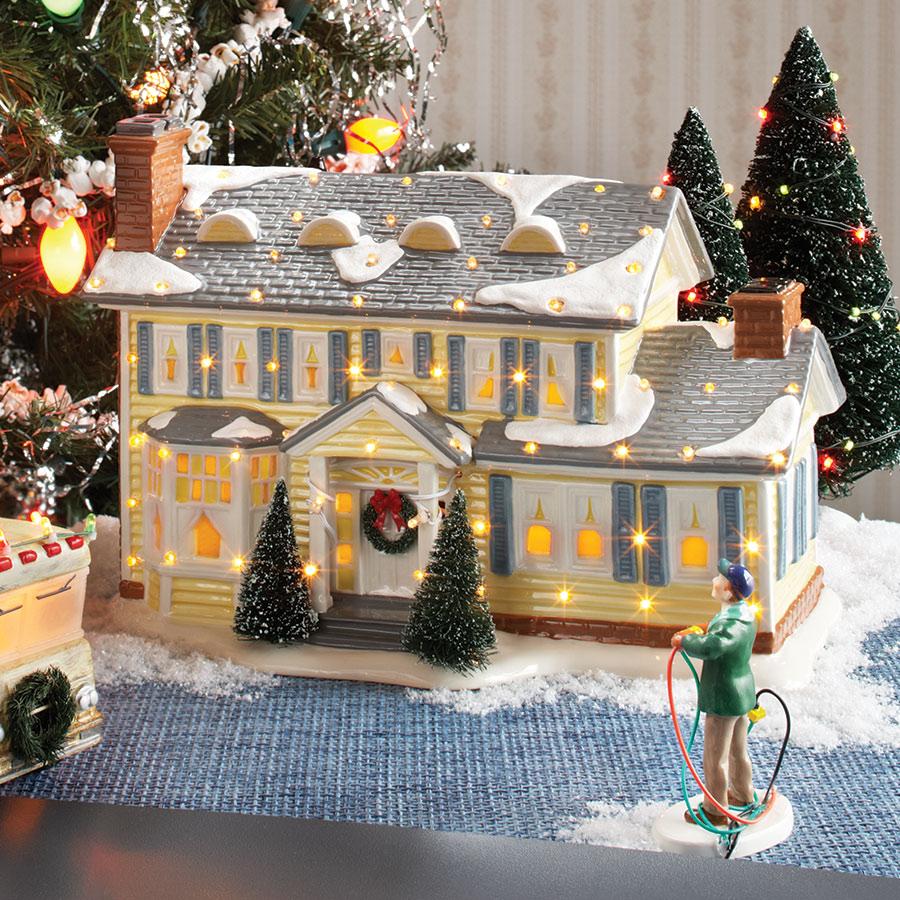 Of course, Department 56 also made the most important house of them all – The Griswolds. Complete with 25,000 imported Italian twinkle lights (not really), it may be the most accurate miniature replica ever made of the famous house. Fortunately, this one is still in stock on the Department 56 website for $175. If that seems pricey, just remember what these things sell for after they're retired.
HOMAGE Christmas Vacation T-Shirts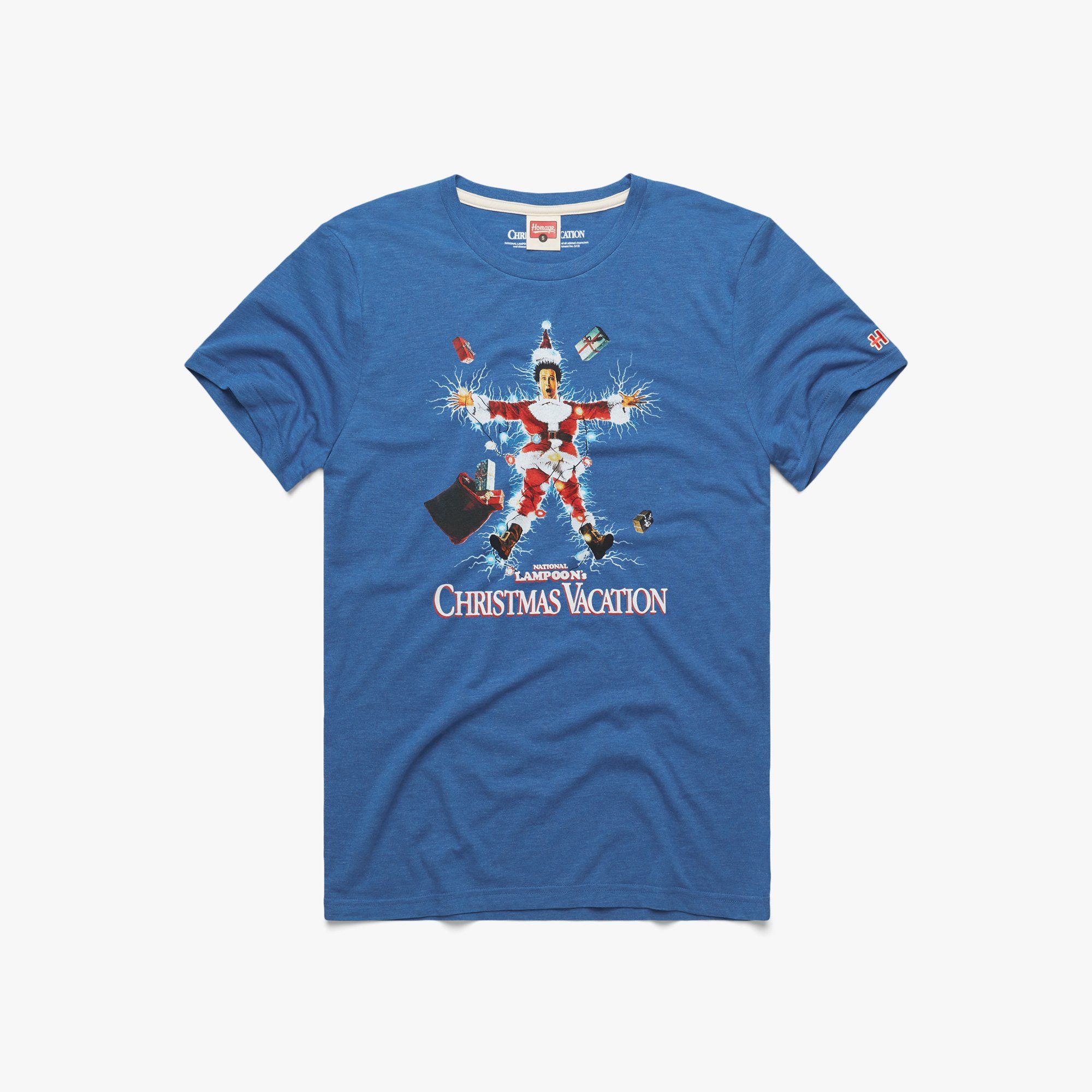 Ohio-based HOMAGE is best known for their retro style and super soft garments that "pay homage" to moments and personalities in sports, music, and popular culture. Although the brand built its following primarily with Ohio sports fans, they have since expanded their assortment into pop culture subject matter in recent years. Fortunately for us, they decided to release three amazing Christmas Vacation t-shirts over the years. I think what makes these so perfect is their simplicity. As proof of how memorable Christmas Vacation is, only one of the three t-shirts specifically says "Christmas Vacation" while the others simply rely on two of its most iconic quotes.
Thomas Kinkade Studios National Lampoon's Christmas Vacation Limited Edition Canvas Artwork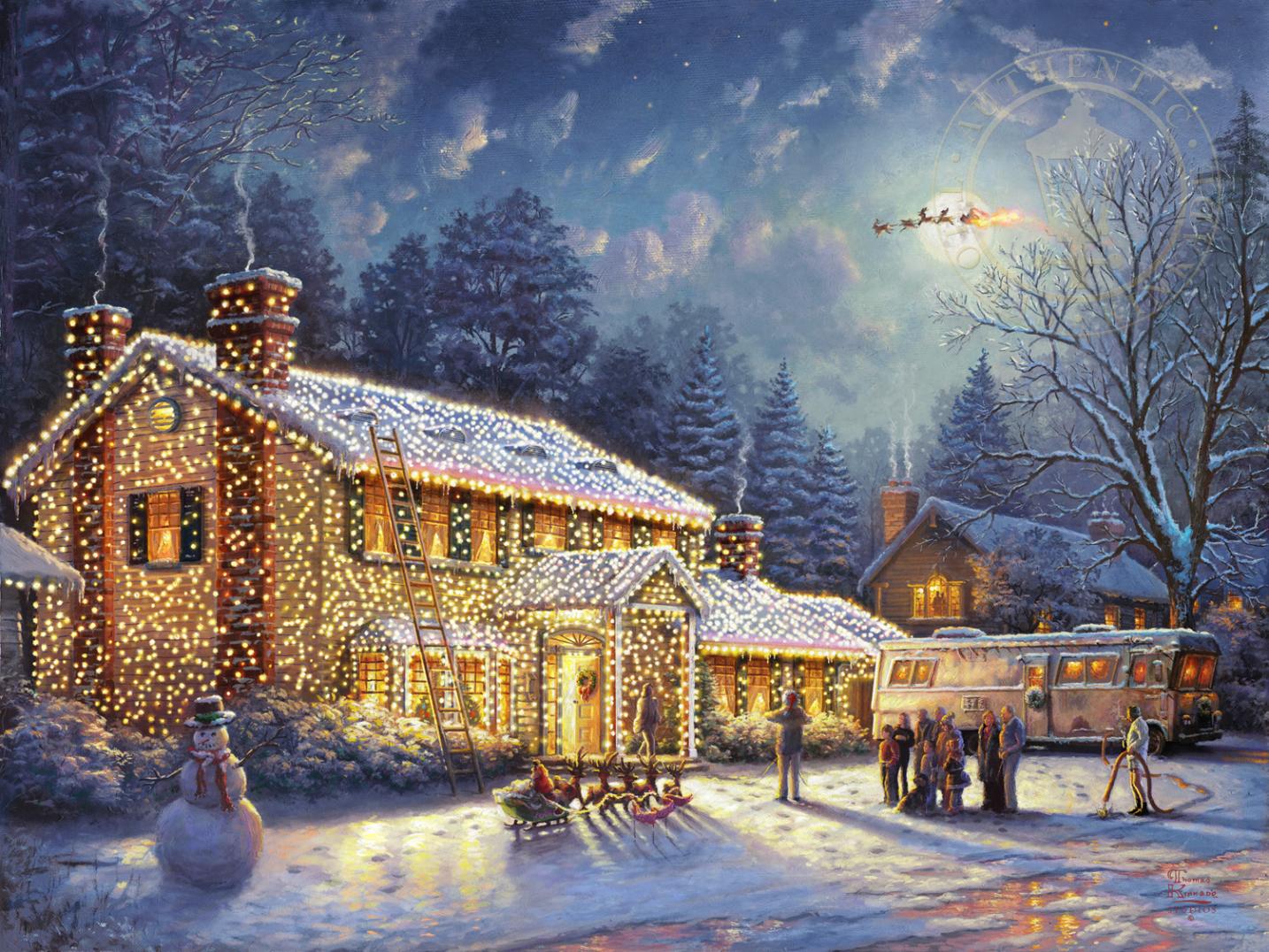 For the Christmas Vacation super fan is this this limited edition canvas by Thomas Kinkade Studios. I can't think of a better combination than Clark Griswold's masterful exterior illumination and painter Thomas Kinkade's uncanny ability to capture light in his paintings. This is is the ultimate of all Christmas Vacation collectibles and has the price to prove. Selling for as much as $2,850 for the largest size at 25.5" x 34", this is one of the most expensive Christmas Vacation collectibles we've ever seen. Fortunately, it is available in smaller sizes (at lower prices) for those of us who didn't get a Christmas bonus this year.