Although new in comparison to eBay, Japan-based online marketplace operator Mercari has actually been in business since 2013. If you reside outside of Asia, you might not have heard of the Mercari app until recently. Mercari expanded to the United States and United Kingdom in 2014 and 2016 respectively. Since then, this predominately mobile marketplace has grown rapidly and its apps have been downloaded more than 100 million times.
I've bought and sold thousands of collectibles on online marketplaces over the past 20 years. I've been an avid eBay user since 2007 and joined Mercari shortly after the app became available to download in the United States. To date, I've sold more than 60 items using Mercari including collectibles such as Funko Pop vinyl figures, Star Wars action figures, and more. I can say from personal experience that Mercari works really well to sell all sorts of things.
If you've grown tired of the complexity and antiquated experience of selling on eBay's 25-year-old marketplace, then Mercari may be a great option for you. Compared to eBay, Mercari is a very simple buying and selling experience. Unlike eBay which has multiple buying formats, dozens of listing options, and a dizzying array of features that often aren't relevant for collectors, Mercari offers a laser-focused experience for buyers and sellers alike.
In this article, I'll walk through a real example of how to sell on Mercari to demonstrate just how simple it is. For the purpose of this tutorial, we will be selling a Funko Pop vinyl figure which are among the most popular collectibles sold on Mercari according to their recent in-app and email marketing campaigns. I'll be using the Mercari iPhone app, but they also offer a Google Android app and a full-featured website if that's best for you.
Download The App
Before we begin, we recommend using the Mercari mobile app to sell because it makes it much easier to upload photos of the item you're selling. Click one of links below to download the free Mercari mobile apps for your iPhone or Android device. You can also search the Apple App Store or Google Play Store for Mercari and their app should be the first result.
If you're on a computer, you can visit the Mercari website at www.Mercari.com. While the user experience varies slightly across the three platforms, you'll find that the primary functionality is generally the same.
Create An Account (or Log In)
In order to sell on Mercari, you'll need to create a free account. If you already have a Mercari account, simply log in. Mercari offers several convenient options to create or log in to your account including Facebook, Apple, email, and even your phone number via SMS.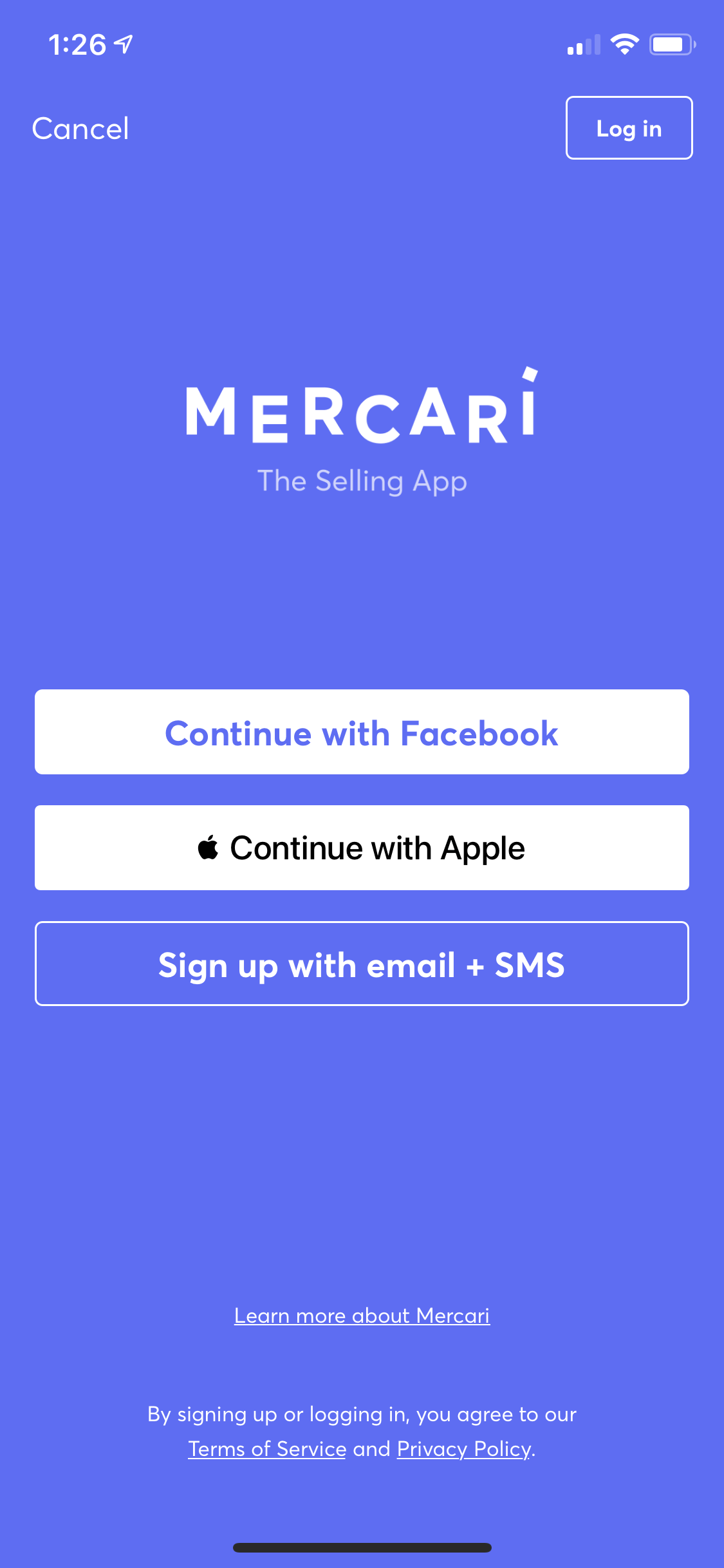 Tap The Orange "Sell" Button
Once you've created your Mercari account and logged in, next you'll want to click the orange "Sell" button. Whether you're using the Mercari mobile app or website, the button should be orange with a "Sell" label on it. Tap or click on that!
Take Photos of the Item You're Selling
Once you're on the sell screen, it's time to get to work. If you don't have an experience taking photos, don't worry. Smartphone cameras are so good these days, you don't need to be a professional photographer to get some good photos of an item you want to sell.
Using your smartphone, take some photos of the item you're selling. Once you've captured the photos, select each of the photos you want to use for your listing and upload them. You can add up to 12 photos on a single listing and we recommend that you do, especially if you're selling a valuable collectible.
Remember, good photos help sell stuff online! Your photos should be well-lit with multiple angles of the item you're offering for sale. When a seller uses stock photos, uploads a single image, or tries to use photos that are hard to see, it makes it difficult to earn a buyer's trust and confidence to purchase the item.
Provide Detailed Product Information
In adding to high quality photos, when selling a collectible or other product online, it's important to provide detailed information about the product you want to sell on Mercari.
On Mercari this includes a relevant title, description, tags, category, brand, condition, and color which you can see in the screenshot below. While some of these details are optional, we recommend using them all for three reasons.
First, by providing a listing with an accurate category and thorough description of its condition, your item is more likely to sell. Think about it. As a buyer, would you want to purchase an item with minimal information? Probably not.
Second, information added to your listing helps potential buyers find what you're selling on Mercari. Buyers can browse by category and has a reliable search engine, both of which rely on information entered by you – the seller.
Finally, a listing with detailed information protects you as the seller from returns and other frustrating debates with a buyer. When you disclose issues with the item's condition, for example, it's less likely someone can demand a refund.
Select Shipping Options
This is where things get tricky when you sell stuff online. What should I charge for shipping? Which shipping carrier should I use? Should I offer free shipping? How long will it take to reach my buyer?
It's difficult to answer these common questions without knowing what it will cost to ship the item you're selling first. Fortunately, Mercari makes this easier than pretty much any online marketplace I've ever used.
Mercari requires just a few pieces of information to provide an accurate shipping cost estimate before your item is listed for sale.
Where you're shipping from based on ZIP code
Who is paying for shipping (buyer or seller)
What the item weighs (an estimate is OK but a scale is best)
What shipping methods you'd like to offer (i.e. USPS, FexEx, UPS)
When you sell on Mercari, as a seller you have the convenient option to generate a prepaid shipping label that you simply print out at home when your item sells. They even allow you to schedule a pickup with some carriers from the app. For simplicity, I recommend that you use their prepaid labels.
Ship The Item
Congratulations! Your item sold. Now what? Once you've been notified that your item has sold on Mercari, you'll need to ship the item to your buyer. It's important to pack the item well so it doesn't bounce around, use a sturdy box that's less likely to be smashed, and get it shipped quickly. Although you have three business days to ship an item sold on Mercari, it's good practice to ship as quickly as possible to ensure a good experience for your buyer.
Rate The Buyer
Thanks to Mercari's integration with each of the carriers like USPS, they will automatically notify you and the buyer when the item has been delivered. After the buyer has received the item, they will have three calendar days to rate the transaction. Mercari uses a star rating system of one to five stars.
A key difference between eBay and Mercari is how money is handled. When using Mercari, there is no PayPal. Mercari holds funds until the transaction has been rated by the buyer and the seller. It's both polite and self-serving to rate buyers quickly once they've rated you, because doing so enables you to transfer the proceeds from the sale to your bank account when you're ready to do so.
If the buyer does not rate your transaction, you will automatically receive a five star rating after three days have passed. Additionally, the proceeds from the sale will be available to transfer with no further action required on your part. That's happened to me a few times.
Transfer Funds
The last step is pay day! To transfer funds from Mercari, navigate to your profile, tap the "Balance" button, then tap the "Transfer" button. From this screen, you have the option to select an Instant Pay or Direct Deposit transfer. Both require that you have a bank account securely connected with Mercari.
While Instant Pay is faster, you will incur a $2 fee for this method. It also requires that you have a government issued ID on file. Direct Deposit is what I typically use because it's free as long as you transfer at least $10. The minimum amount you can transfer from Mercari is $2, likely due to the fee if you use Instant Pay.
---
I hope that this article was a helpful guide for how to sell on Mercari. As a disclaimer, this article is a general how to guide for how to sell on Mercari and we are in no way associated with Mercari. It's also important to note that not everything will sell quickly or easily on Mercari, which is true of any online marketplace. In my experience, the Mercari app has been great for selling Funko Pop vinyl figures, graphic t-shirts, Star Wars action figures, and a few household items. Mercari may be less effective for other categories.