No matter what side of the political aisle you find yourself during this year's polarizing election, there's one thing we can all agree on: 2o20 is the worst. We've endured it all this year. From an ongoing worldwide pandemic and a resulting economic downturn, to costly natural disasters and political unrest, 2020 has been a year of challenges from seemingly every angle.
Adding some much-needed comic relief to the stress-inducing year we've had, artist Truck Torrence has released more than a dozen collectibles inspired by his original Kawaii pop art "Dumpster Fire" illustration. Sold under his 100% Soft moniker, Torrence has partnered with retailers and used his own online store to sell Dumpster Fire toys, Dumpster Fire pins, Dumpster Fire patches, and even a Dumpster Fire night light.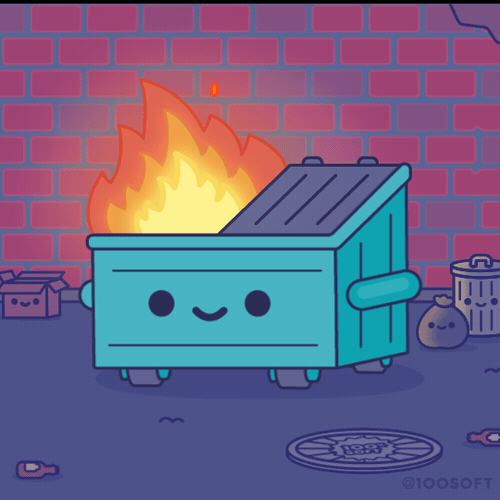 Most impressive, though, is the ever-expanding collection of Dumpster Fire vinyl figures. Originally planned as convention exclusives, 100% Soft had to adapt to the socially distant reality of 2020. Instead of the typical SDCC or similar fan convention exclusives, 100% Soft released several retailer exclusives with Hot Topic, FYE and others. To date, nearly a dozen variations of the popular Dumpster Fire toys have been released in limited quantities (and quickly sold out).
I may be bias as longtime fan of the 100% Soft art style, but personally this is one dumpster fire that I love. There's just something so humorously delightful about an adorable little dumpster with flames popping out of its head. For that reason, I've put together this up-to-date checklist of all 100% Soft Dumpster Fire toys released thus far.
So stop doomscrolling for a few and enjoy these collectible Dumpster Fire toys!
The Original 100% Soft Dumpster Fire Resin Toys
Making its debut at San Diego Comic Con 2019, the very first 100% Soft Dumpster Fire toys were simple resin figures based on the original illustration. There were two variants of the first release, both of which were hand casted and painted by PropAndPop. The regular version was limited to 50 pieces, while the more rare purple with "blue flame" variant was limited to just 10 pieces! Both colors were signed and numbered by the artist, Truck Torrance. The original retail price was $50 Each at the event.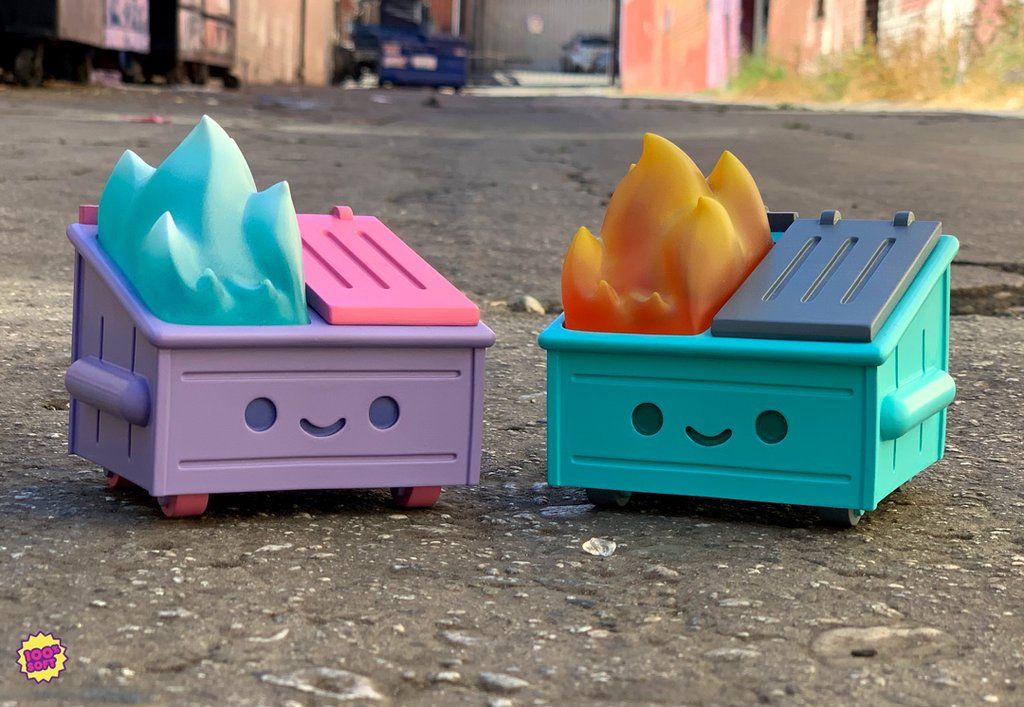 Since its initial release at SDCC 2019, the "regular" Dumpster Fire resin toy has been sold by 100% Soft to fans directly and through several online retailers including BigBadToyStore, Sideshow Collectibles, and Entertainment Earth. If you can't find the many rare variants included on this list, there's a good chance you can find this one in stock somewhere. We put a link below for your convenience.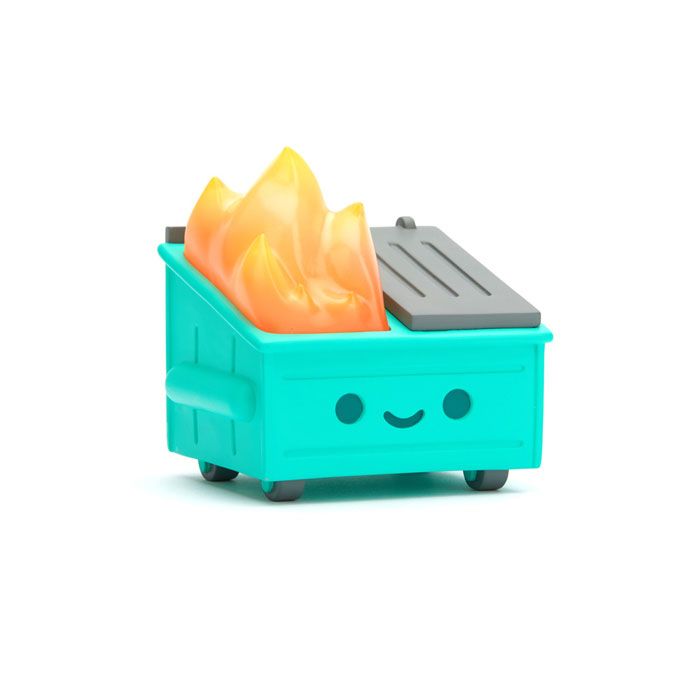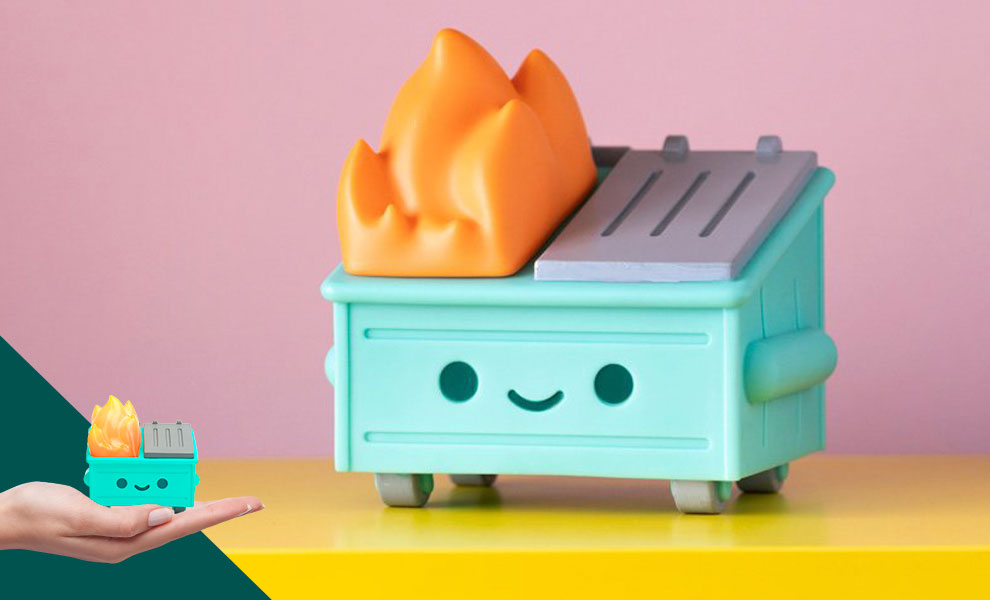 100% Soft Dumpster Fire Special 2020 Limited Edition
This. This toy perfectly sums up 2020. The 100% Soft Dumpster Fire Special 2020 Edition is the very similar to the original release, with the addition of a removable face mask. Released in September 2020 and priced at $25 Each, I regret not buying one because now they're selling for $75 on the secondary market. Even better, 100% Soft donated a portion of proceeds to DirectRelief.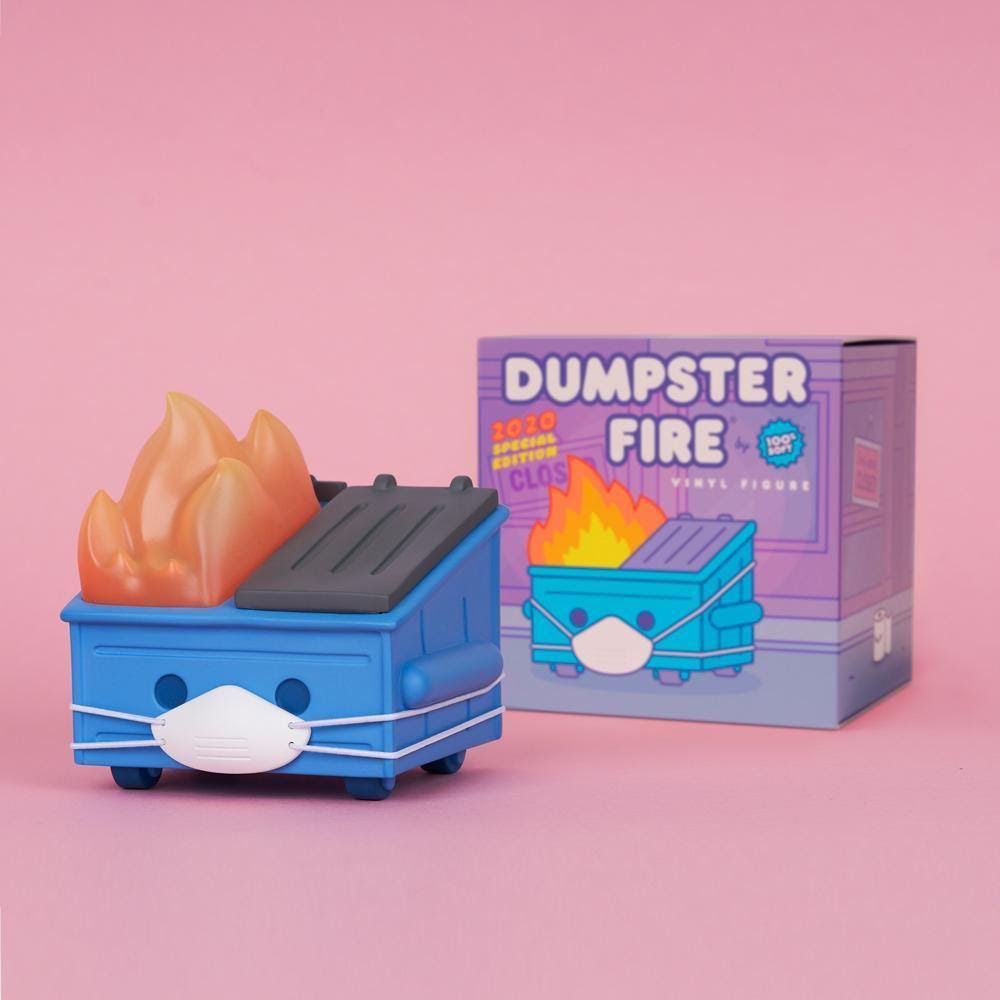 100% Soft Dumpster Fire Evil Trash Edition
The first of many retailer exclusives, the 100% Soft Dumpster Fire "Evil Trash" edition was released on September 17, 2020 at Entertainment Earth. Based on the timing, this $30 glow-in-the-dark toy seems like it was planned as a New York Comic Con 2020 exclusive, but the Covid-19 pandemic cancelled that event like it did SDCC. Limited to just 300 pieces, the 100% Soft Dumpster Fire "Evil Trash" edition sold out quickly and has become one of the most sought after variants of our favorite trash receptacle.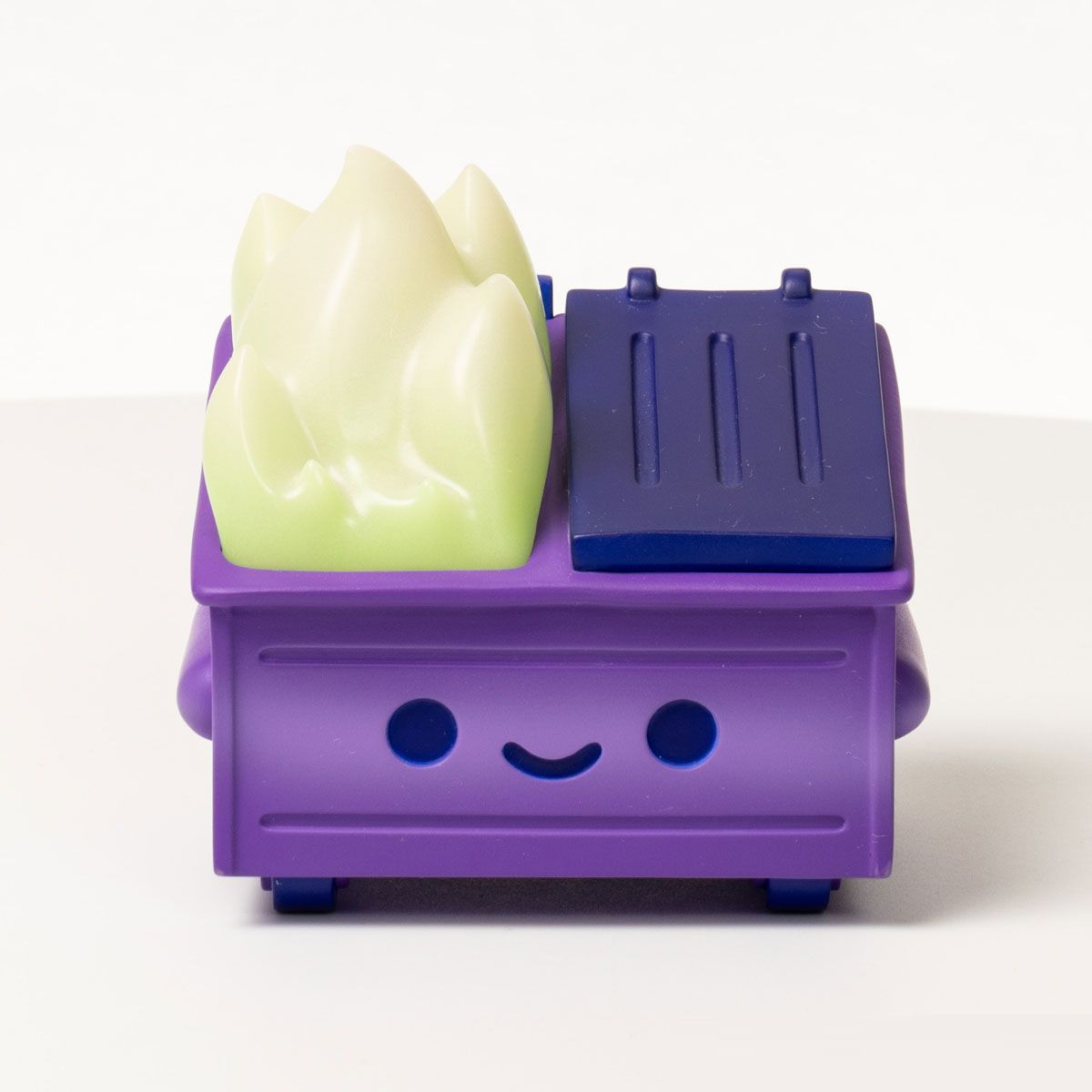 100% Soft Dumpster Fire Slime Edition
I've always been fond of slime for some reason. As a kid, I had the Teenage Mutant Ninja Turtles Retromutagen Ooze and The Real Ghostbusters Ecto-Plazm, the latter which I spilled on the carpet much to my mom's dismay. Although this 100% Soft Dumpster Fire Slime Edition toy looks more like a green jello mold to me than slime, it's still a fun take on the original vinyl figure. Originally planned for L.A. Comic Con, it ended up being a Hot Topic exclusive with an edition size of 504 pieces released on October 1, 2020.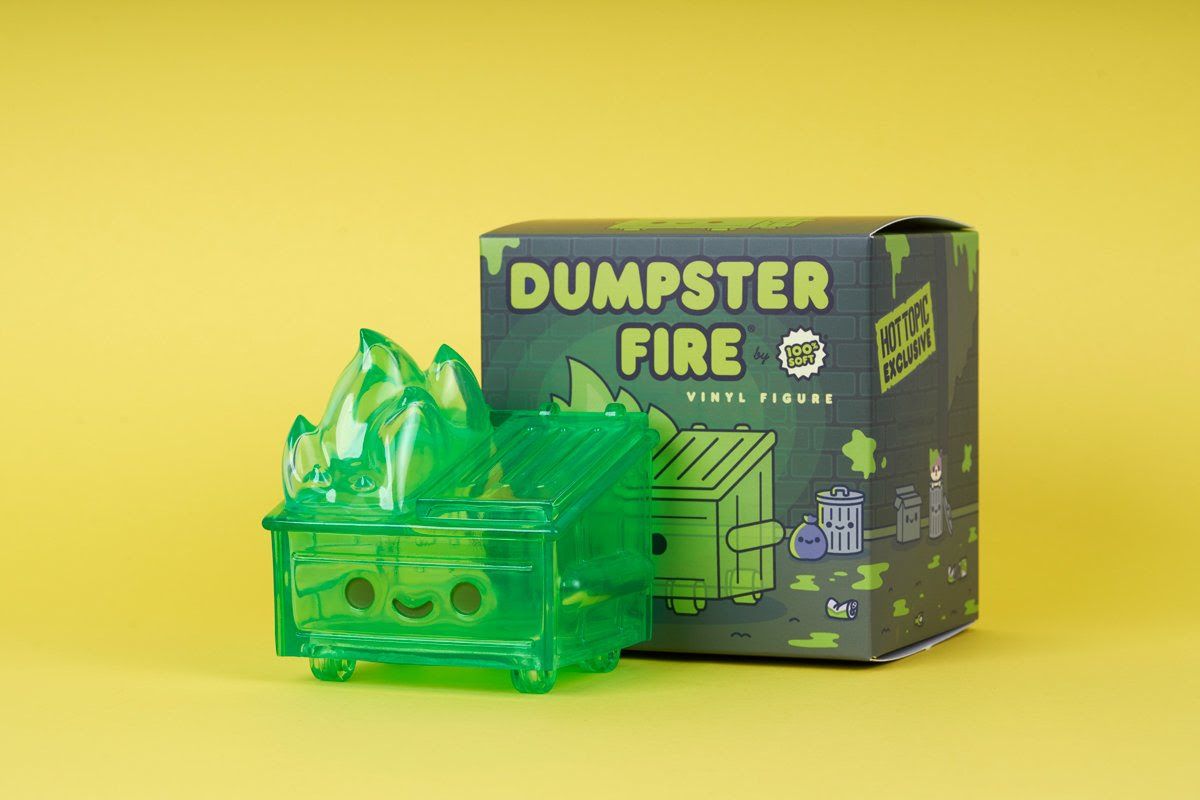 100% Soft Dumpster Fire Red Flame Glow-In-The-Dark Edition
This one is just awesome. Not only is it yet another version the totes adorbs 100% Soft Dumpster Fire toy, its red flame glows in the dark! This is a collectible vinyl toy at its best. The 100% Soft Dumpster Fire Red Flame Glow-In-The-Dark Edition was sold exclusively by FYE and limited to somewhere between 300 to 350 pieces. It sold out on October 15, 2020, the same day it was released.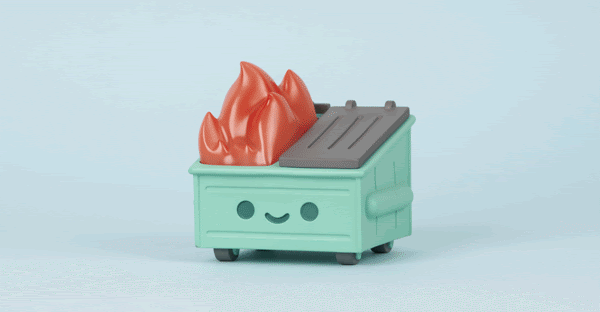 100% Soft Dumpster Fire Magical Pumpkin Trash Edition
This gourd-colored Dumpster Fire Magical Pumpkin Trash Edition was released exclusively on the Entertainment Earth website in October 2020 just in time for Halloween. It's expected to ship sometime in February of 2021.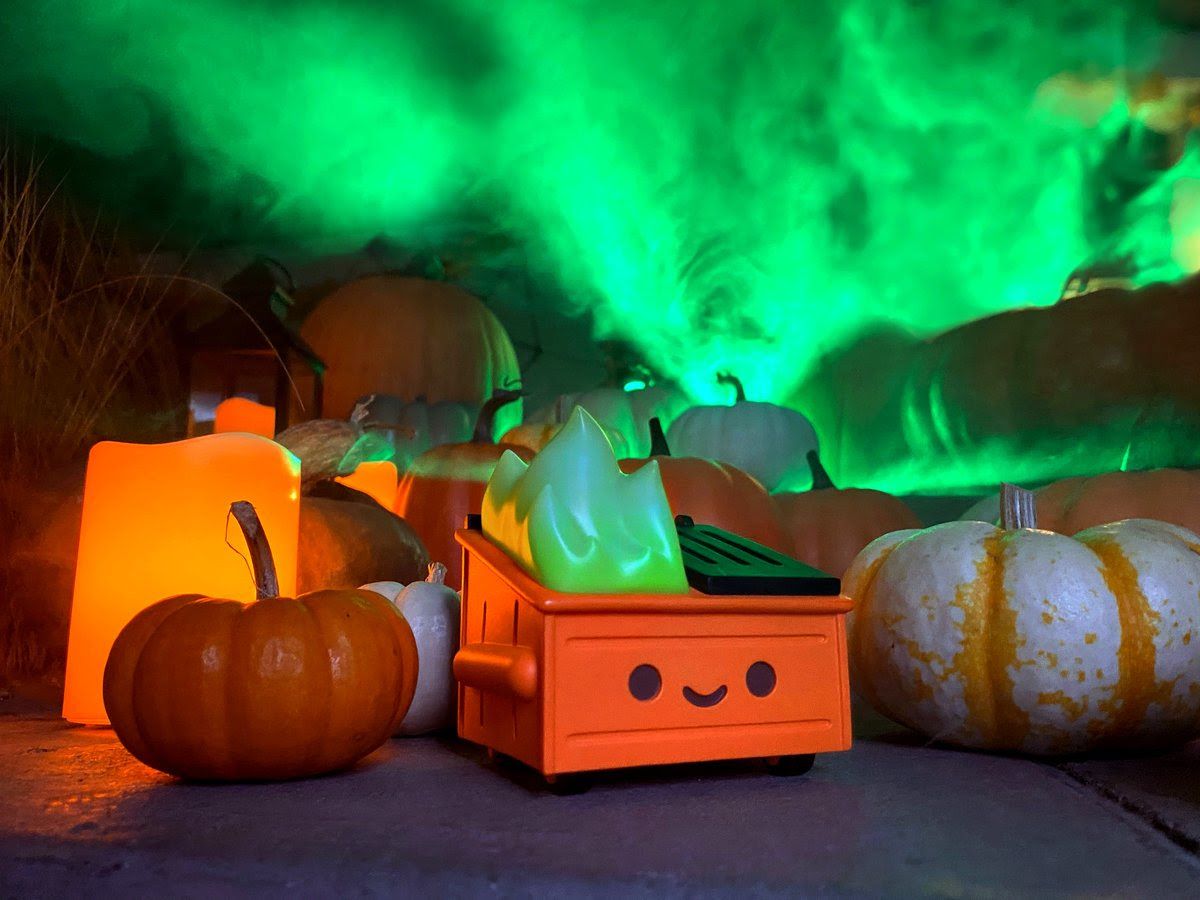 100% Soft Dumpster Fire Rainbow Trash Edition
You can almost taste the rainbow with this Attic Salt / Fuego exclusive "Rainbow Trash Edition" of the 100% Soft Dumpster Fire toy. It was released on November 1, 2020 at 9 AM PT and, as usual, sold out fast.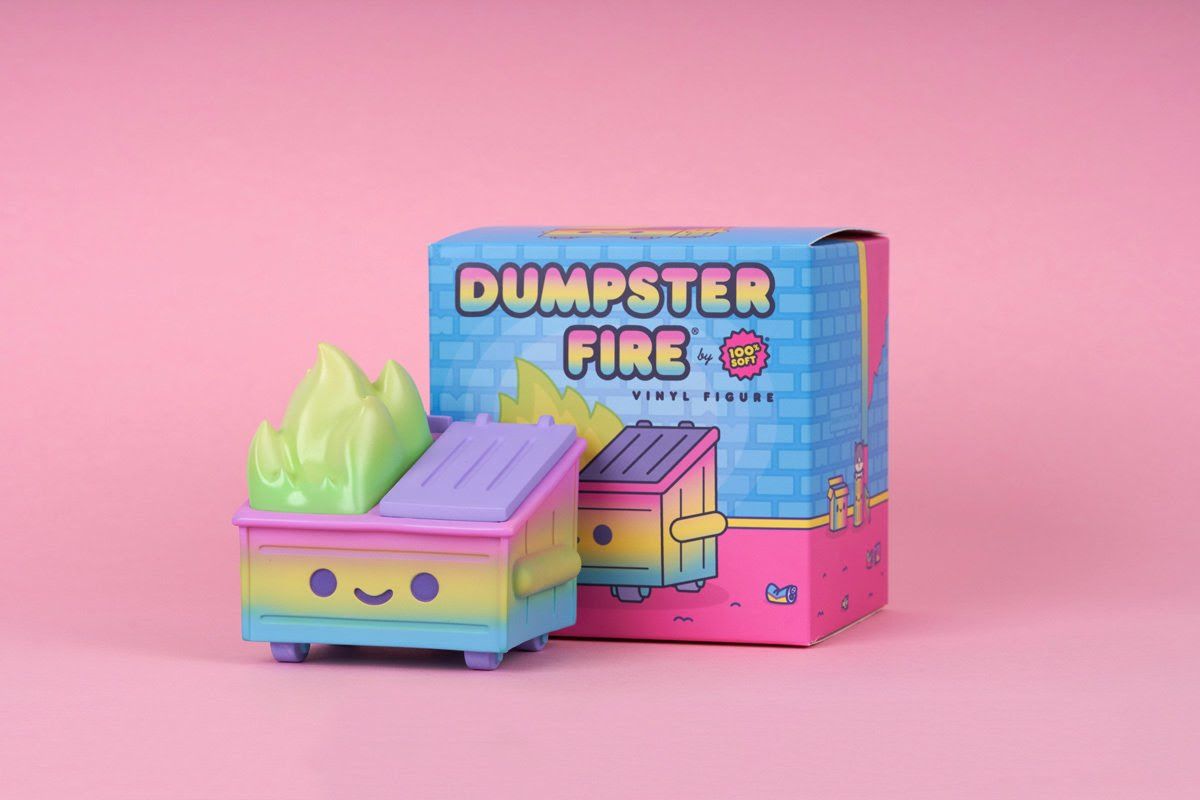 100% Soft Dumpster Fire "Dumpo The Clown" Edition
The latest edition of the 100% Soft Dumpster Fire vinyl figure pays homage to the three-ring circus of a year we've had in 2020. Released on Friday, November 6, 2020 at 10:00 AM PT on the 100% Soft Shop, this limited edition vinyl figure sold out by the end of that day to no one's surprise. Although the exact edition size was not made clear at the time of its release, this 100% Soft collectible was limited to one per customer so we're guessing it was pretty small.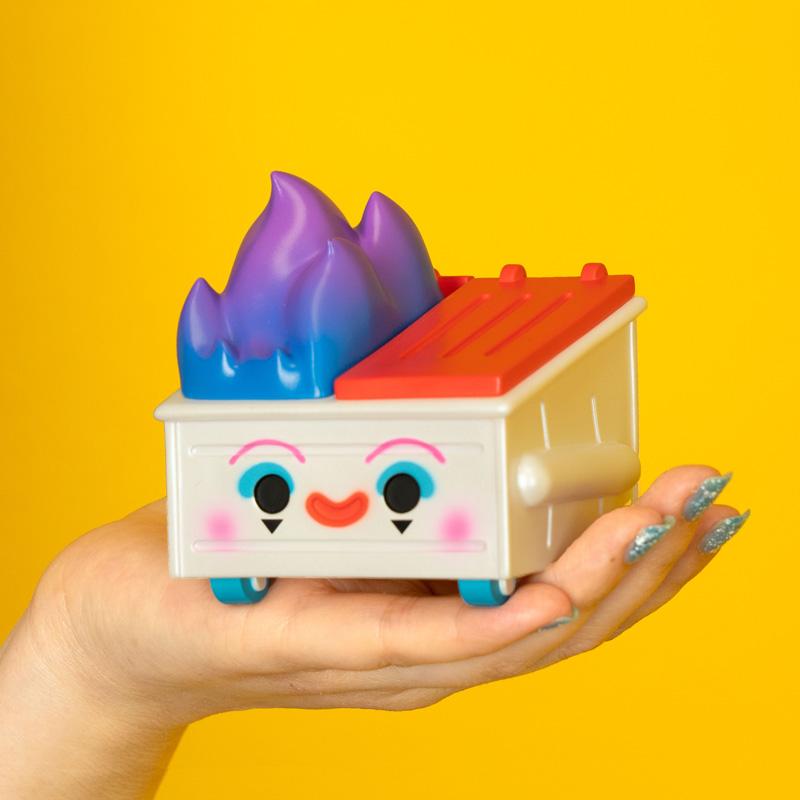 If by some miracle this 100% Soft Dumpster Fire vinyl figure is ever restocked, we've dropped a link to the product below for you. Don't be a joker and be sure to request notifications if it's ever available again.
---
With nine variations of Dumpster Fire toys and counting, 2020 has been a good year for 100% Soft as a brand. It will be interesting to see just how many variations of this illustrated dumpster fire character will be released and if its popularity will result in more 100% Soft vinyl toys. Only time will tell. Until then, I think these 100% Soft Dumpster Fire toys are a great way to "commemorate this waking nightmare of a year" as Truce Torrence himself suggested.