Launched in 1993, Beanie Babies swept across the 90s, becoming one of the most memorable fads of the decade. Founder Ty Warner began creating the little animals stuffed with plastic pellets at his small business in a Chicago suburb. The original nine beanies (Legs the Frog, Squealer the Pig, Spot the Dog, Flash the Dolphin, Splash the Whale, Chocolate the Moose, Patti the Platypus, Brownie the Bear, and Pinchers the Lobster) entered factory production in 1994, but did not become immediately popular.
Two years later, a well-intentioned albeit misguided magazine article by collector Peggy Gallagher discussed "rare" and "valuable" Beanie Babies, beginning the illusion that the toys were in fact worth significant amounts. Soon after, the stuffed animals were being mass-produced in China though Ty only sold his toys to small, independent retailers. With stores only stocking a couple dozen of each style of beanie, the belief that they were limited continued. However, by the time the idea caught on, the truly rare Beanie Babies had been scooped up and resold by early buyers in Chicago. Everyone else was left with shelves full of cute animals worth little more than their retail price.
So, what makes Beanie Babies valuable today? It seems that the most expensive beanies online are those considered to be truly limited edition, and those with some variation or factory error on their hang tags. Many people are still very much involved in the Beanie Babies collecting community, including Peggy Gallagher, who now authenticates rare beanies. Let's explore the ten most valuable Beanie Babies with surprising values.
10. Sweet Sasha and Marvelous Malia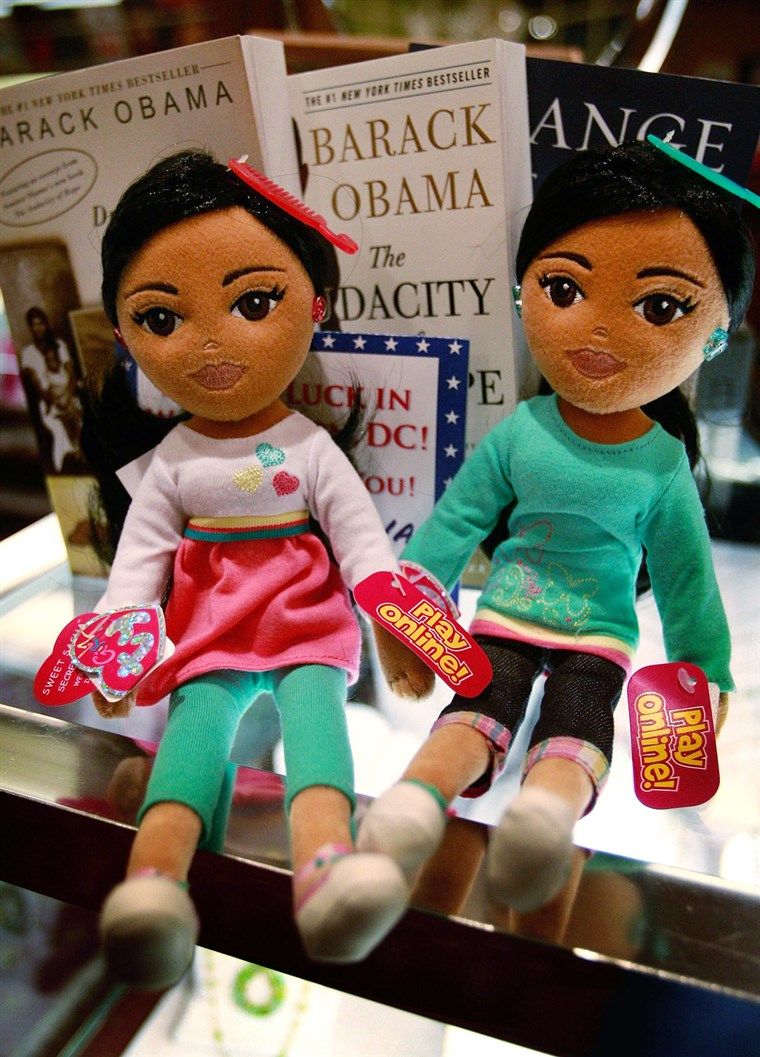 In January 2009, Ty introduced two new characters to its Ty Girlz line of 12″ plush dolls: Sweet Sasha and Marvelous Malia. These dolls were immediately compared to then President of the United States Barack Obama's daughters, with whom they shared their names. This sparked controversy with the First Lady, Michelle Obama, whose spokeswoman said permission was neither asked nor granted for the Obama daughters' likenesses to be used. Though Ty claimed the dolls were not created to be a physical likeness of the girls, the toys were retired a month later and renamed Sweet Sydney and Marvelous Mariah. The Sasha and Malia dolls that had been sold prior to their retirement quickly spiked in value on eBay, but today the pair can be purchased for a few hundred dollars.
9. Inky, gray variant with no mouth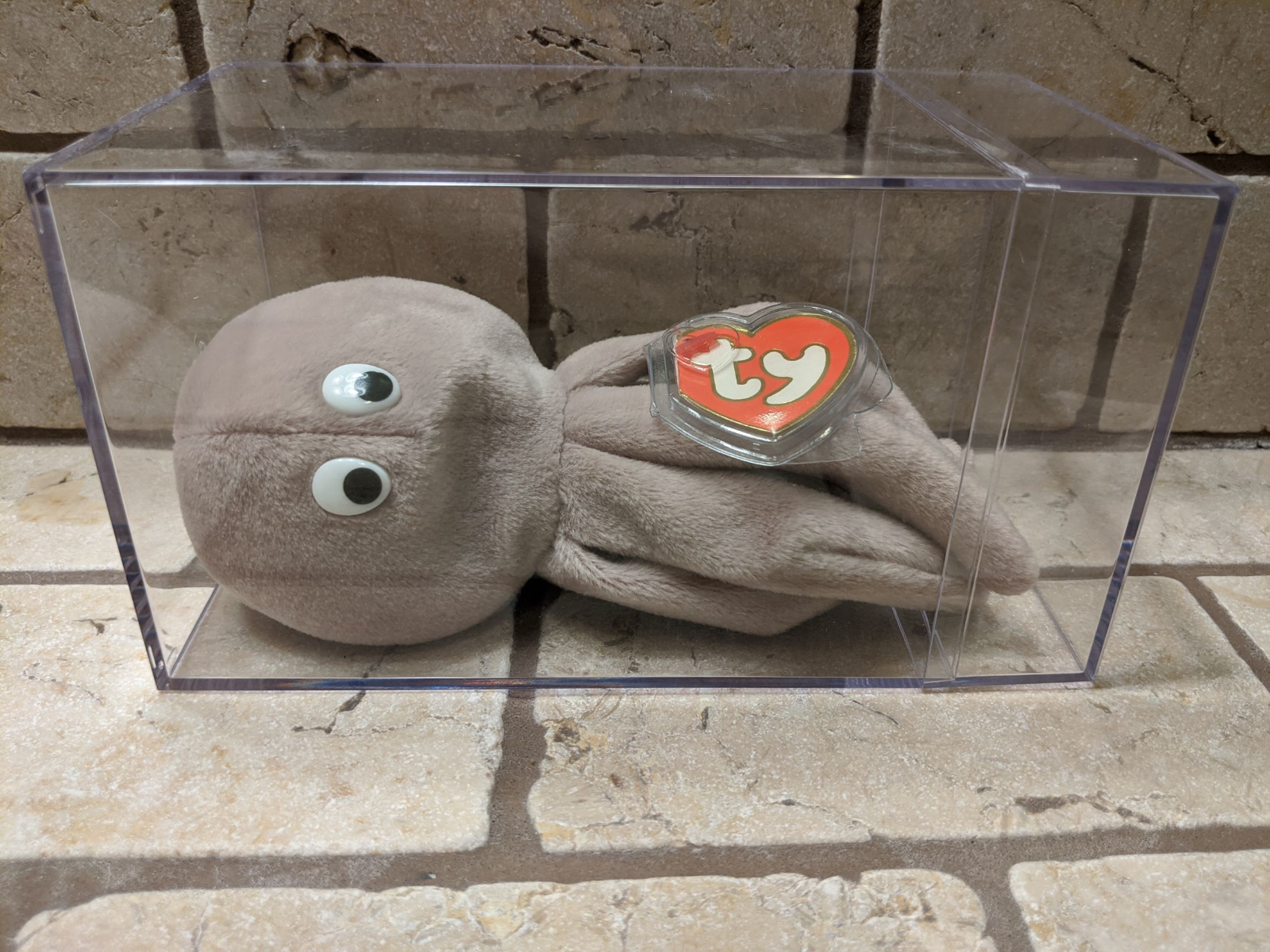 This adorable octopus was released on June 25, 1994. Because this beanie was retired less than 3 months after its release and has the first generation hang tag. A grey Inky with a mouth was released immediately after the first toy was retired, and in 1995 a pink Inky with a mouth was sold. However, neither of the later releases of the toy hold as much value as the original. The first release recently sold for $150 on eBay.
8. Peanut (Royal Blue)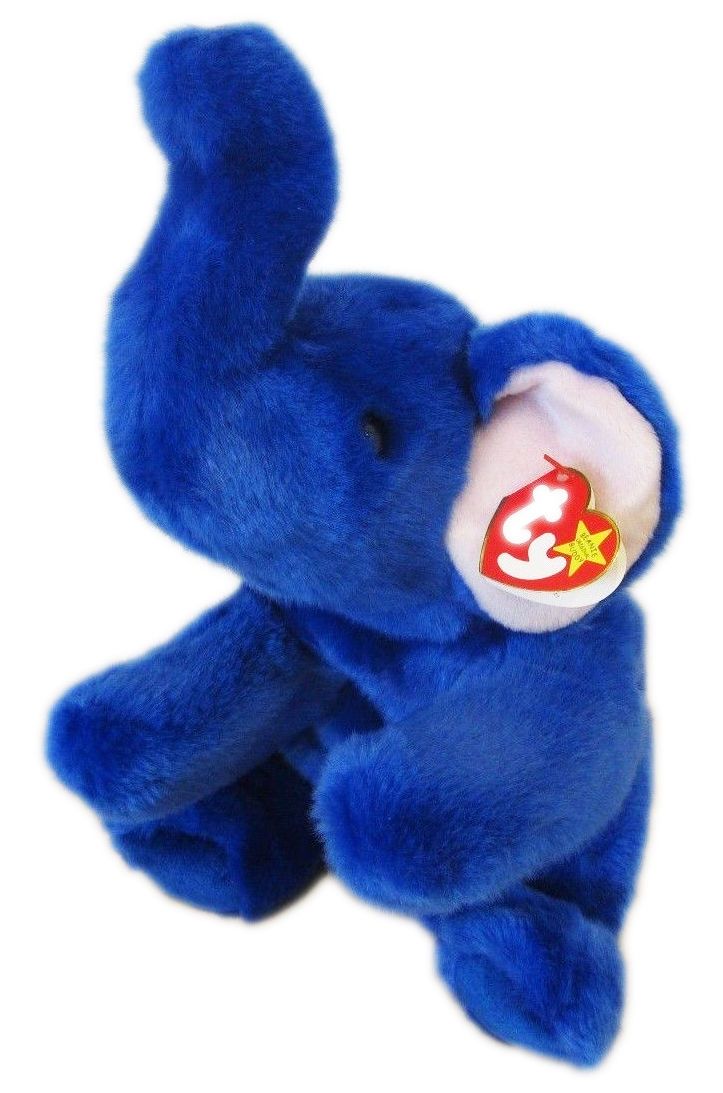 Royal Blue Peanut the Elephant has been credited as the Beanie Baby that began the collecting frenzy. Peanut was first released in June of 1995, before anyone really cared about the toys. Chicago stores were buying only six Beanie Babies at a time, if they were buying them at all. Ty Warner was persistent, though, and decided to rerelease Peanut four months later, this time with baby blue fur. Only a couple thousand Peanuts were produced in royal blue before the beanie craze took over. When Peggy Gallagher wrote about the original Peanut's rarity in her 1996 article, he became the first heavily sought after Beanie Baby. After 20 years and many counterfeit versions of the elephant, Peanut has fallen down the list in value, going anywhere from $1,000 to $2,000 online.
7. Mystic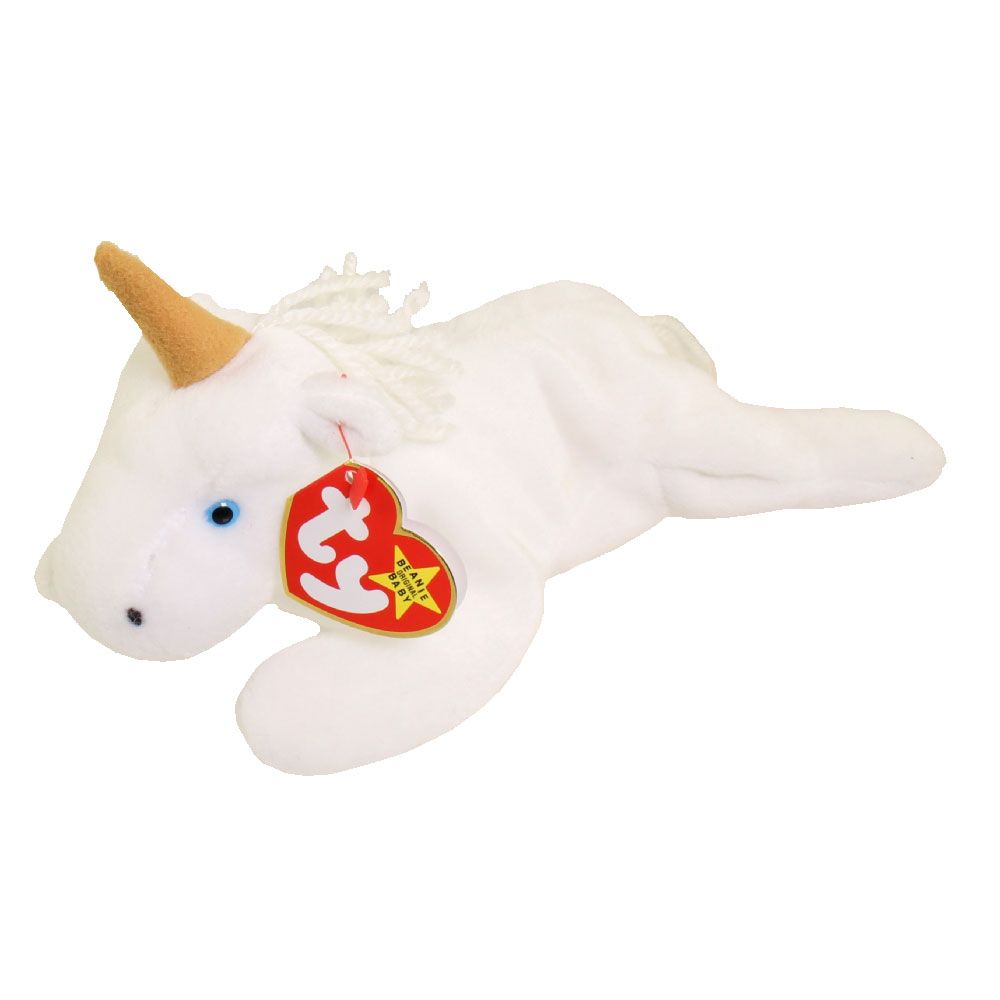 Mystic The Unicorn was released in four different styles from 1994 to 1999, all of which seem to still have value. Two Mystics were introduced on June 25, 1994 – both with a tan horn, one with a fine yarn mane and one with a coarse yarn mane. Though they came out at the same time, the fine maned Mystic has a first generation swing tag, whereas the unicorn with the coarse mane has a third generation swing tag. This has created quite a difference in their value, with fine mane Mystic listed for $3,750, and coarse mane Mystic selling for $1,130. In October of 1997, the tan horned Mystic was retired and re-released with a whimsical iridescent horn. These particular toys are going for up to $3,000 on eBay, but it seems that some confusion on the release date on the part of the sellers is what is creating the supposed value. Lastly, in 1999, Ty released Mystic again, this time with a furry rainbow mane. Though this version seems to be more scarce, it also gains it's purported $2,500 value from sellers mixing up its production date.
6. Beanie Babies "Millennium" Bear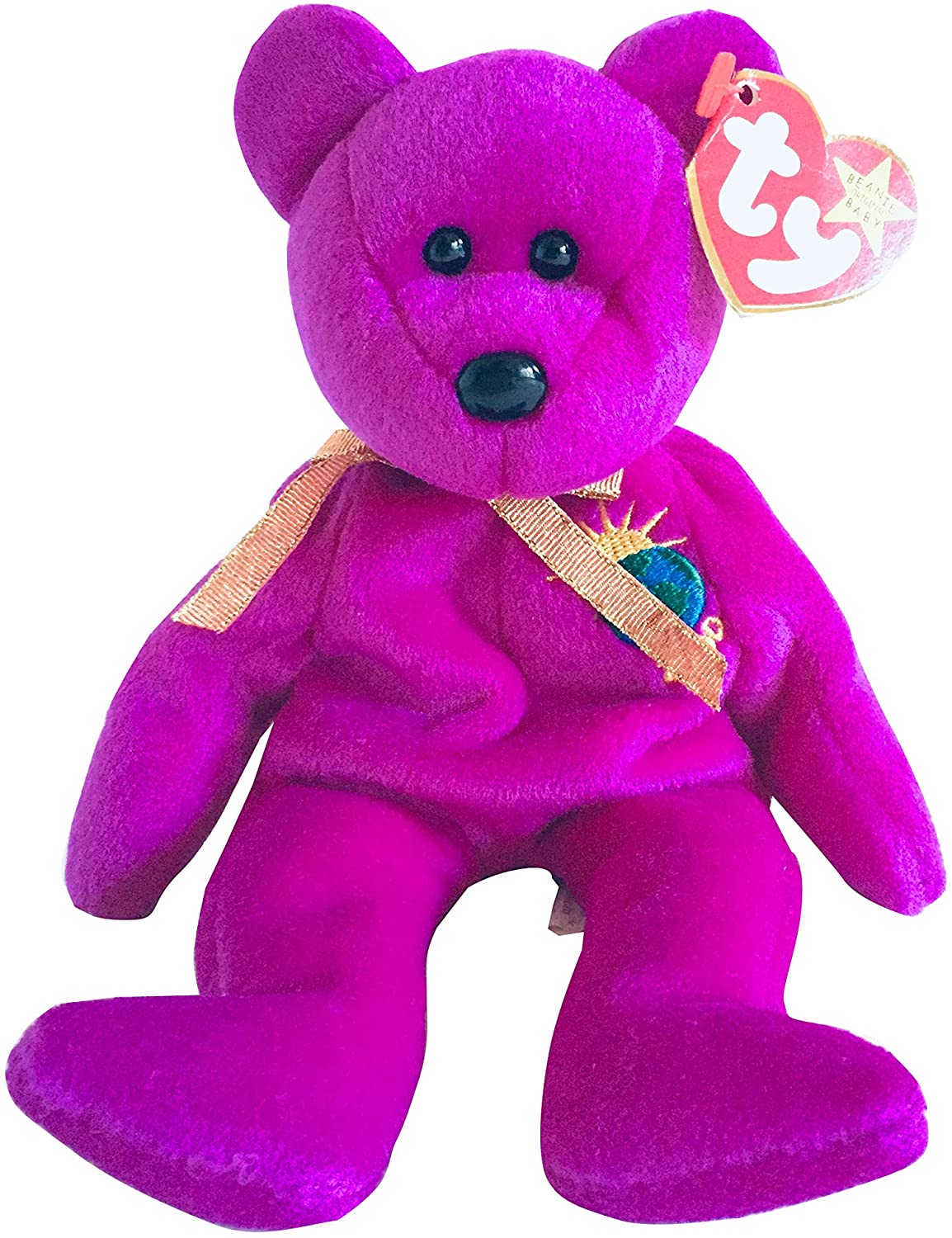 Released in January 1999, this magenta bear celebrated the upcoming new millennium. This toy gains its value from spelling mistakes found on the swing tag, the tush tag, or both. "Millennium" can be found spelled with one 'n' – Millennium, and with Gosport, Hampshire, U.K. spelled as 'Gasport'. Different combinations of these seemingly insignificant errors make for a variety of "Millennium" bears worth far more than you'd probably expect.
So what it's worth? After researching eBay and other online marketplaces, we found a Beanie Babies "Millennium" bear that sold for $740 back on October 1, 2020. That's not an asking price – it's what someone paid for this bear.
5. Chef Robuchon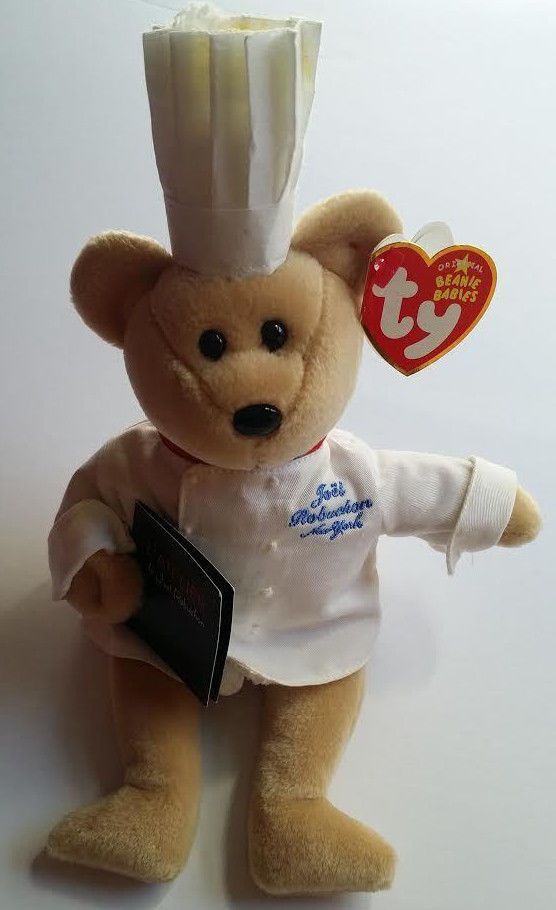 Made to celebrate chef Joël Robuchon, this bear was given to journalists and other guests at the 2006 opening of the chef's new restaurant, L'Atelier at Four Seasons New York. Though the total number of toys produced was not revealed, it is estimated to be 200.
What's it worth? Beanie Babies' culinary bear donning a chef's hat and coat sold for $7,353.51 in 2011, but this guy's so uncommon he is rarely offered for sale.
4. Beanie Babies "Claude"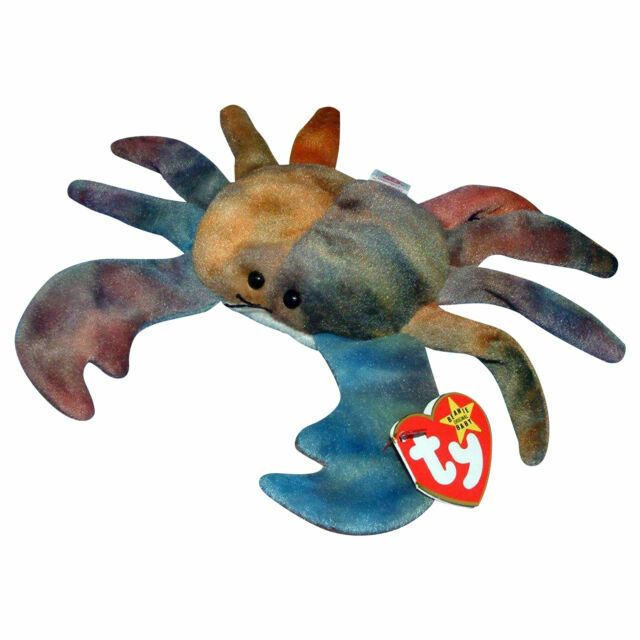 "Claude" the tie-dyed crab was released on May 11, 1997. This cute and colorful crustacean is selling for shockingly high prices online due to unusual errors on its tags and other variations. An ® above the ™ on its tush tag, and a space before an exclamation point on the swing tag, are often what make this beanie unique. There are also variations related to the capitalization of "Claude" on the tag.
What it worth? We know crab cakes are expensive, but the prices on good ole "Claude" the crab can reach as high as $8,000 based on recent sales on eBay. That wasn't a fluke though. We also found one that sold for $7,200 in August 2020.
3. Beanie Babies "Peace" Bear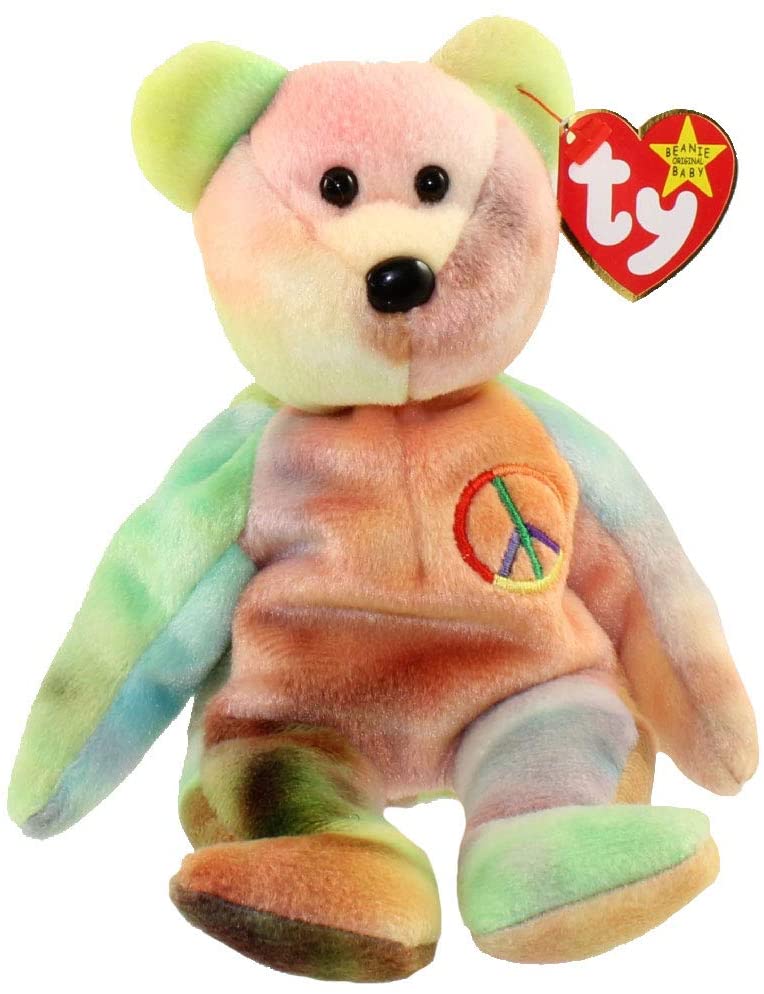 Unlike the basic earth tones seen on Claude, this tie-dyed beanie has noticeable differences in the coloring from bear to bear, making each one unique. If that were not enough, there are nearly 50 confirmed variations in this Beanie Baby's hang tags, country of origin, and pellet type!
What's it worth? The most recent sale for one of the rarer variations of this peace-loving bear was for $15,000 at auction on eBay. Another rare variation of the colorful "Peace" bear sold for $10,000 at auction in September 2020 – also on eBay. Yet another sold for $14,800 in August 2020. Clearly, there is still demand for the rare variations of the Beanie Babies "Peace" bear.
2. "Lefty" autographed by Hillary Rodham Clinton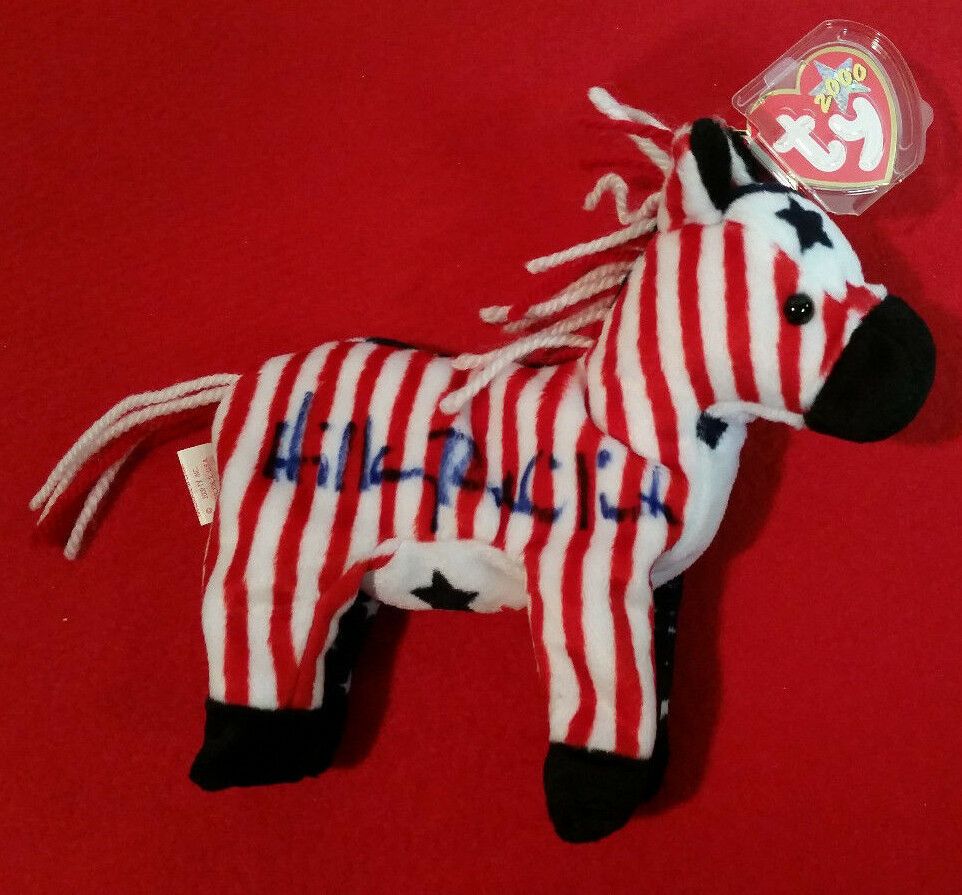 Political beanies Lefty the Donkey and Righty the Elephant were originally released in 1996, with new designs produced in 2000, 2003, and 2008. None of these toys were particularly valuable until two Lefty donkeys from 2000 were signed by former First Lady of the United States – and the 2016 Democratic candidate for President – Hillary Rodham Clinton. An avionics technician met Clinton in 2006 and asked her to sign the two beanies for his young daughters. Both donkeys are now listed on eBay for $10,000.
1. Beanie Babies Princess released in 1997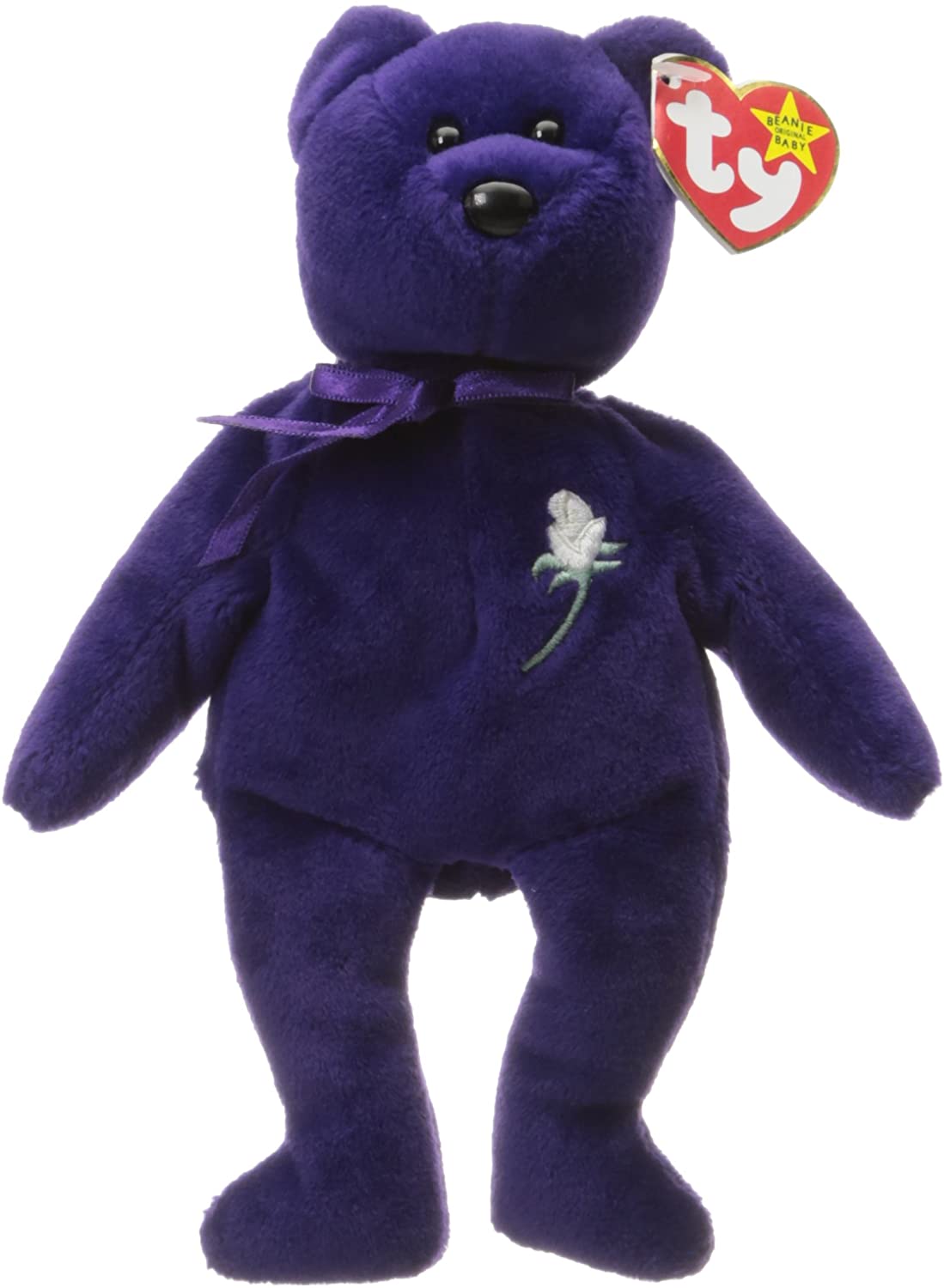 The year 1997 saw the tragic and untimely death of Diana, Princess of Wales. Ty Warner used the popularity of Beanie Babies to help commemorate Princess Diana by releasing a beautiful purple bear with an English rose embroidered on its chest. The proceeds of this beanie went to Diana's memorial fund. "Princess" has long been considered among the most valuable Beanie Babies in existence, though that is heavily debated amongst collectors.
Like the others, the purple Princess bear has many variations. One of the most common is a space on the swing tag between the lines "All profits of Ty from this collectible will be donated to" and "DIANA, PRINCESS OF WALES MEMORIAL FUND." The rarest of these is a Princess bear known as a "ghost version". It was manufactured in Indonesia using PVC pellets and has a space on the swing tag. Following close behind is an Indonesian Princess bear that does not have the English rose embroidery.
What's it worth? The value of the Beanies Babies "Princess" varies widely based on the specific variation and its condition. A first generation example with the space between the two lines on its heart-shaped hang tag sold for $25,000 through an online auction held on eBay as recently as October 2020. Sadly, these high-priced sales on the secondary market probably don't benefit a charitable cause like the "Princess" bear did when it was released in 1997.
---
As stated previously, many of these Beanies Babies are variants, misprints, or otherwise unique making them exceedingly rare and highly valuable – even decades after the craze ended. That being said, don't be surprised if the ones you own are the more common examples. Regardless, you may want to check the dusty boxes in your parents' basement just in case. You could have some real treasures hidden away!