Who doesn't love some LEGO build time in their life? Personally, when I'm wandering the aisles of my favorite toy store looking for a new set to take home, things like the size of the Lego set can pass through my head and factor into the decision. If I'm going to sit down to build, my time has value and I want to build BIG! This company grown on creativity seems to serve up nothing less than high art or even LEGO sculpture for fans, box after box, again and again, and we love it!
This sent us digging through the history of the existing LEGO sets looking for those standouts that contained the most build for your box. To help those of you who do think size matters when it comes to your brickwork, we're here with the biggest LEGO sets of all time in terms of commercially released sets!
17. LEGO 10224 Town Hall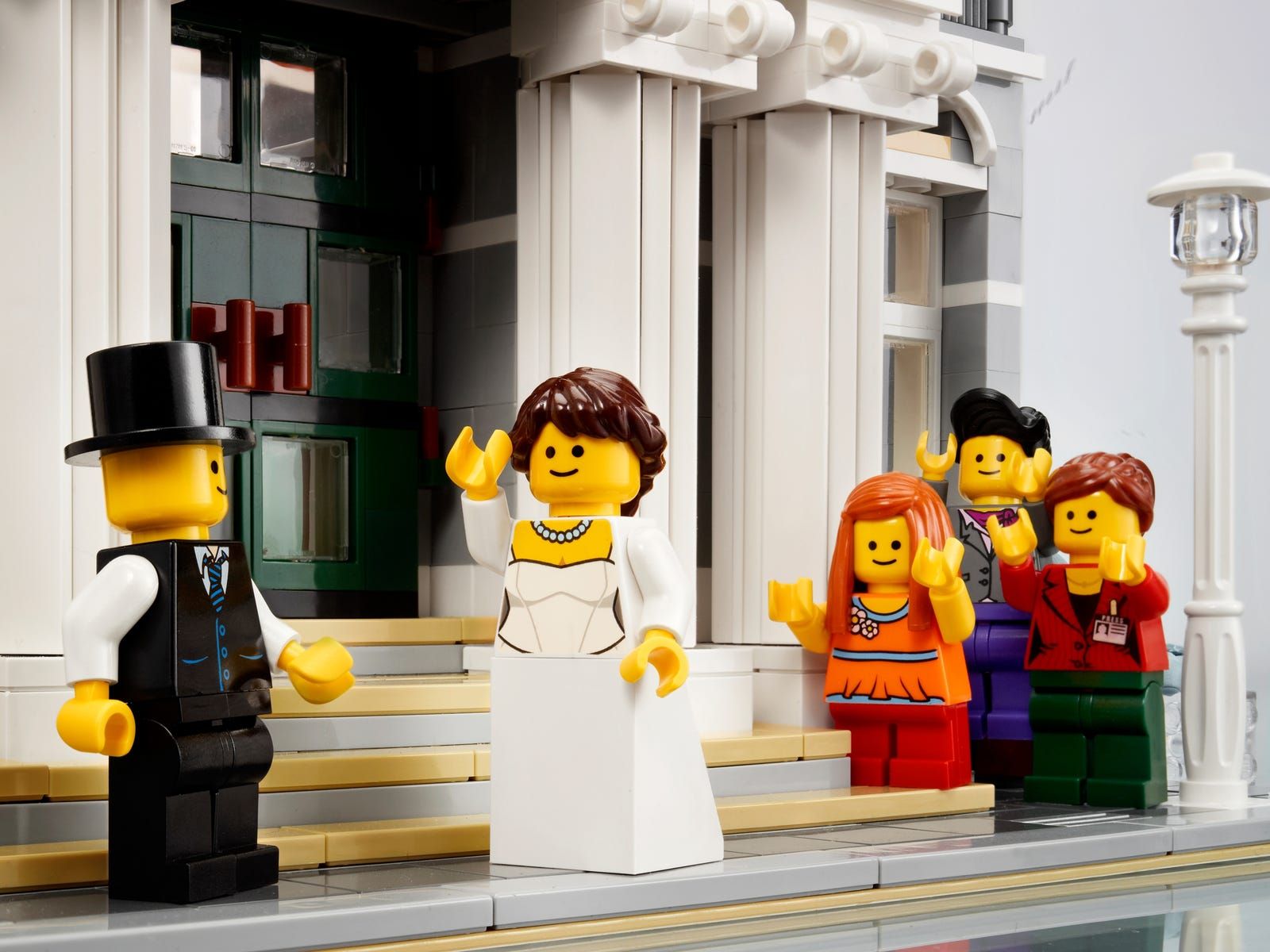 If we are going to meet to discuss the biggest LEGO sets, let's begin that discussion at 10224 Town Hall which weighs in at 2,766 pieces. Hitting the streets of our LEGO city in 2012, we're ready to rush those minifigures to the altar in style with this one!
16. LEGO 3450 Statue of Liberty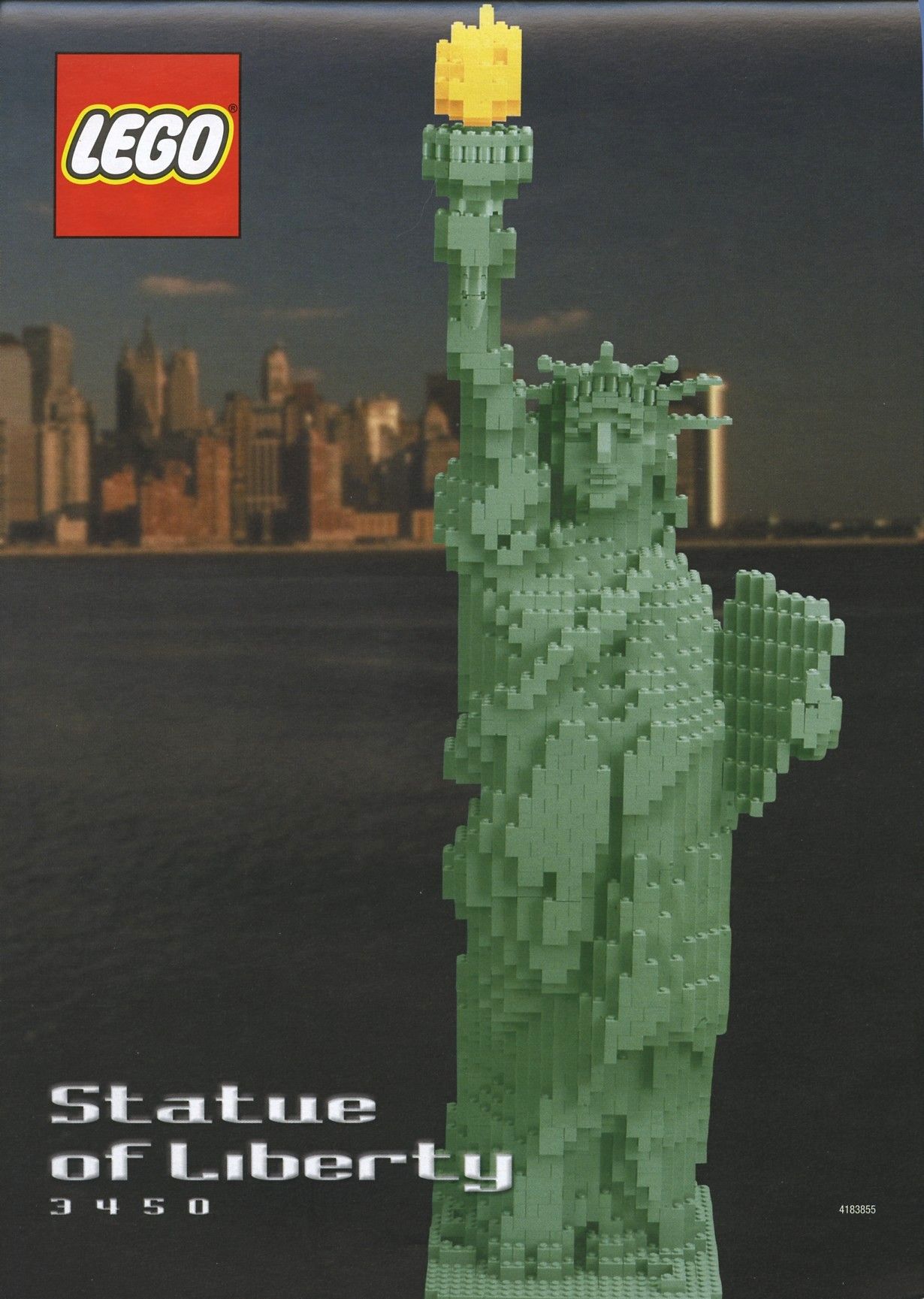 There are 384 stairs to climb within this legendary monument, but if you want to build it in LEGO, you're going to be putting together 2,882 pieces. What 3450 Statue of Liberty lacks in colorful presentation, it more than makes up in LEGO sculpture and creative design. This one was an instant classic when it hit store shelves back in 2000.
15. LEGO 10234 Sydney Opera House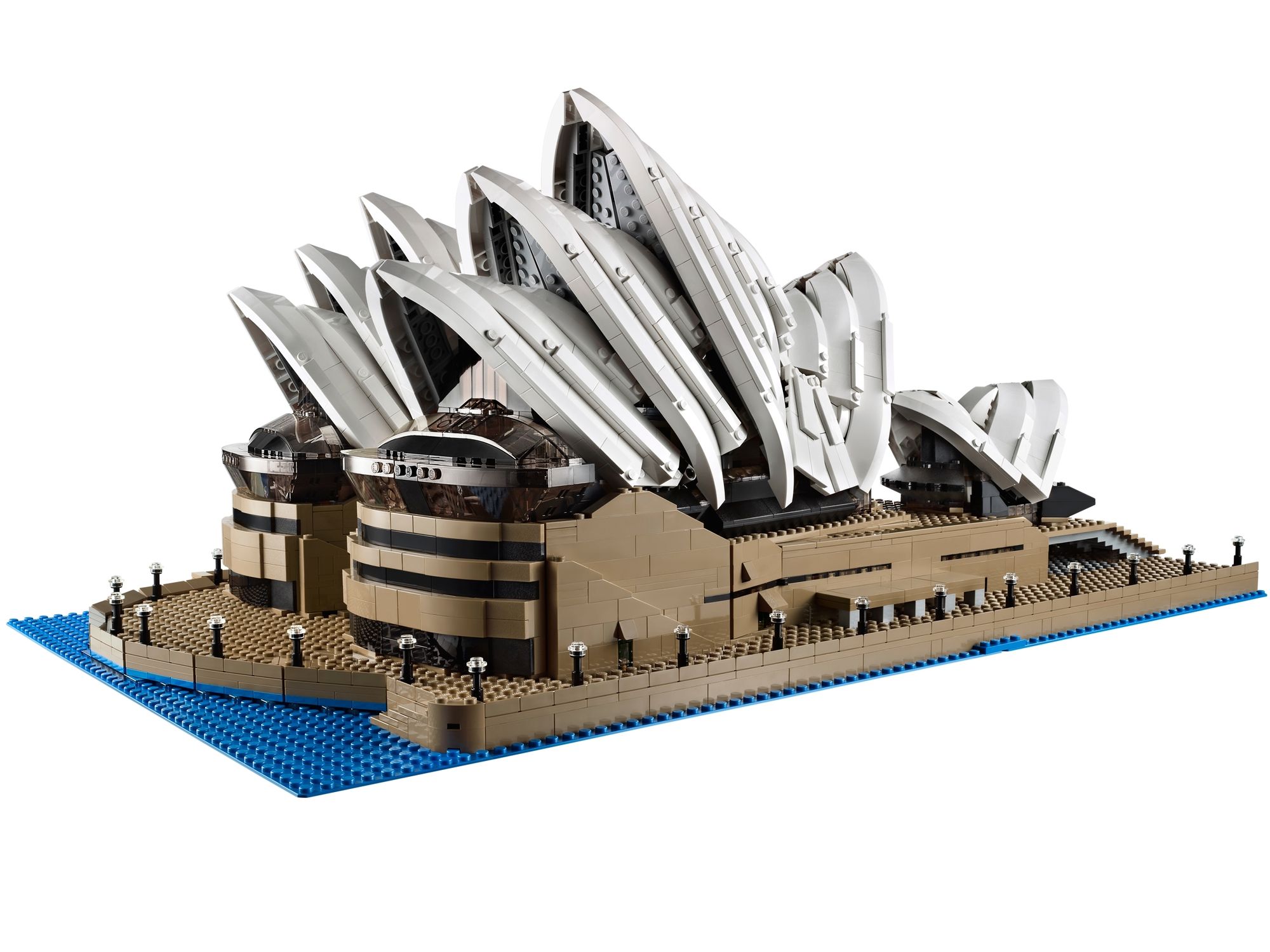 When it comes to architecture, there is no denying that the Sydney Opera House is one of the 20th century's most distinctive buildings. Its shell themed roofline has become visually synonymous with Australia and 10234 Sydney Opera House does the magnificent structure justice. Coming in at 2,989 pieces, this set saw the first release of the rare 1x1x2/3 stud and 1x2x2/3 stud slopes – as well as a 48×48 stud baseplate in blue.
14. LEGO Marvel Super Heroes 76042 The SHIELD Helicarrier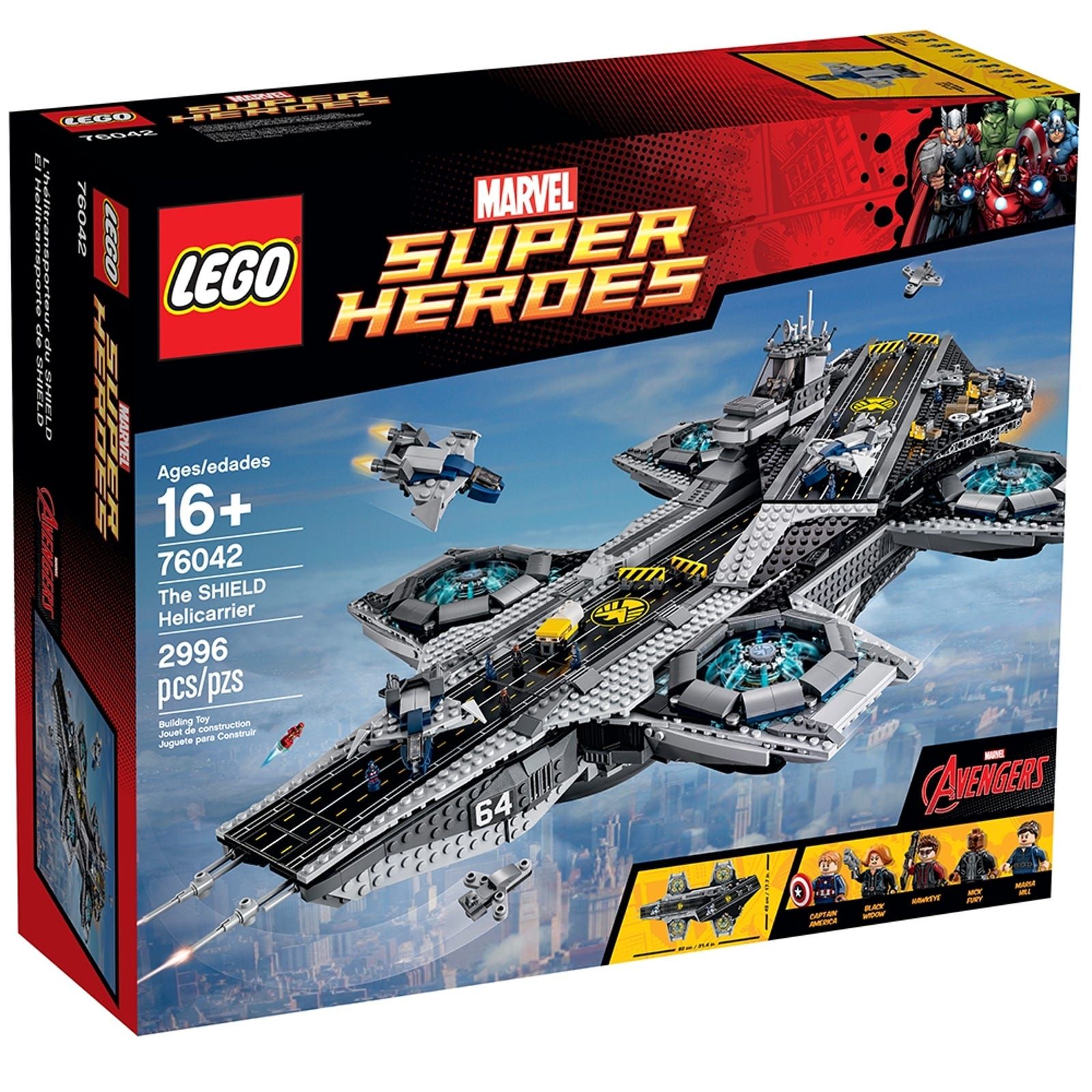 Your miniature Marvel Cinematic Universe just wouldn't feel safe without SHIELD defending it and 76042 The SHIELD Helicarrier is a magnificent start. Released in 2015, this flying fortress comes in at just under 3,000 pieces (2.996 to be exact.) Couldn't they find four more to include? Featuring five Avengers minifigures (including Nick Fury, Black Widow, Captain America, Hawkeye, and Maria Hill), a big bunch of microfigures, more extras than we can list here, and a functioning set of turbines (powered by AAA batteries of course), this set has you ready to rumble Marvel Universe style!
13. LEGO Star Wars 10030 Imperial Star Destroyer
Star Wars enters our list and it will not be the last time this franchise turns up in this article. Coming in at 3,096 pieces, the 10030 Imperial Star Destroyer arrived in 2002 as part of the Ultimate Collectors Series and was filled with interior detail you don't even get to enjoy once you have it finished. It's just there to make the build itself that much more fun. A mini Rebel Blockade Runner is also included but honestly, it's the sheer size of this Destroyer that is just jaw-dropping. Assembled, it's over three feet long!
12. LEGO Star Wars 10221 Super Star Destroyer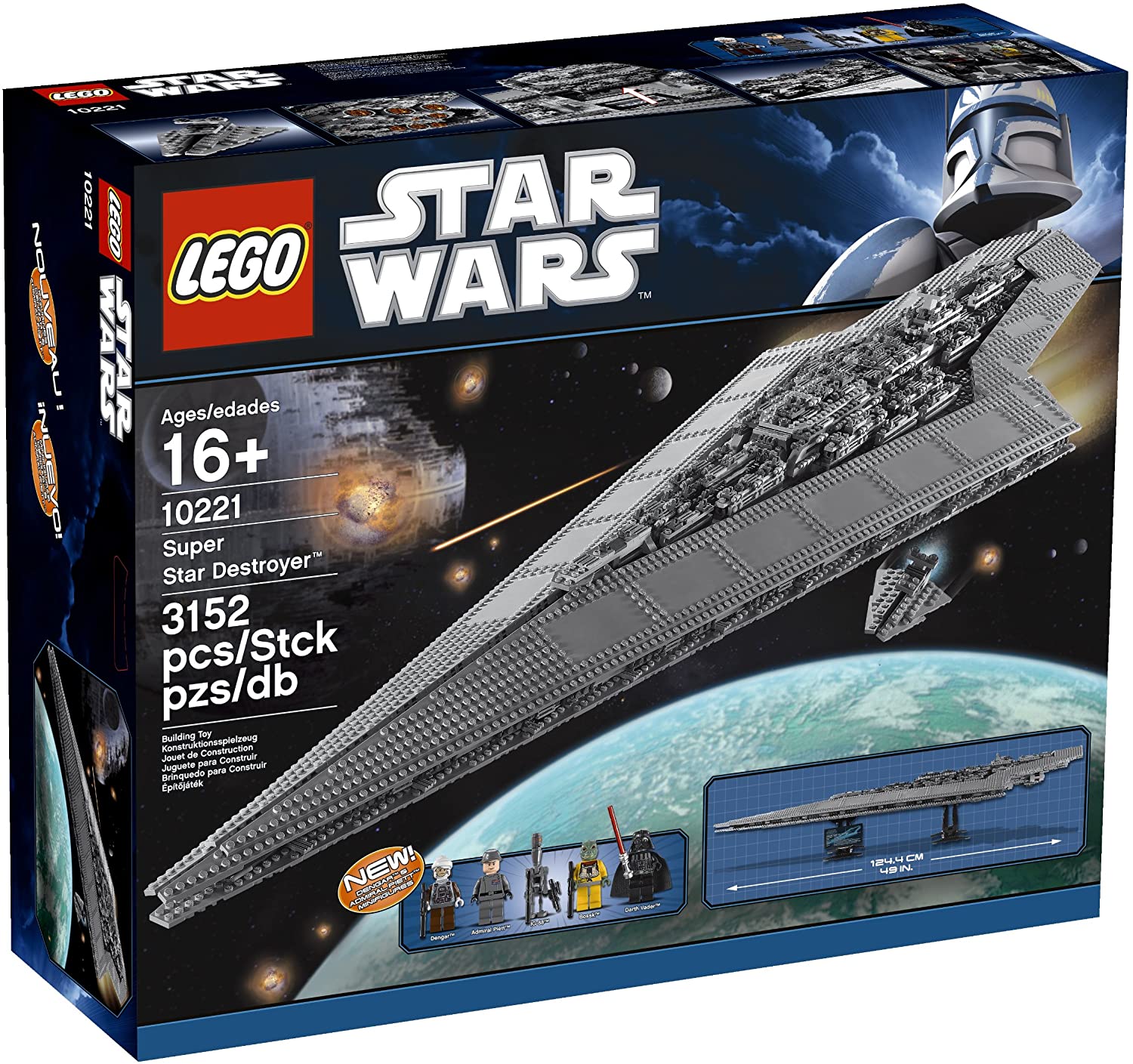 Just when we found ourselves impressed by the size of the Imperial Star Destroyer above, along comes the 10221 Super Star Destroyer. It's a 3,152 piece giant that measures over four feet long and has a center section that lifts off to reveal a full command center. Coming with its own display stand and minifigures (Darth Vader, Admiral Piett, Dengar, Bossk, and IG-88) this one utterly impressed fans when it arrived in 2011. In the end, this Destroyer weight over eight pounds and that's a lot of bricks!
11. LEGO 10196 Grand Carousel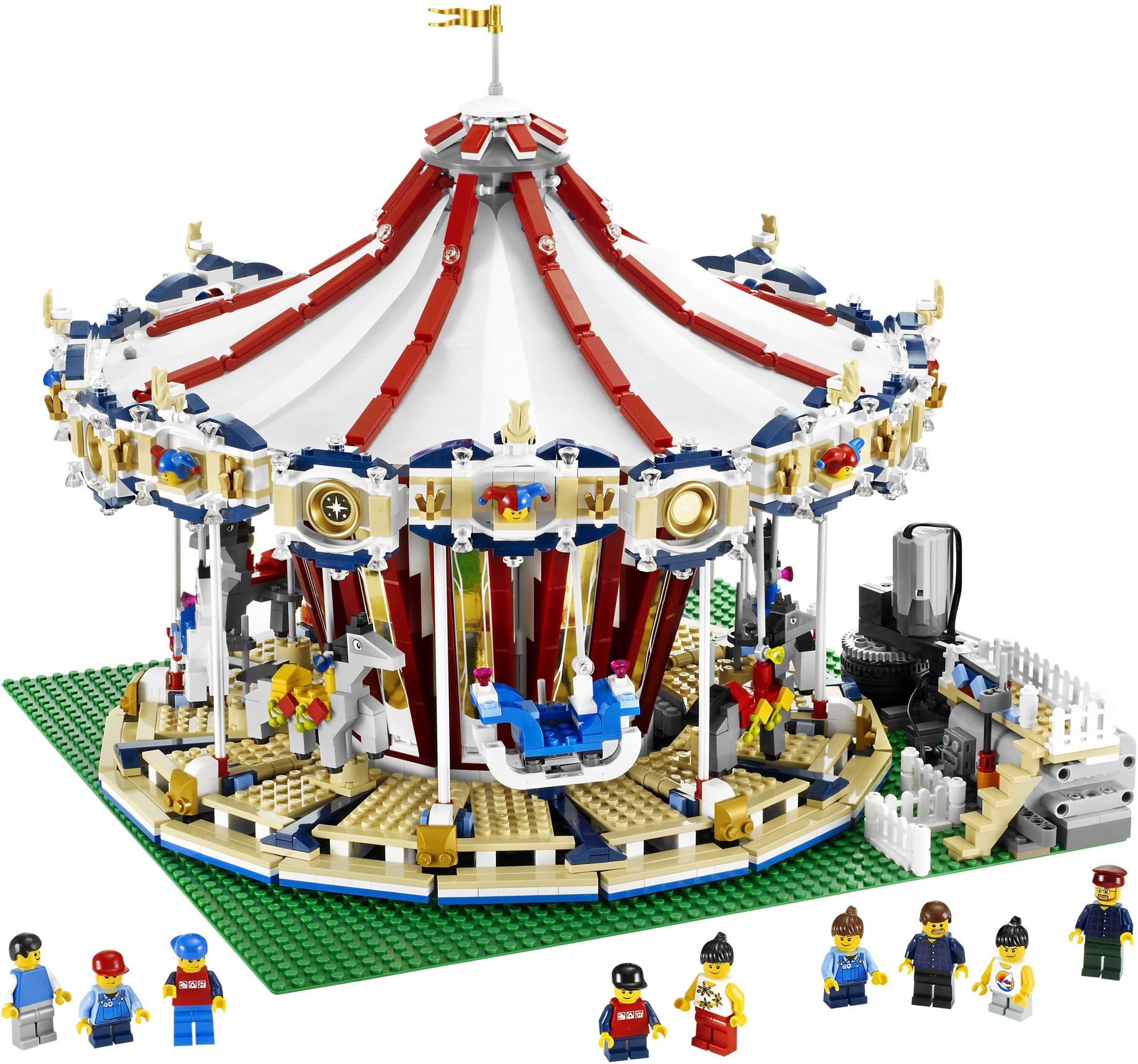 Stepping back from impressing you with LEGO build size for a moment, the 10196 Grand Carousel impresses with its crazy levels of detail. From the colorful carousel mounts to the fully motorized (and music playing) LEGO Power Functions motor, this one is nothing but fun from the first to the last of its 3,263 pieces. Complete with conductor and minifig families that can ride along, it could easily be a centerpiece of any LEGO amusement park landscape you might construct. I mean come on, the horses and swing boats even move up and down as it turns. Magical!
10. LEGO Star Wars Ultimate Collector Series 75059 Sandcrawler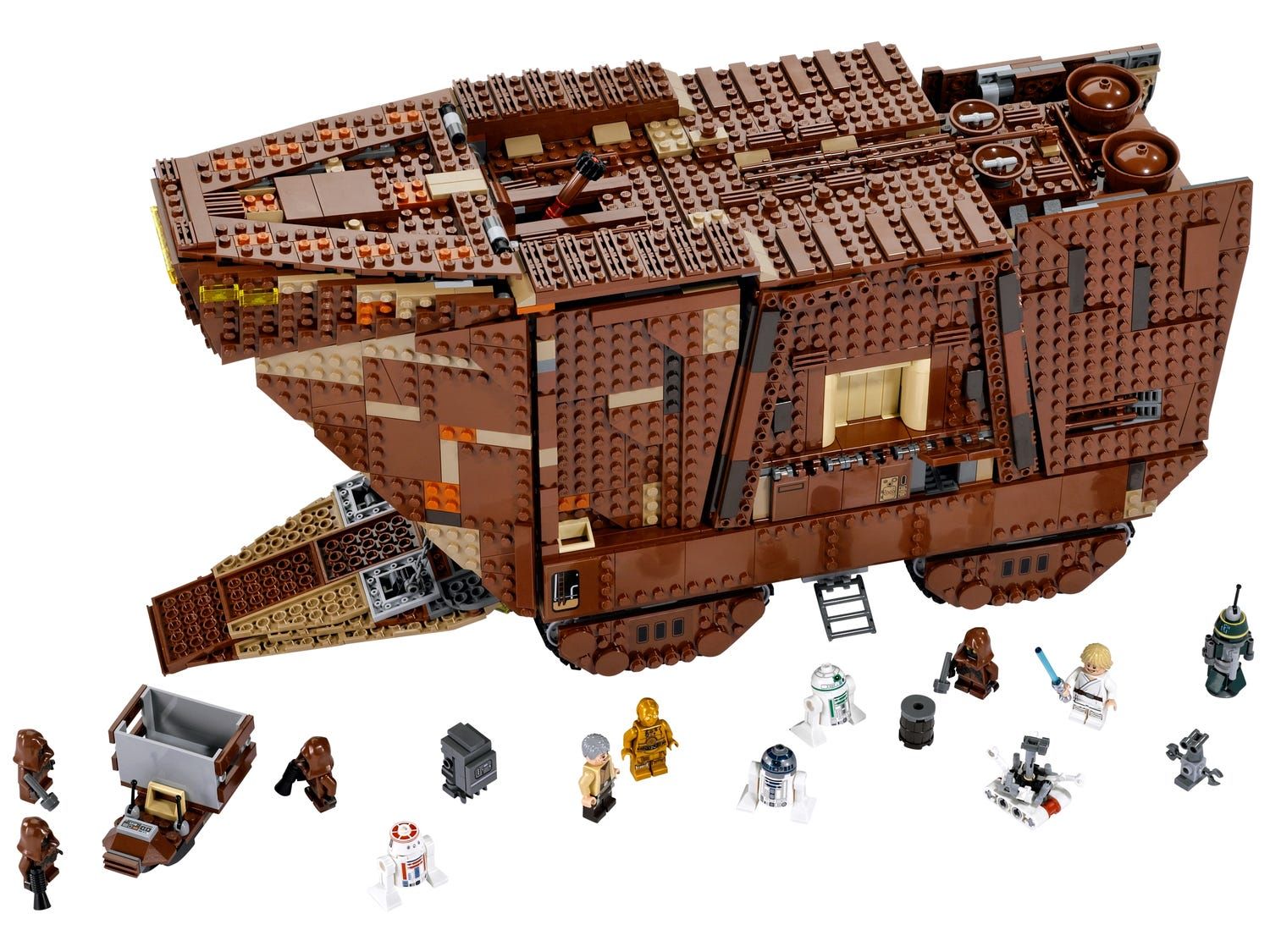 C-3PO will tell you "I can't abide those Jawas! Disgusting creatures!" but I just love those tiny hooded scavengers and this version of the epic Sandcrawler has me just drooling to take it home. Considering the level of internal detail in the 75059 Sandcrawler, it's no surprise that it weighs in at 3,296 pieces. Just for the cool minifigs alone (Luke Skywalker, Uncle Owen, C-3PO, 4 Jawas, R2-D2, R2 Unit, R1 Series Droid, Gonk Droid, R5-D4, and the Treadwell Droid) my geeking out only grows as I explore the details here.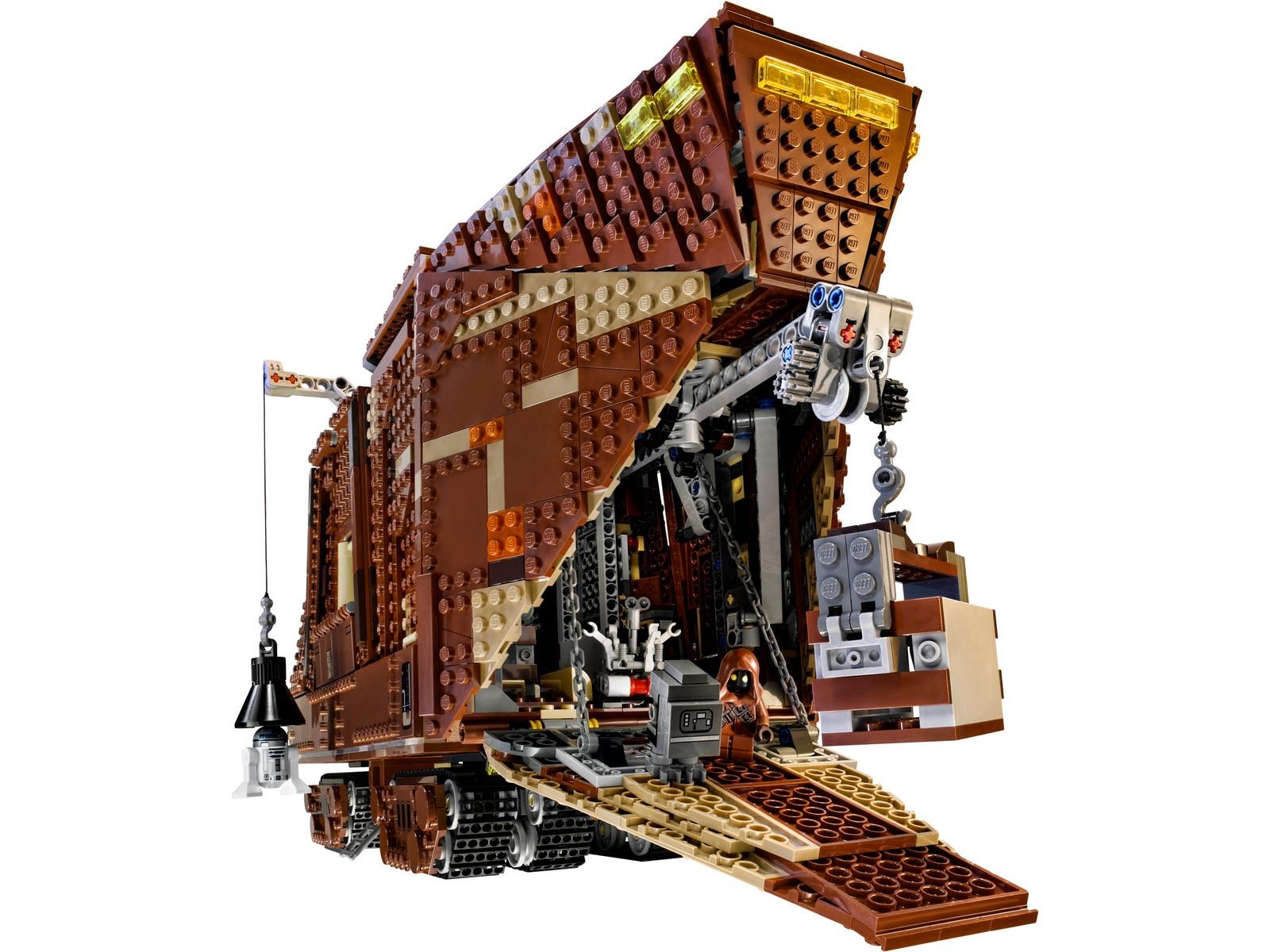 9. LEGO 10181 Eiffel Tower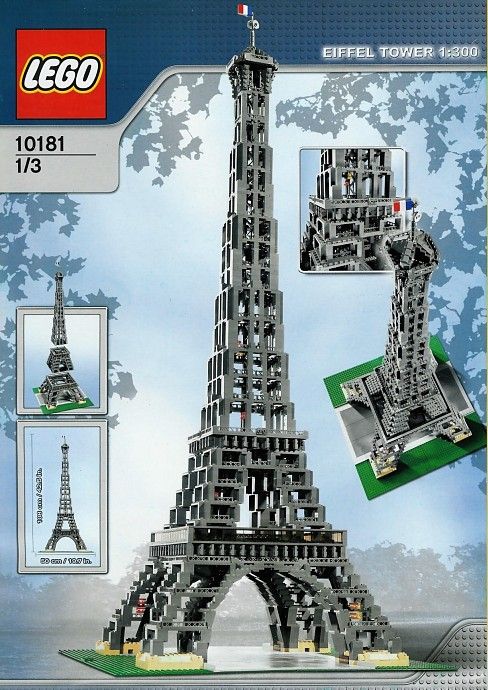 Standing over four feet tall once assembled and serving up 3,428 pieces during the build, 10181 Eiffel Tower is a display worthy set once built. Considering its overwhelmingly comprised of grey pieces, you may want to check your sanity at the door before starting on it because you will have lost it by the end. Originally released in 2007, it is built based on the original blueprints at 1:300 scale.
8. LEGO Star Wars 10143 Death Star II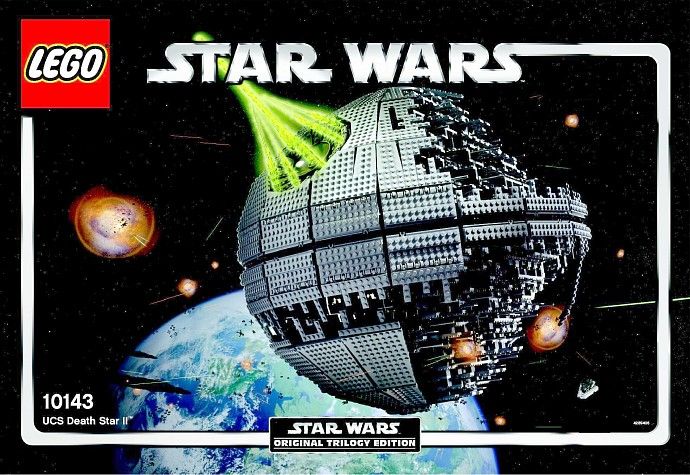 Though massive in size and certainly earning it's spot on the list with 3,449 pieces, the LEGO Star Wars 10143 Death Star II set just doesn't hold a candle to the 10188 Death Star for me as a fan. It's technically beautiful and focuses on attention to detail in terms of the film, but I'd opt for the next stop on our list if I could only have one planet killing battle station to blow up with my LEGO X-Wing of choice.
7. LEGO Star Wars 10188 Death Star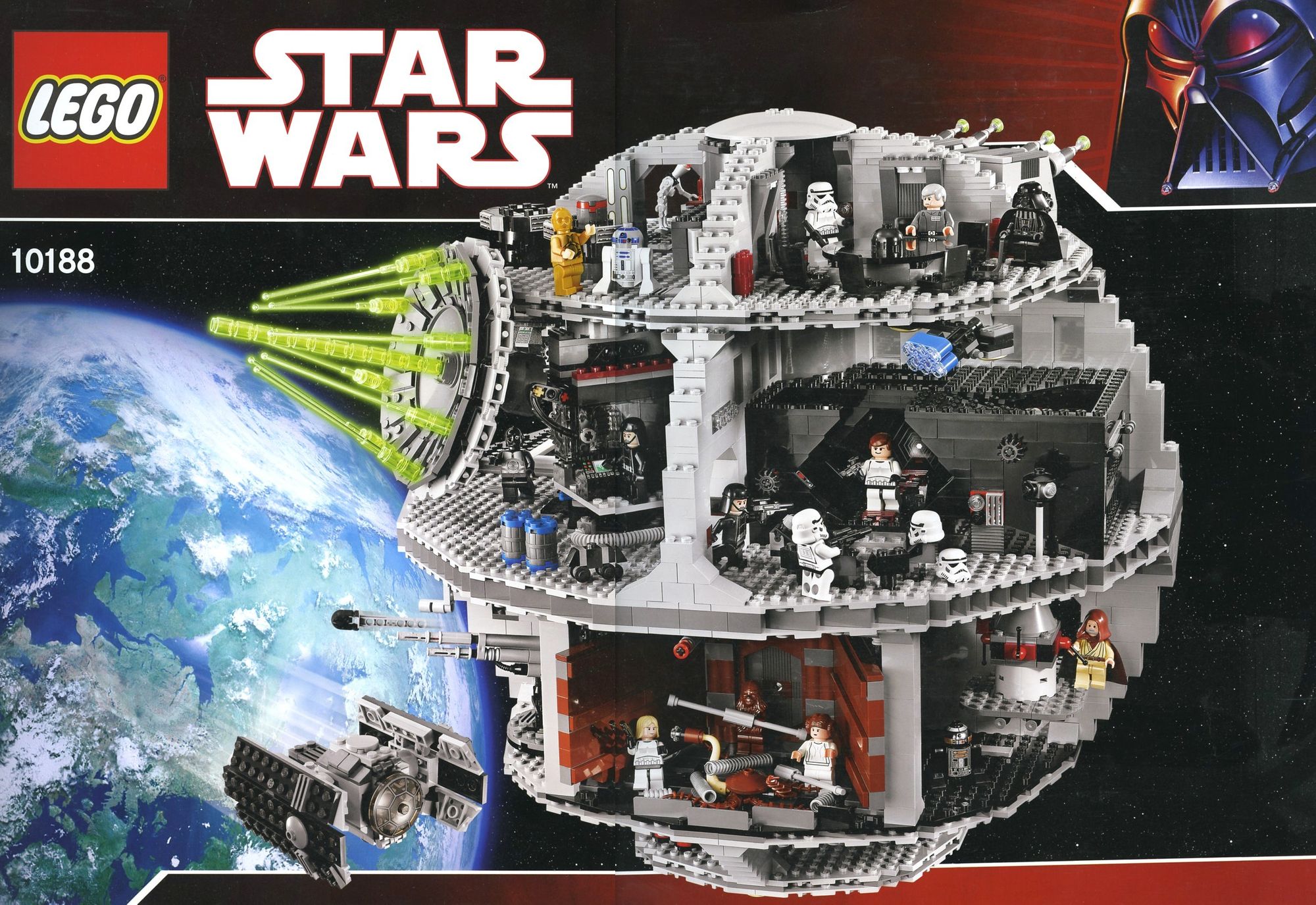 If I had to pick one set from this that I cannot resist as a fan, the 10188 Death Star holds that top spot for me. I've always loved the attention to detail and cutaway diorama nature of this one. It ties so many scenes from the film together in a single toy that I've wanted it since I first saw it. The potential for extended play once built is clearly strong with this one. In terms of where it stacks up against the other sets, its 3,803 pieces sets it firmly in the number 5 spot (for now.) Once you factor in that this set includes 24 minifigs, you can see why it has been so sought after by both Star Wars and LEGO fans alike.
6. LEGO TECHNIC 42100 Liebherr R 9800 Excavator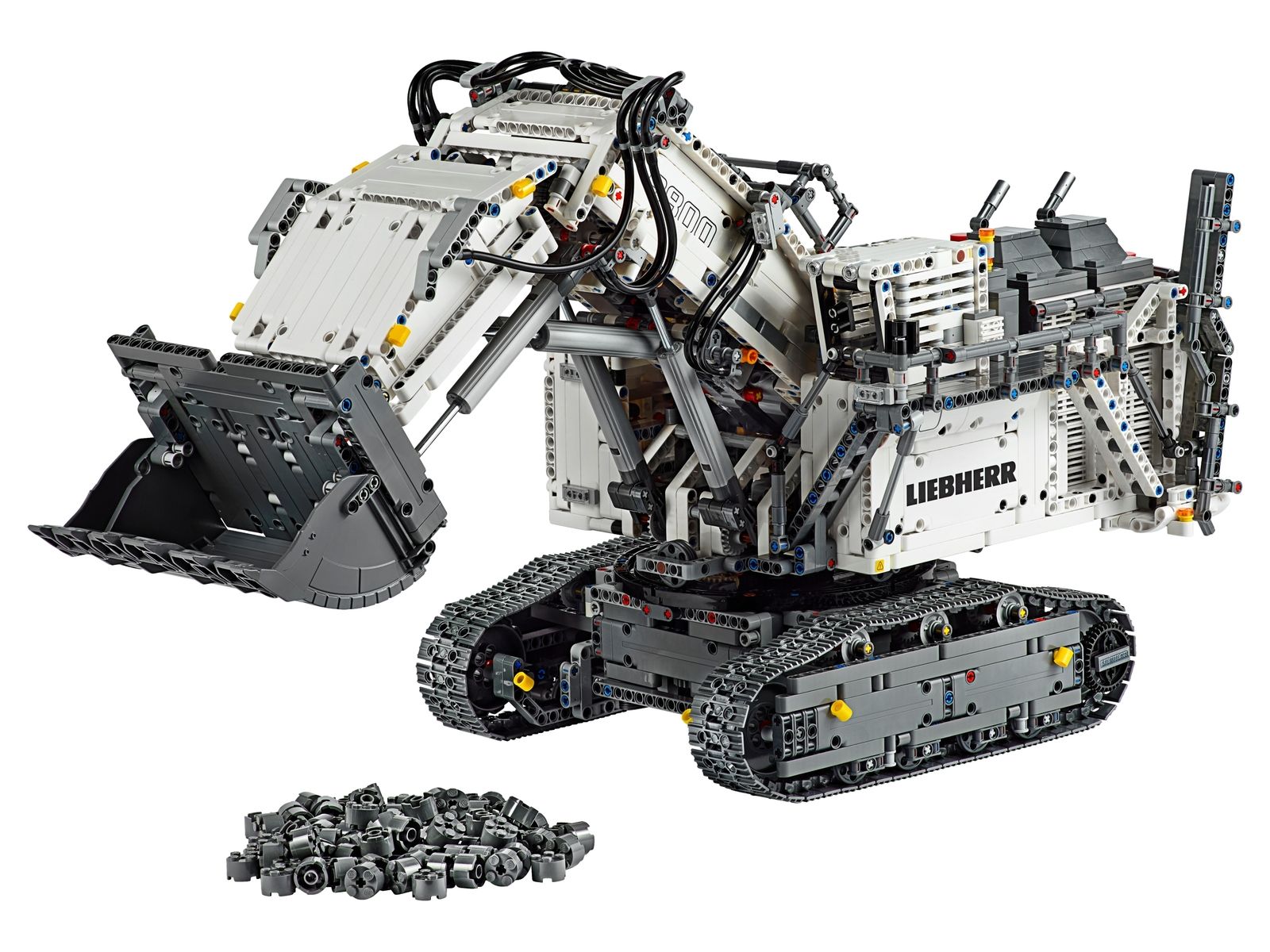 While I can't say I've ever seen an excavator that looks like this on a real construction site, apparently they exist – and they're huge. So it's not particularly surprising that the 42100 Liebherr R 9800 Excavator set is among the biggest Lego sets ever sold at 4,108 pieces. Not only is this one of the largest Lego sets, it is also one of the most advanced since it can be controlled by the LEGO TECHNIC CONTROL+ smartphone app.
5. LEGO Creator Expert 10214 Tower Bridge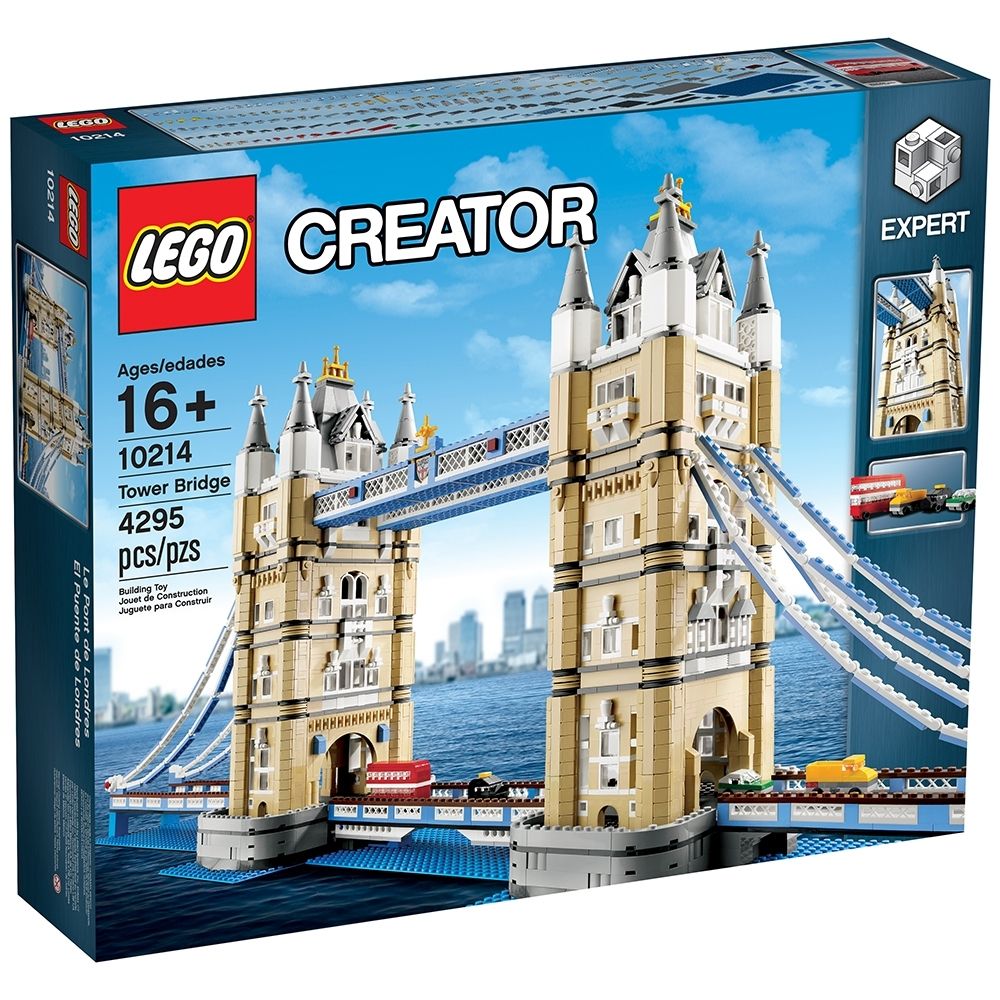 It's time to really step up the game as we enter the final five. Here we have the first set in our list to make it above 4,000 pieces and 10214 Tower Bridge does it handily at 4,295. Dedication is the key thing to keep in mind here as you will be building the same tower twice as you assemble this one and given the intricacy present, that's no simple task to achieve. Depicting the bridge that has sat over the River Thames since 1894, designer Jamie Berard did an amazing job recreating this landmark. Some points of note include the 80 windows in the set which also offers fans a nice mix of hard to find pieces. Here the draw bridge actually works and four miniature vehicles (a black London taxi, a yellow truck, a green automobile, and a traditional red double-decker bus) are included. The completed model is 40" long and 17" high and breaks apart in key spots for those times when you need to relocate the assembled set. Really a stunning marriage of LEGO, architecture, and a historic location!
4. LEGO Ghostbusters 75827 Firehouse Headquarters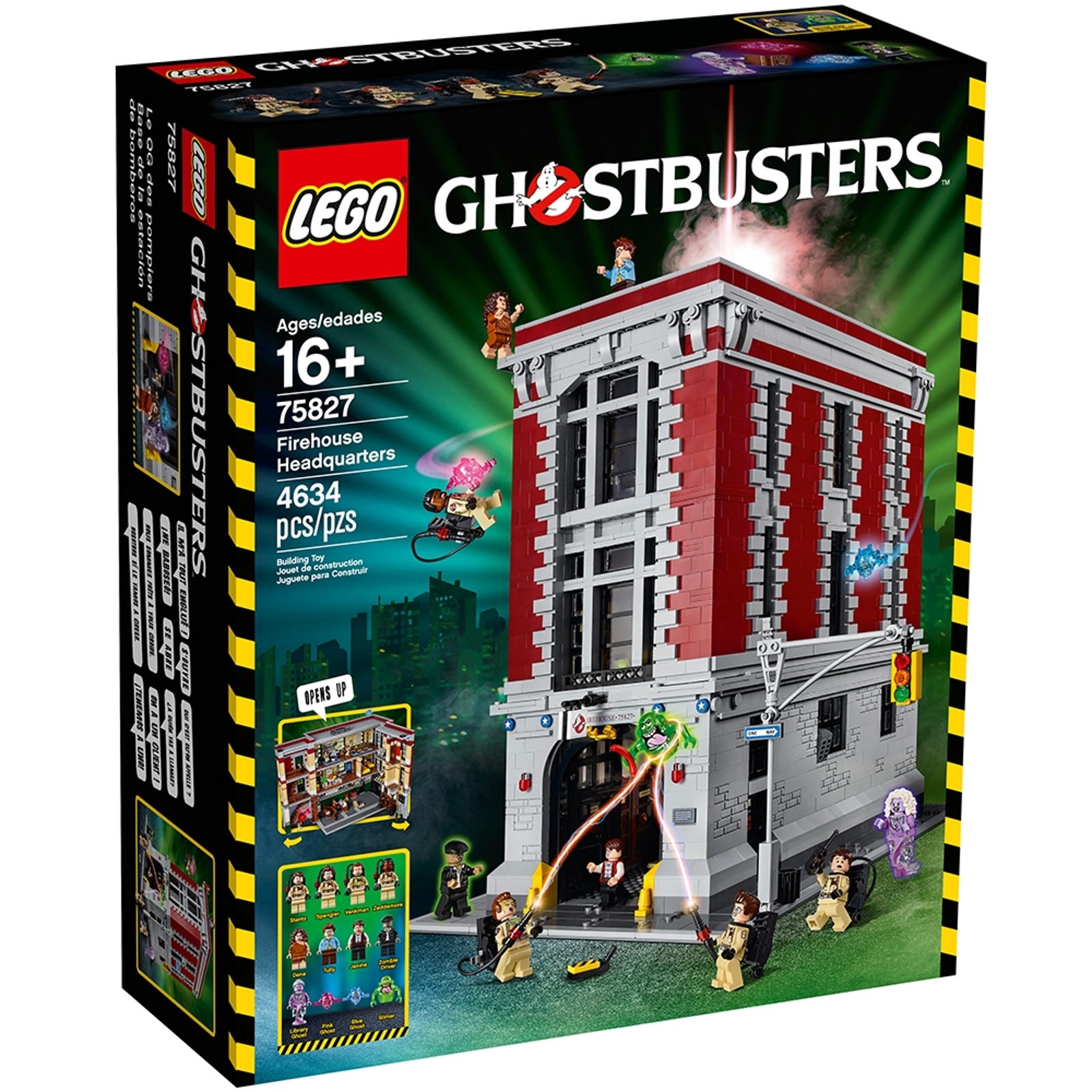 Jumping onto the list in 2016 and climbing up the ladder, the 75827 Firehouse Headquarters featuring the Ghostbusters is clearly the set we're going to call for LEGO style points. It topped our list of "6 LEGO Sets We Can't Wait To Build In 2016" and we're thrilled to be discussing it again here. As impressive as the exterior is, the fact that it opens like a book and lets you step into the action as a fully realized diorama set makes this one a winner on all levels. At 4,634 pieces, there's a lot to build with this one and the 12 minifigures included (Peter Venkman, Raymond Stantz, Egon Spengler, Winston Zeddemore, Janine Melnitz, Dana Barrett, Louis Tully, Zombie Driver, Slimer, Pink Ghost, Blue Ghost, and Library Ghost) only add to the fun. Don't even get me started on the accessories and extra features which prove too numerous to list. Slime my wallet please, I think I want it!
3. LEGO Star Wars 10179 Millennium Falcon
Not to be outdone by a New York City firehose, Star Wars returns to the list of largest Lego sets ever sold with 10179 Millennium Falcon. 5,195 plastic bricks never looked so good as Han Solo and Chewbacca are just plain showing off with this Ultimate Collectors Series version of the Millennium Falcon. This represents the first time the iconic starship was made to minifigure scale and it came with Han Solo, Chewbacca, Obi-Wan Kenobi, Luke Skywalker, and Leia Organa. If you missed it back in 2007 though, prepare to open your bank account and just keep dumping cash. Retired in 2010, it regularly sells for more than $3000 today.
2. LEGO Creator 10189 Taj Mahal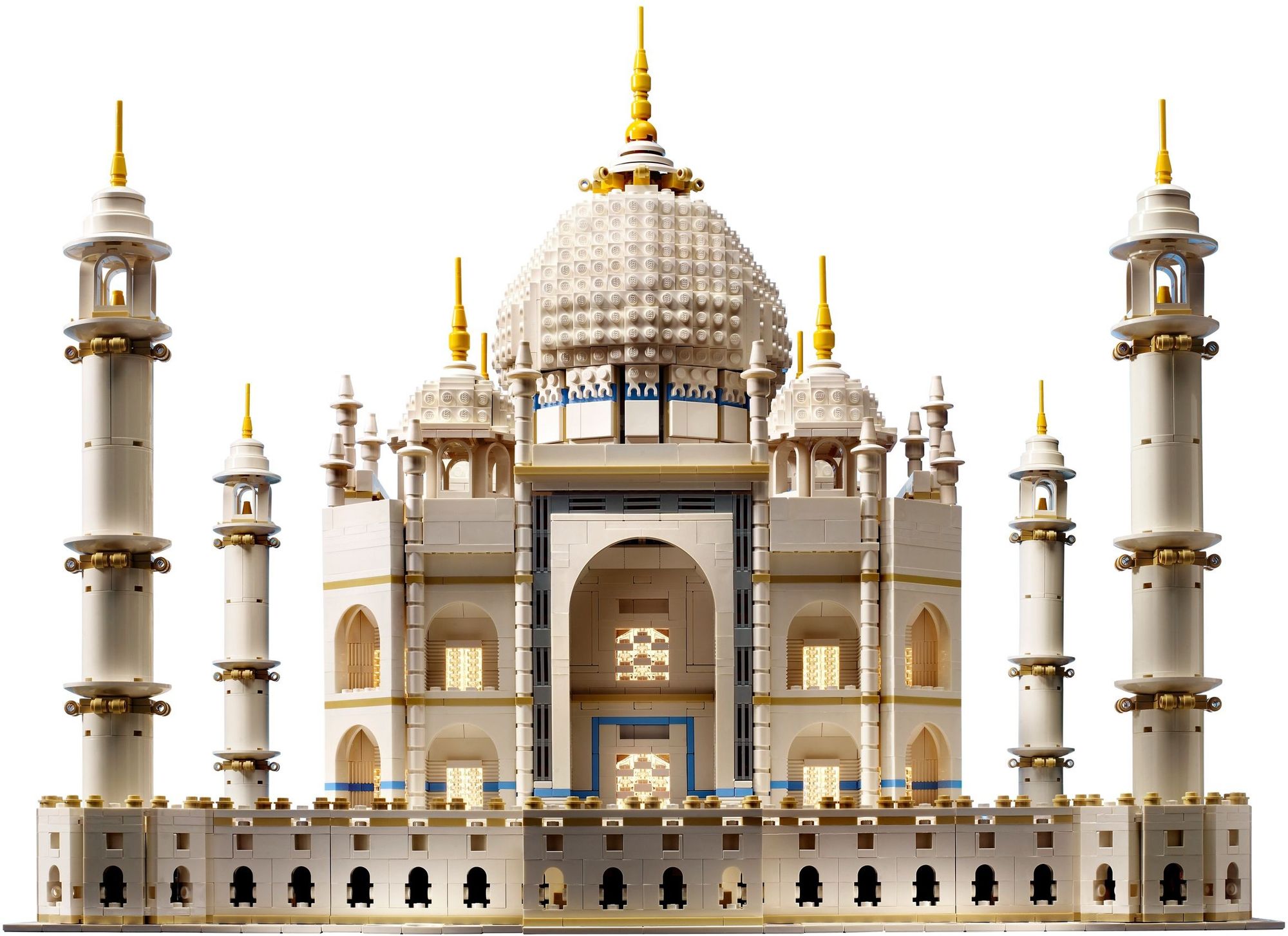 As one of the largest Lego sets ever released, the 10189 Taj Mahal set is a fitting tribute to a stunning structure. With just 78 more pieces it would have topped 6,000 as the set includes 5,922 pieces. The finished model is over 20" wide and 16" tall and is visually impressive. As far as architectural master works go, this set simply excels and it also challenges the builder by using a very similar color throughout the build. Released in 2008, it held the top spot as the largest LEGO set for nearly a decade.
1. LEGO Star Wars 75192 Millennium Falcon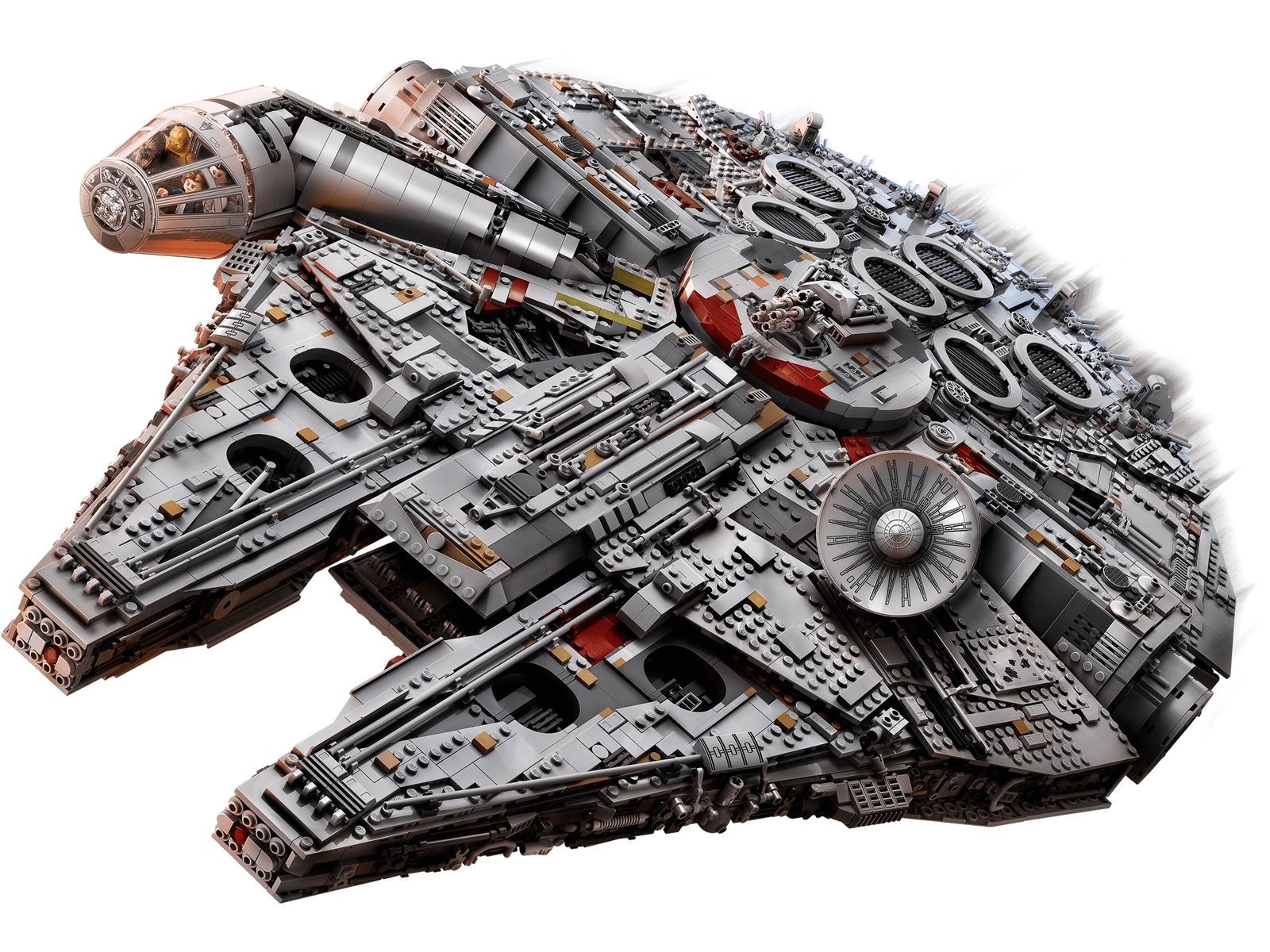 When LEGO retired the previous Ultimate Collector Series version of the fastest hunk of junk in the galaxy, it was hard to fathom there ever being a better (or larger) iteration of it. Yet LEGO somehow manages to continually break their own records and released the biggest Lego set ever with the jaw-dropping 75192 Millennium Falcon. With 7 minifigures, 2 porgs, a mynock, a BB-8 droid and 7,541 pieces it is far and away the largest Lego set ever released – a record that remains intact nearly two years after its release. Of course, such an enormous Lego set comes with a hefty price tag. Not only is this the biggest Lego released to date, it's also the most expensive at $800. As a Star Wars fan, there is only one word to describe this thing – magnificent.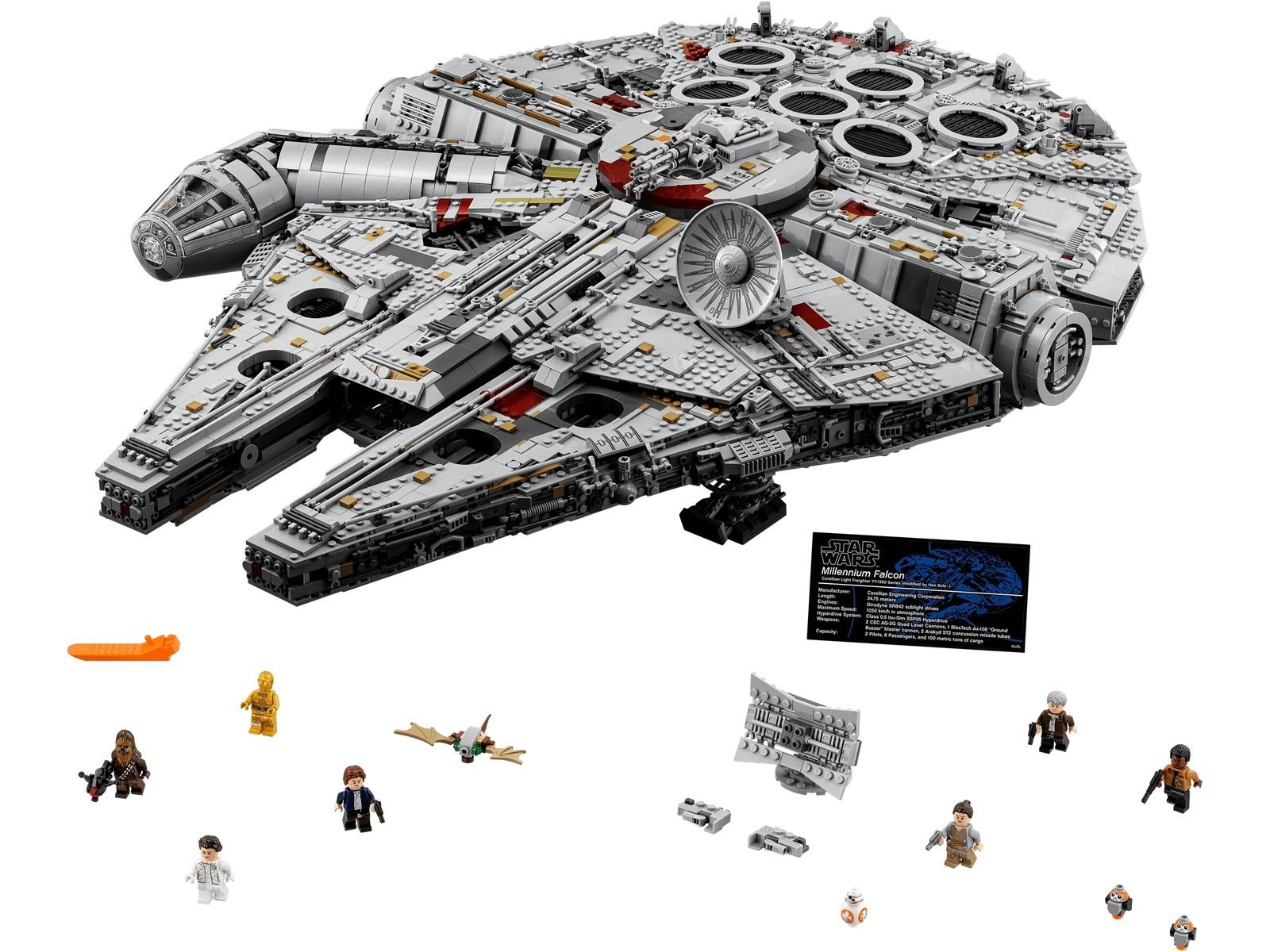 ---
Honorable Mentions
Before we go, we didn't think this list would be complete without a couple incredibly interesting outliers. First there was one set which was not commercially available that would have left the Taj Mahal in the dust if we were to include it. Friends, I present to you The Ultimate Battle For Chima!
You are not reading that box wrong. This set was awarded as a prize and contained 10,004 pieces and 92 minifigs. We can't even imagine how much this thing would weigh, let alone what it would look like to open. You can see the winners over on the official LEGO website, but the contest took place in 2015 and it challenged fans to build a fortress to keep Chima safe in the future. Entries included photos of the built fortress which were then judged. This set, the largest LEGO set we've ever seen boxed, went to the winners.
Finally, if we're talking the ultimate largest set, we should discuss what may just be the biggest LEGO creation in the world. That honor currently goes to 10414 Star Wars Anniversary X-Wing. Some might argue this should have made our list as it was sold for a time in 2014, but this life-size recreation of the LEGO X-Wing Fighter is such an outlier (as only fifteen were made and we'd hate to see the box for it) that we decided to just include it as an honorable mention. It contained over five million LEGO elements.