Most collectibles today are inspired popular culture such as movies and television shows. Whether it's a new Captain America action figure modeled after the character's depiction in the latest Marvel movie, or a Green Arrow Funko Pop vinyl figure of Stephen Amell's small screen depiction of The Emerald Archer, collectibles tend to be based on fictional people, places and things.
There are, however, a massive number of collectibles, which are grounded in the real world. For the sports fan, there are a mix of things that just beg to be nabbed and displayed. Since American football is the most popular sport in the United States, we're narrowing the scope of this article to NFL action figures. Clearly, there are a lot of NFL fans out there as the average NFL team is worth a mere $2 billion due in part to the millions of people who watch games on TV, online and in person during seventeen Sundays (plus the playoffs) each year.
We're pleased to report that there are NFL collectibles out there that aren't simply a jersey or a hat, though. Outside of the more traditional merchandise such as hats and jerseys, there is a world of NFL collectibles for fans to purchase and, in certain cases, play with. As the NFL remains a huge cultural force in America, the amount of available action figures, vinyl figures, and games just keeps growing.
If you're looking to start your own collection of NFL action figures focused on play, here are a few officially licensed collectibles where you can begin!
Tudor Games Electronic Football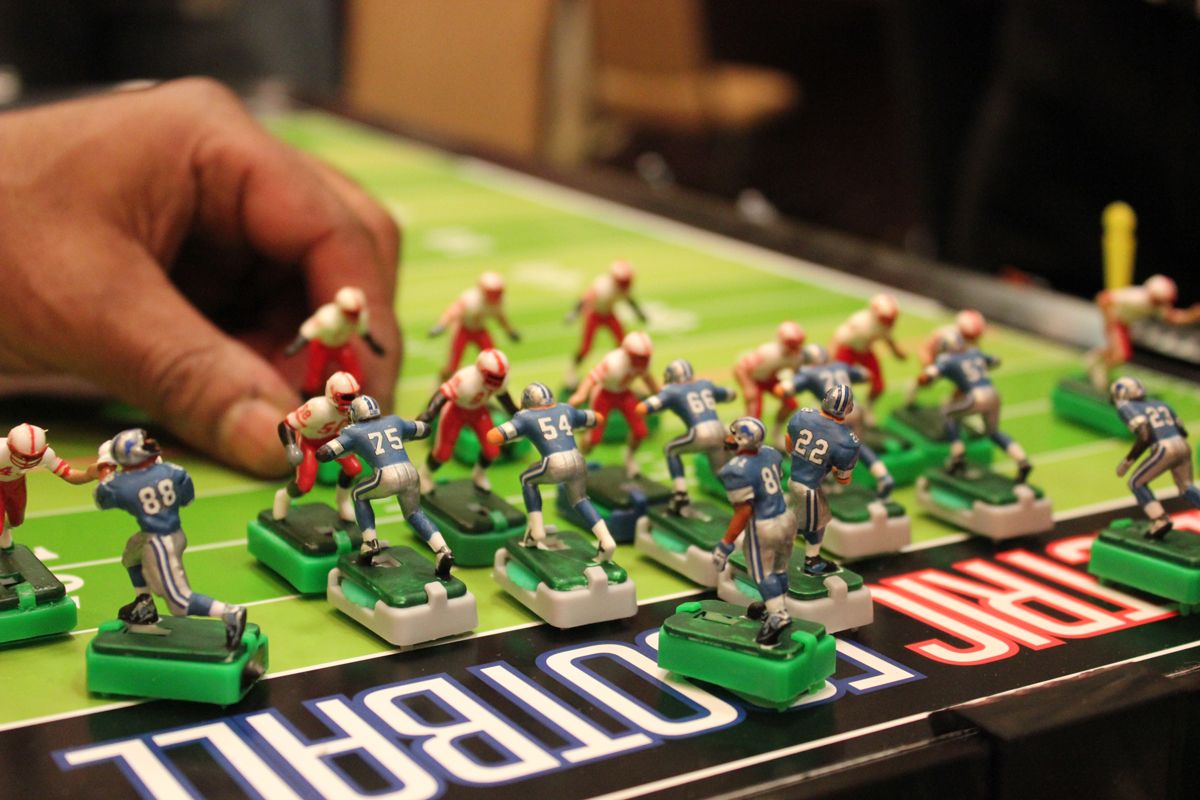 Made by Tudor Games, we're going to focus on the Seattle Seahawks Dark Uniform NFL Action Figure Set for our example here. This 11-piece NFL action figure set is perhaps the simplest item on this list, but its value comes from that simplicity. Designed to be played with an electric football field, none of the figures are marked with specific players or numbers though decals can be obtained and added to build the team of your dreams.
The product line here is new, but this is certainly a bit of a throwback collectible. It's also one that you can play in a way that makes it very different from any of the other options on this list. The field itself runs around $60 and you'll need two sets of players (roughly $15 each) in order to properly play. If you are used to games like EA Sports' Madden NFL for systems like the PlayStation or Xbox, this is going to be a very different experience. This is more the option for someone looking for an old-school way to compete against a friend.
Each player set, though, is directly modeled after each team's individual look. This set, for example, sports the Seattle Seahawks' distinct all-navy look. Best of all, Seattle's logo with the bright green trim is easily recognizable and accurate. When you use these, you'll know exactly what team you're playing (and rooting) for.
McFarlane Toys NFL Series
As one of the most recognizable collectible makers on the market, it shouldn't come as a surprise that McFarlane Toys has its own line of NFL collectibles. Known for their incredibly detailed creations, these NFL figurines are no exception.
Even their first entry into the NFL field – which came way back in 2001 – got it right. Take their Randy Moss figure for instance. This one captures Moss in stride; as he often was as a member of the Minnesota Vikings, and gets all the aspects of his on-field look right down to the design of the Vikings' jersey and the color of his gloves.
The original line featured the likes of Moss, Colts running back Edgerrin James and Buccaneers defensive lineman Warren Sapp. Their most recent series (their 37th overall) features the next crop of NFL stars including Titans quarterback Marcus Mariota, Buccaneers quarterback Jameis Winston and Giants receiver Odell Beckham Jr. A new series will likely be released again sometime this year around the start of the NFL season.
McFarlane Toys NFL Playmakers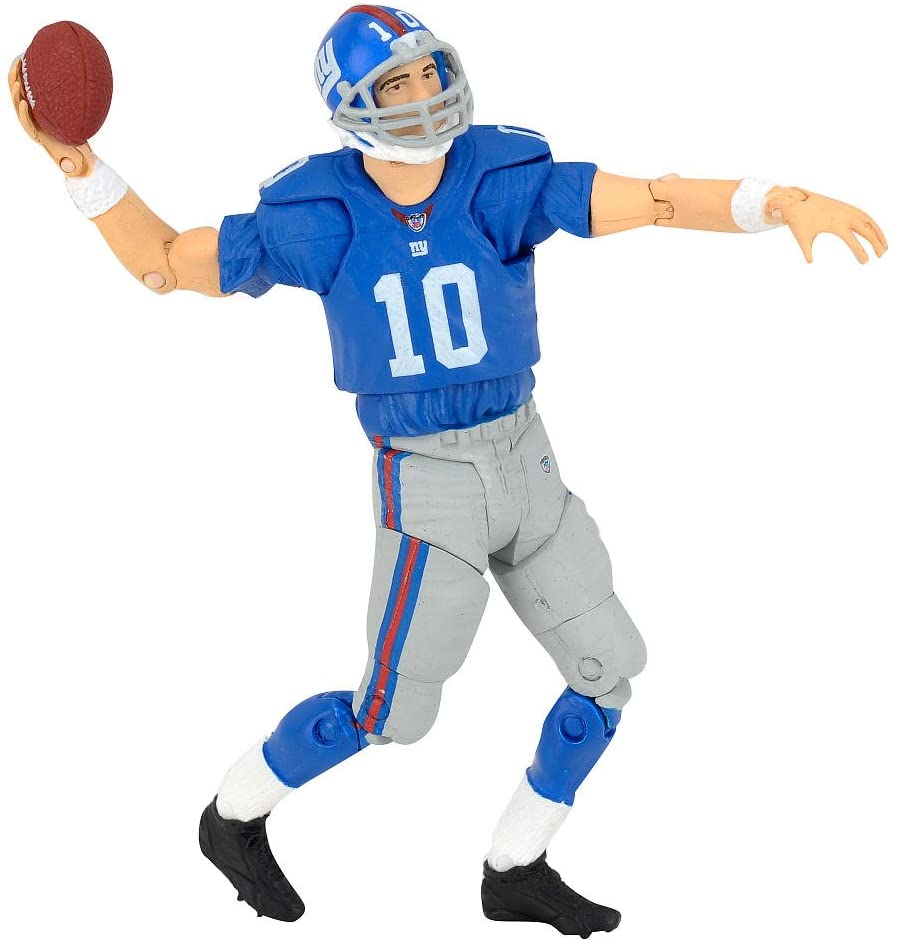 Although they no longer make this next item, McFarlane Toys also made higher articulation NFL action figures for a time. Dubbed 'NFL Playmakers', this series was designed to be more interactive and youth-focused compared to other McFarlane designs. Each action figure was modeled after a specific player, had 20 moveable parts and a football that fit into the player's hands. These collectibles were basically like getting a Batman action figure to play with for your favorite football player.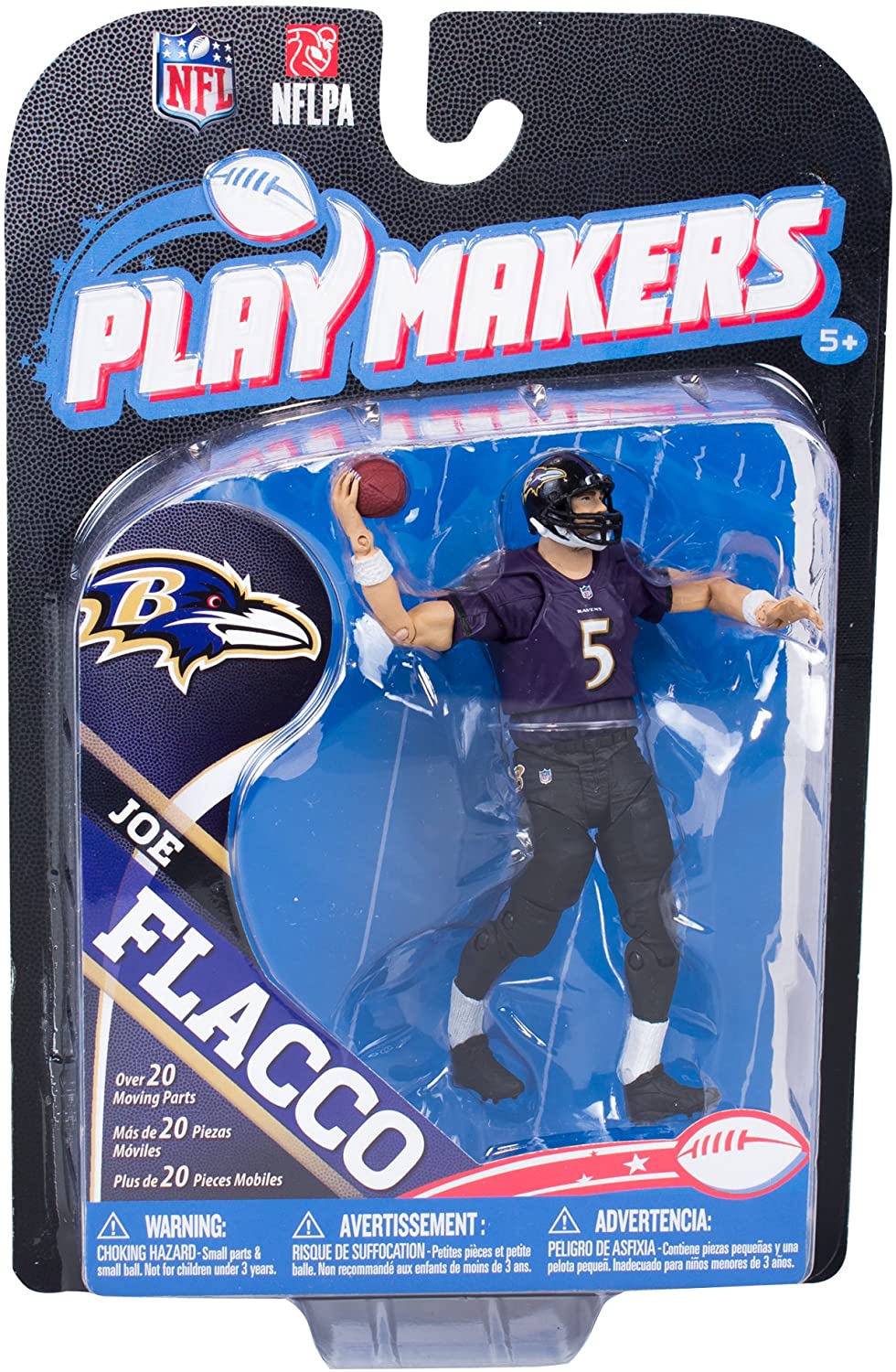 For unclear reasons, only four NFL Playmakers series were ever released. The likes of Brett Favre, Tim Tebow, Aaron Rodgers and Rob Gronkowski were sold until the series ended. Now, they are only available via the secondary market on eBay and elsewhere.
NFL Mini Helmet Set
Sometimes the best collectable are the ones you simply look at and admire. That's exactly what the NFL mini helmet sets from Riddell offer.
While you can get these still in some quarter machines at select stores, the full set when sold is typically of higher quality and features all the teams. The helmets we're featuring here are pocket sized (about 2" tall) and they are made of plastic. Best kept in a case to sit on a desk or bookshelf, this offering is for the fan that just wants an NFL decoration that stands out in their home.
Though we're picturing the standard set, there are also vintage options featuring old logos and old helmet designs and bigger replica helmets that grow ever closer to the official ones used in the NFL.
Funko Pop! NFL Vinyl Figures
Last, but not least, we close celebrating Funko's Pop! NFL line. While Funko is best known for its Pop vinyl line of pop culture collectibles (which is well represented these days), they also boast a strong wider NFL collection that includes Wobblers and Pocket Pop! Keychains. Like the other Funko Pop! collectibles, the NFL line is comprised of small, vinyl figures designed to look like a specific character or person only with a slightly a wider face and large black eyes.
The Funko Pop! NFL vinyl figures, though, stand out because they all come with helmets. If you choose, your Funko Pop! athlete can wear the helmet or have it sitting near their feet. It also comes with an officially licensed NFL football in its hand and the player's team logo on the packaging. Yes, each player's name and number is also on the jersey. Some even are available in both home and away jerseys!
Several – such as Texans defensive lineman J.J. Watt, Saints quarterback Drew Brees or Seahawks defensive back Richard Sherman – are readily available at retailers everywhere. Some, like the Funko Pop of former Browns quarterback Johnny Manziel, has already been vaulted and are only available on third-party sites and is quickly climbing in value.
You can count on there being more of these collectibles coming your way, as Funko rolls out a few Funko Pop! NFL vinyl figures of players each year.