If you ever find yourself wanting to Force choke a coworker, this is the mouse you're looking for. Hewlett-Packard, more commonly known as HP for short, has unveiled a sleek wireless mouse with a Sith-themed design. Featuring a shadowy figure of the menacing Lord Vader wielding his signature red lightsaber, this mouse lets people know you mean business.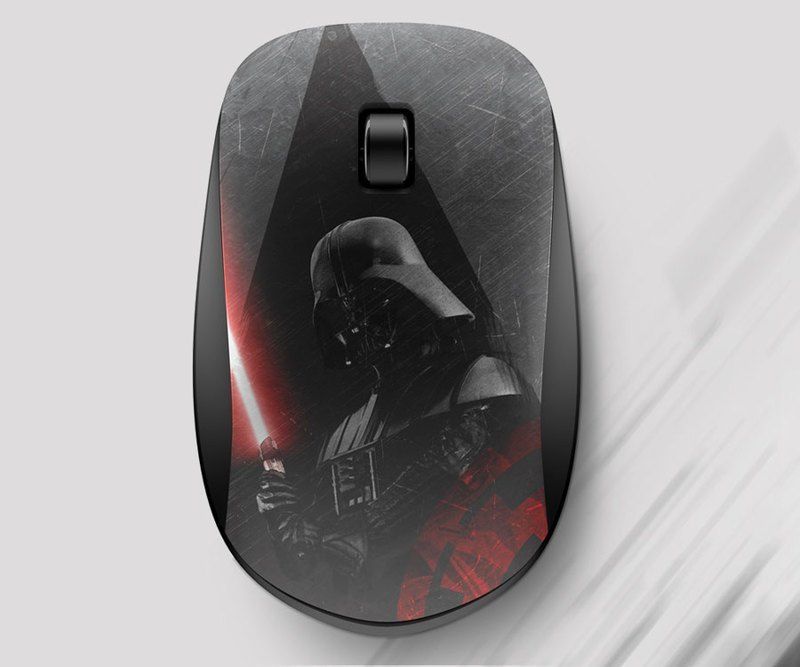 It's also the perfect accessory for HP's Star Wars Special Edition Notebook computer released on Force Friday, although it's compatible with most computers that have a USB port. For a company that doesn't produce much in the way of pop culture merchandise, HP's attention to detail is most impressive. Even their official product description of the mouse feels like Galactic Empire propaganda.
Dark side inspired.
With the dark side of the Force at your fingertips, the galaxy will fear the power you command. The Sith-themed design makes this the one wireless mouse no one can ignore.
Designed for speed. Refined for comfort.
Whether you're right handed or left, the low-profile design, flowing arch, and subtle side grips makes this the most comfortable mouse for long days in the control room.
Untethered power.
Nothing will stand between you and your next galactic conquest. Unrestricted control meets maximized USB space with advanced 2.4GHz wireless connectivity and Link-5 compatibility.
The Star Wars Special Edition Wireless Mouse is available from Amazon, eBay, and select retailers.