Everett, Washington-based collectibles manufacturer Funko has done an amazing job with their massive line of Funko Pop vinyl figures. Almost every hit movie, cool comic book character, and fanatically followed or pop culture steeped television show has received at least some representation in the toy line. But there are a few cases where you not only question the decision to make a figure for a particular project but then wonder about the potential sanity of the person that wants this figure staring back at them every day from their shelf.
Here are the five figures that I consider the "freakiest" currently available in the expansive Funko Pop vinyl figure line.
Funko Pop Movies Taxi Driver #220 Travis Bickle Vinyl Figure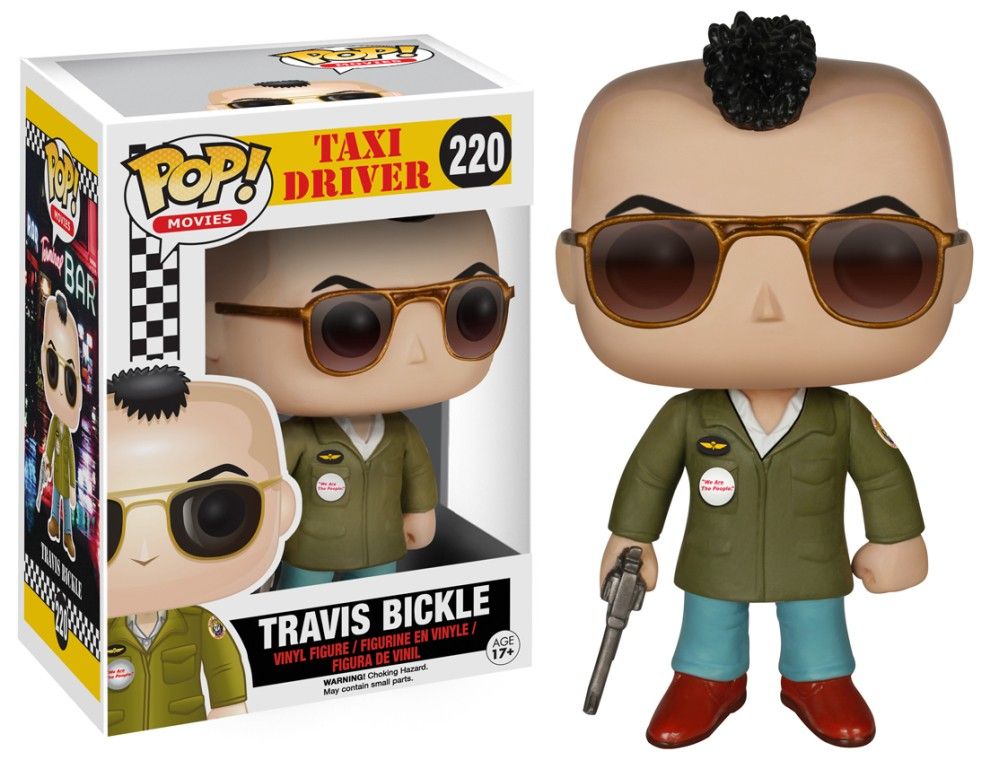 Taxi Driver is, without a doubt, one of the seminal films of the 20th Century. The main character, Travis Bickle, is an uneducated honorably discharged Vietnam veteran who now spends his sleepless nights driving a cab in the worst streets of New York City. In these late hours, he generally only encounters pimps, prostitutes, addicts and thieves. He began to fantasize about "cleansing such filth" from the streets. The socially inept man ruins an attempted relationship with a woman he is smitten with and becomes obsessed with saving a 12 year old runaway prostitute named Iris. Sporting a Mohawk and carrying a Smith and Wesson snub nose 36, Travis goes on a rampage through a brothel to save Iris. The Funko figure is based on that look with Bickle's Army jacket, Mohawk and holding the massive firearm.
You can still purchase the Funko Pop vinyl figure of the deranged Travis Bickle on eBay at the link below.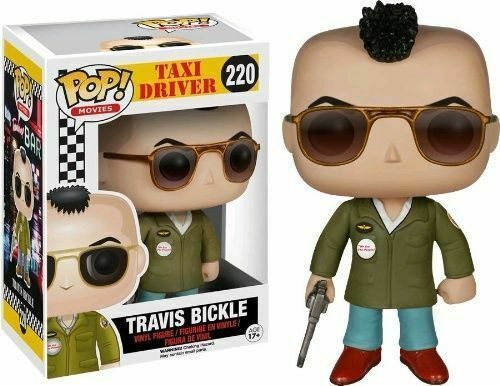 Funko Pop The Exorcist Regan Vinyl Figure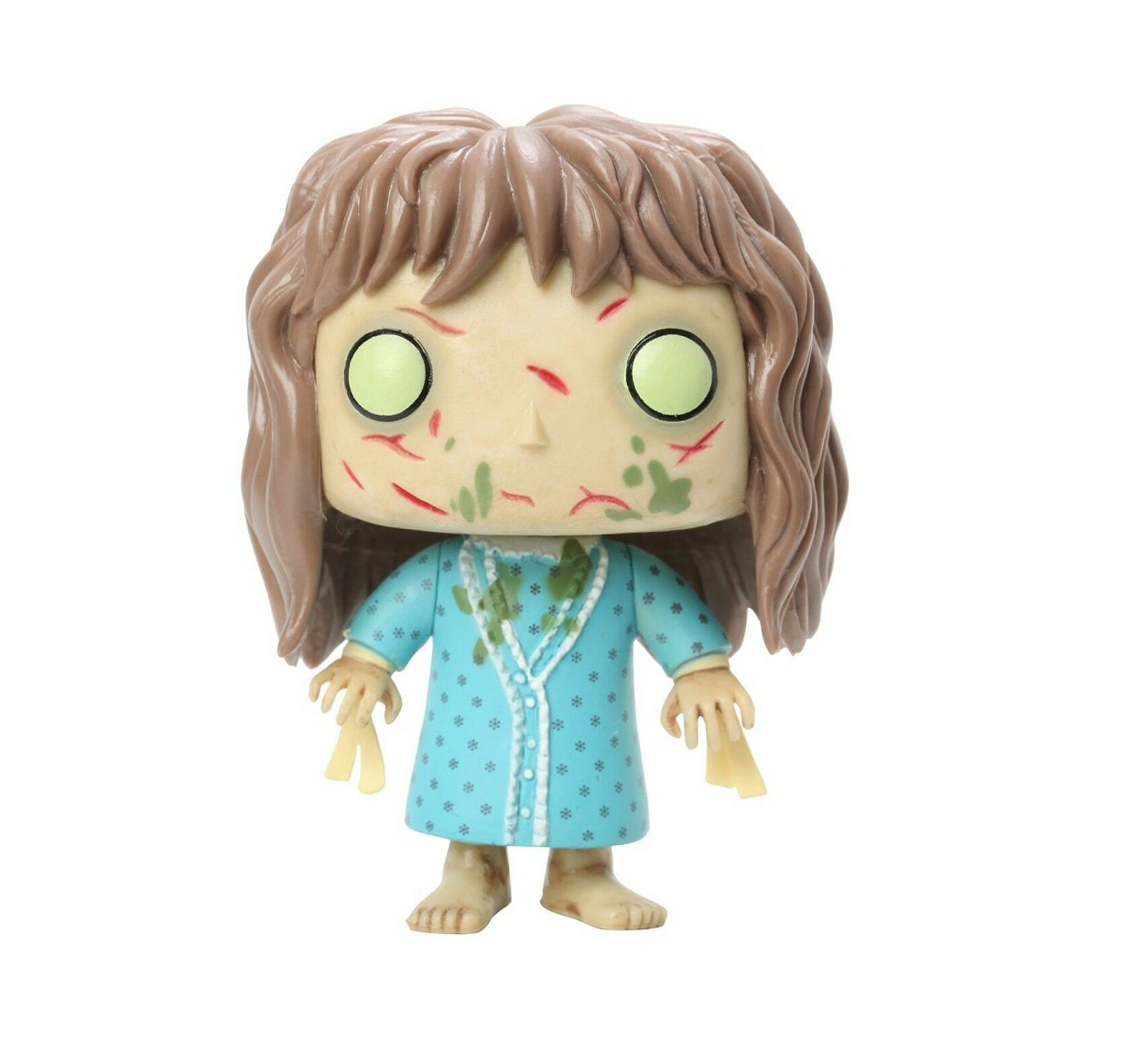 The Exorcist is still considered by many to be one of the scariest horror films ever made. It is by far one of the most profitable. At the center of the story is Regan, a 12 year old girl who has been possessed by the demon Pazuzu. While under its control, Regan curses incessantly, levitates above the bed, masturbates with a cross, spider-walks around the house, kills a man and spews pea soup all over the two priests trying to save her. Regan is definitely having one hell of a day. The Funko figure features the possessed eyes and cuts all over her skin. On her wrists are the broken straps that she was tied to the bed with and her face and nightgown are dribbling with the remnants of her pea soup vomit.
Personaly, I would never bring this thing into my house. If you're brave, you can add this freaky vinyl figure to your collection using eBay.

Funko Pop Movies Hellraiser #134 Pinhead Vinyl Figure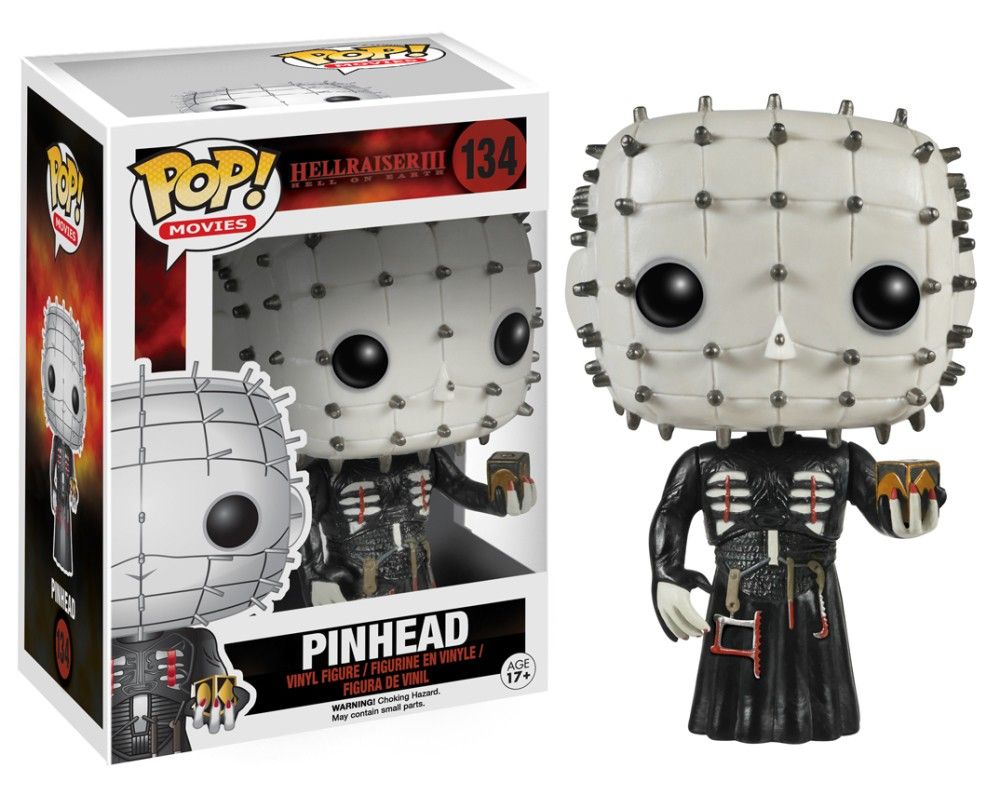 With the exploits of Jason Voorhees, Michael Myers and Freddy Kruger having been diluted almost to the point of comedy, Pinhead remains one of the truly terrifying movie killers. Pinhead, or more properly the Hell Priest, is the leader of the Cenobites. They are former humans transformed into creatures that harvest human souls. They reside in an alternate dimension that is only accessible through a puzzle box called the Lament Configuration. Pinhead and his cenobites torture their victims in a sadomasochistic manner within a Labyrinth hell. His figure holds the Lament Configuration in his hand. He is wearing the tight costume with slits in the front and three blood covered blades attached to the front of his outfit.
If you're not worried about summing a murderous group from another dimension, then go ahead and add this Funko Pop "Pinhead" to your collection on eBay.

Funko Pop The Silence of the Lambs Hannibal Lecter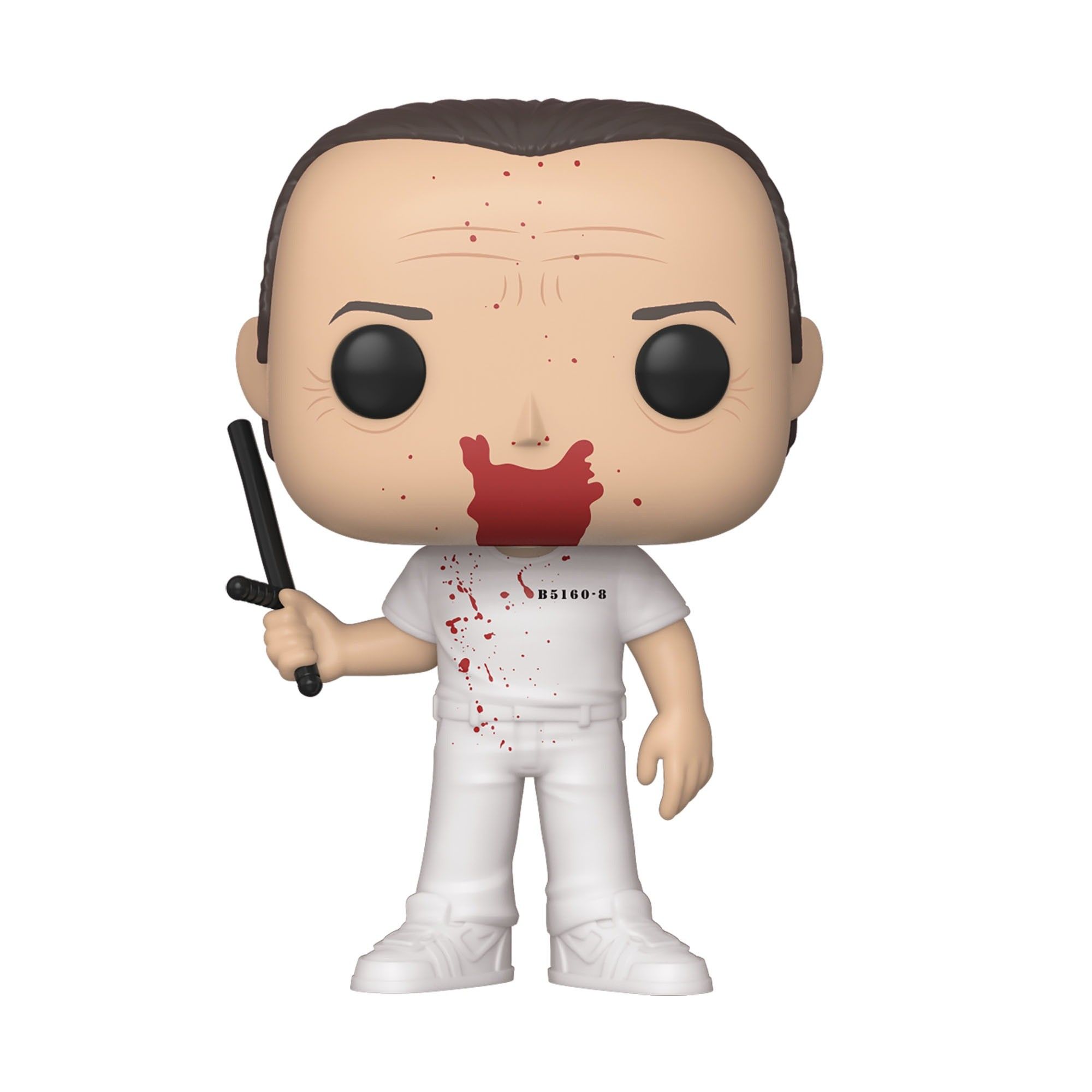 Born from the novels of Thomas Harris and eventually adapted into multiple films and a successful television series, Dr. Hannibal Lecter is intellectually brilliant, cultured, a gourmand, a speaker of several languages and a lover of music and art. He is also a vicious sociopath and a serial killer who eats portions of his victims in elaborately prepared dishes. In the film, Lector helps FBI officer-in-training Clarice Starling find fellow serial killer Buffalo Bill while also psychoanalyzing her for the promise of being sent to a prison rather than the asylum. He was transferred in a mask covering his mouth with bars, wearing a straight jacket and strapped to a gurney. This is the image that they used for the first Funko Pop vinyl figure of this horror movie character.
If this Funko Pop vinyl figure of a demented, flesh-eating man is your thing, you can find him on eBay.

Funko Pop Classics A Clockwork Orange Alex
Alex is the main character of the Clockwork Orange and he is also a charming but psychopathic delinquent who leads a gang called the Droogs. Together they perform rapes, beatings, robberies and other types of "ultra-violence". Alex is eventually caught and subjected to a radical treatment to reverse his psychotic tendencies. But circumstances and happenstance caused his conditioning to fall apart by the end of the film. The figure is dressed in the white Droog clothes. His face has a star pattern drawn over one eye and has a shock of red hair sticking out from his bowler hat and he is carrying the cane he so often used as a weapon. He is also one of the rarest of the rarest Funko Pop figures.
---
Sociopaths, psychopaths and demons... not your regular toy box fare to be sure but Funko doesn't seem to shy away from anything controversial or strange. Seeming to operate under the idea that there is something of interest for everyone, we have a Funko Pop in every corner of fandom. If your favorite thing is a possessed preteen or a brilliant murderous cannibal, Funko is the place for you too.