When you think about CompleteSet, you most likely conjure up images of nostalgia-inducing toys or copious amounts of cool collectibles. Did you know we actually share a healthy mix of things from all aspects of life with our users as we add to our archives? Have you ever gone searching for toasters or hoodies or, say, collectible watches (like the one Vader is wearing above which retails for over $28,000)? This is by no means an all-inclusive list (just search for "watch" and see what we mean), but that said, here are ten expensive watches with some really fun themes that are worth sharing (and nabbing if you can!)
10. Hello Kitty Plaid Watch
This Sanrio watch won't melt the bank at $65 retail, but it may just melt my pride to admit how much I love this design. Created to celebrate Hello Kitty and her 40th Anniversary, this tartan faced watch with square goldstone rivets features the title character along with Tiny Chum as it ticks away the seconds, minutes and hours. There is just something about the red field of plaid set against the black band that creates a style I just love. Did you know that Sanrio character-branded products (often featuring Hello Kitty) are now sold in over 12,000 locations including department, specialty, and national chain stores and that doesn't even include the over 85 Sanrio boutiques.
9. Pinocchio Watch With Jiminy Cricket Display
Every Disney fan has that one character that just speaks to them. For me, it's one of the earliest that is my favorite. Ever since he leaped onto the screen in my grade school class as part of a series of themed films promoting science, Jiminy Cricket has been that character for me. Here, the Disney Store celebrates him (and Pinocchio, of course) with this limited edition watch. Only 7,500 were made with this display and they sold out quickly. The promotional piece honored the 75th Anniversary and was part of their Everlasting Time collection. If you listen hard enough, you just might hear the voice of Jiminy advising you to snag one on the collector's market where it can still be found for under $200.
8. G-Shock x Johnny Cupcakes GDX6900JC-3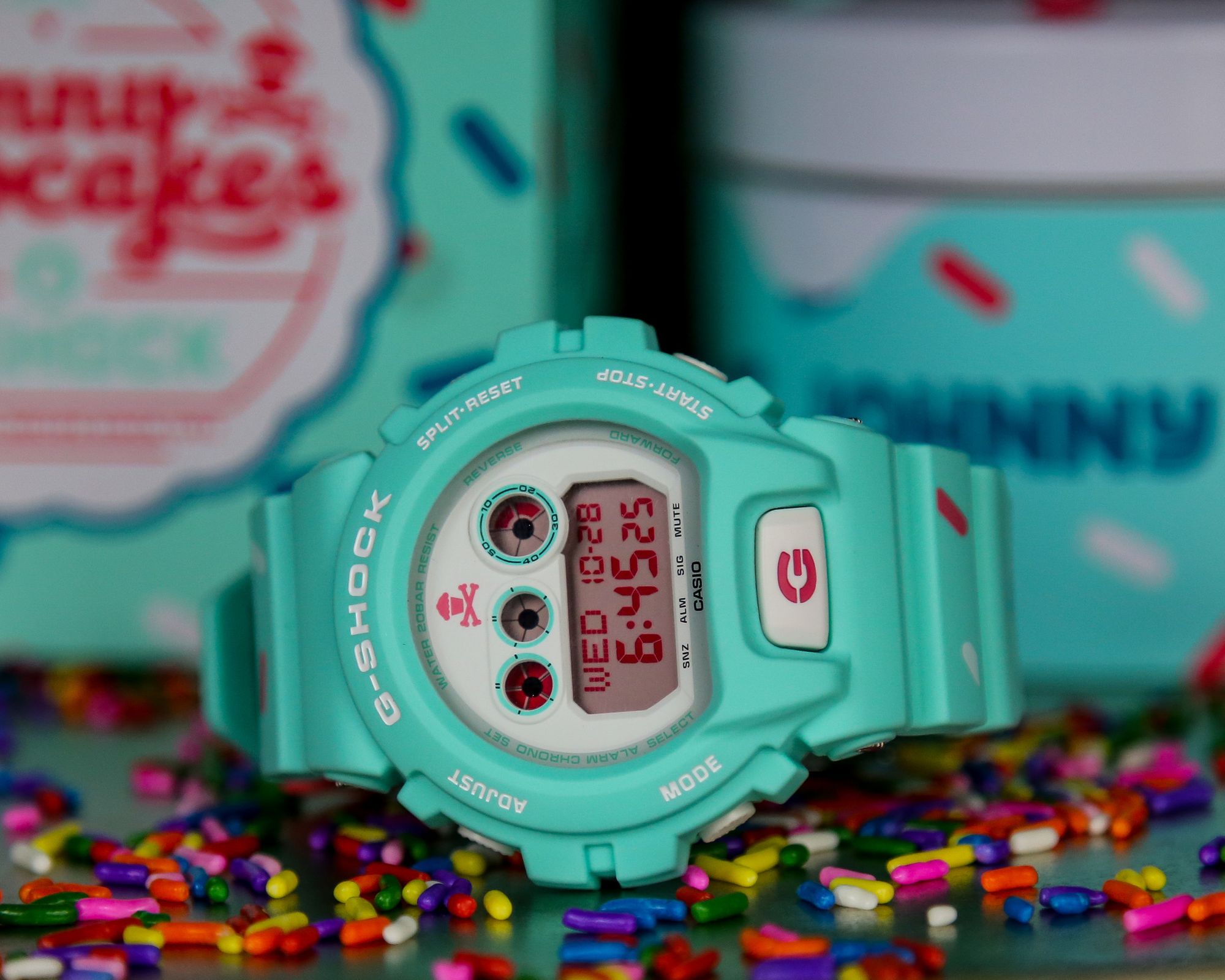 The marriage of Johnny Cupcakes and G-Shock (via Casio) resulted in this marvelous watch in 2015. Its pink, blue, and white theme on an aqua background had collectors hunting down its candy sprinkle inspired design. Originally retailing for $140.00, it was a limited edition watch which served as the anchor prize for our annual 12 Days Of Cupcakes contest here at CompleteSet last year. If you can track down a fan who is willing to part with one, you can expect to pay under $200 (for now).
7. Bradley Time Cinderella Watch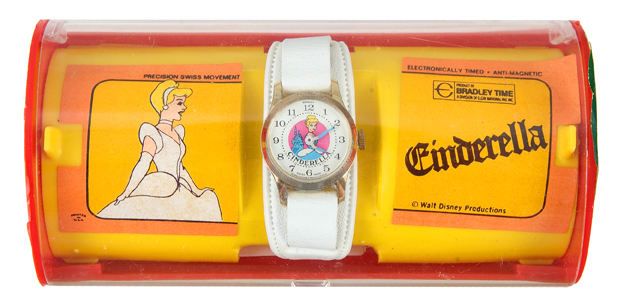 If variety is the spice of life, Bradley Time is the poster child for this concept when it comes to Disney licenses. They made roughly 1,800 different watch varieties during their time working with Disney, from 1972 to 1985. Though their Mickey Mouse watches were by far the most popular, they also did watches featuring Donald Duck, Goofy, Minnie Mouse, Snow White, Mary Poppins, Alice In Wonderland, and Cinderella (along with many others.) Prices for the watches range wildly (as little as $40 all the way up to over $100), but mint condition watches still in their case with all associated paperwork can command much higher amounts. Due to the variety, the collector market remains vibrant for these watches and this Cinderella watch from 1972 is a great early example of these watches.
6. Star Wars Micro Electronic Digital Watch
When you hear the name Texas Instruments, you probably think calculators. If you are really in the know with the modern version of the company you may think semiconductors, but I'm betting few of you remember that brief time in the late 70s and early 80s when the company focused on consumer electronics. Making things like digital clocks and home computers, they also made more than a few watches. This Star Wars example from 1977 proves collectible, expensive enough to make our list but ultimately still affordable compared to other Star Wars collectibles from that era. Originally selling for $16.95, you can now nab one just over $200 when you find it. For me, this watch holds a special spot in my nostalgia as I proudly wore one everywhere I went as a kid. In fact, I was more than willing to show it off with pride to anyone who would listen to me talk about the film (which I did constantly.)
5. Timex Snoopy Denim Watch
When it comes to Snoopy watches, there are two things you need to know. First, there are a lot of them out there. Second, this Timex "denim Snoopy" from 1976 was one of the most popular ever sold. Its animated dial features Snoopy with a tennis visor, racket and a ball that circles the watch face for the second hand. It was a manual, wind-up timepiece, coming in a large and small size and had the signature "Schultz" script on the dial. Though released in many forms, the denim version is a standout within a series of designs that already stood out amongst Peanuts collectors. Grabbing upwards of $200-$300 for a good condition version would not be a surprise were you selling one with its original case intact.
4. New Haven Clock Co. Superman Watch
Talk about your classic collectibles! This watch hit the market in 1940, just two years after Superman first debuted in Action Comics #1, and has sold at auction for over $1,000. As storied as this collectible is by itself, the company that made it dates back to 1853 when it was founded by Hiram Camp and other clockmakers. Sadly though, the Man of Steel couldn't keep the company from going bankrupt in 1956 and closing for good in 1960.
3. Four G-Shock's Lock Down Third
It's time to get serious and talk about some significantly expensive watches you can find detailed here at CompleteSet. Four watches from G-Shock stood out and deserved discussion so we're combining them in one entry for our countdown. First, the MTGG1000D-1A2 (pictured bottom, right) using MT-G's original Core Guard Construction and Triple G Resist retails for $1,600. The GPW1000TBS (pictured top, left) uses Casio's new Titanium 64 alloy which is several times harder than pure titanium and will set you back $1,500. The MTGS1000V-1A (pictured top, right) includes Multi-Band 6 atomic timekeeping through radio-controlled time/date updates from global transmitting stations and retails for $1,400. The final GPW1000T-1A (pictured bottom, left) was the world's first GPS Atomic Solar Hybrid with Casio-original GPS Hybrid radio-controlled technology built inside a Triple G Shock Resistant structure and retailed for $1,350.
2. 51-30 Automatic LTD SW, 51mm – Vader Black
Our number 2 watch in this countdown is a standout and asks if you are ready to show your Dark Side with some modern day bling. This September 2015 release from Nixon (or really anything from this outstanding product line) would do any Star Wars fan proud. Limited to just 200 watches and clocking in (couldn't resist the pun) at $2,500, it's a timepiece that makes a statement of Vader-ly style no matter your choice of allegiance to the force.
1. Apple Watch Edition Takes The Top Spot
No matter your opinion on the cult of Apple or the entire smartwatch revolution, these 18-Karat Yellow Gold Apple Watch Edition watches stand at the top of our list as they range in price from $10,000 to $17,000 each. Now, I love my Apple products (serving up stories every day from a combination of MacbookAir, iPhone, and iPad), but you will not see me seeking out a watch in this price range anytime soon. That said, I do find myself asking how much the entry level watches in this line are priced. Yeah, I'm a fanboy who actually does want his weather reports on his wrist. Can I get Candy Crush on it too?