Since its announcement from Warner Bros. in October 2014, Suicide Squad has sparked the interest of moviegoers and comic lovers alike. The film, written and directed by David Ayer, is based on a group of supervillains from the DC Comics universe. A trailer for the movie was leaked from San Diego Comic Con in 2015, essentially forcing Warner Bros. to officially release the trailer early.
In it, we see a well-dressed woman speaking to two men over a steak dinner. "I finally have them.", she says. "The worst of the worst… I want to assemble a task force of the most dangerous people on the planet, who I think can do some good." Well, that sounds intriguing. But, who is this woman? Who are these dangerous people? What is the "Suicide Squad"?
To answer those questions, we have to go back. The original version of the Suicide Squad, or Task Force X, first appeared in 1959 in The Brave and the Bold #25. The group simply consisted of Rick Flag, Jr., his girlfriend Karin Grace, Dr. Hugh Evans, and Jess Bright, and primarily served to establish leader Rick Flag, Jr.'s origins. This team was seen in six issues of The Brave and the Bold and one issue of Action Comics, then not again for nearly three decades.
In 1987, writer John Ostrander reinvented Task Force X for a recurring monthly series, creating the government black ops storyline that we will see in the movie. Here we are reintroduced to Amanda Waller (the woman speaking in the trailer) as the administrator and director of the Suicide Squad, who operate out of Belle Reve Penitentiary. Waller was first seen a year earlier in Legends #1, where she proved herself as an intimidating and ruthless government official. Amanda Waller's squad included variations of 18 notable members, including Rick Flag, Jr., Bronze Tiger, Deadshot, Enchantress, and Poison Ivy to name just a few.
The Suicide Squad appeared in many DC volumes and interim stories from 1987 to 2014, with it's team members altering with each occurrence. The story was relaunched in 2014 by writer Sean Ryan and artist Jeremy Roberts, with Deadshot and Harley Quinn teaming up with squad newcomers Joker's Daughter, Reverse Flash, and Black Manta, among others. Outside of comics, the Suicide Squad has appeared in television, film, and video games.
The squad has a rich history inside the world of DC Comics that provides the backbone for their appearance in the feature film. The third installment in the DC Extended Universe following Man of Steel (2013) and Batman v Superman: Dawn of Justice (2016), Suicide Squad features Rick Flag, Deadshot, Harley Quinn, Boomerang, Killer Croc, Katana, El Diablo, Slipknot, and Enchantress. At its core, the Suicide Squad is a secret rag-tag team of criminal antiheroes working off their prison sentences by going on suicide missions for the government. Individually, each member brings interesting and unique characteristics to the squad. Let's meet the self-appointed "worst heroes ever".
Rick Flag played by Joel Kinnaman
Rick Flag Jr. was introduced in the original appearance of Task Force X in 1959 in which he headed a small team of four. His father, Rick Flag, Sr. was seen in 1987 as part of the Suicide Squadron in World War II. Rick Jr. reappears in 1987 as well, when he is recruited by Amanda Waller to lead the new Suicide Squad. He was reluctant to take on this role as he despised the criminals put in his charge. However, he forged good relationships with some team members, including the Bronze Tiger and Nemesis, and non-criminal Nightshade. Flag was incredibly loyal to his teammates and even Waller. In the film, Rick Flag is a military officer who acts as leader of the squad.
Rick Flag collectibles seem hard to come by, but FunKo revealed at Toy Fair this year that he will be included in the Suicide Squad Pops! and Mystery Minis.
Deadshot played by Will Smith
Older than the Suicide Squad itself, Deadshot (Floyd Lawton) appeared in Batman #59 in 1950. Throughout his many appearances since then, Deadshot has retained his title as the top marksman in the DC Universe. Though he possesses no superhuman abilities, he boasts that he will "never miss" a target. Lawton will execute any target, as long as he is being paid. His primary reason for joining the Suicide Squad is his known death wish, which often finds him manipulating his missions in hopes that he will not survive.
I don't typically think of deadly assassins as cute, but somehow Diamond Comics and Wish Factory made it possible with their Deadshot Kawaii Cube.
Harley Quinn played by Margot Robbie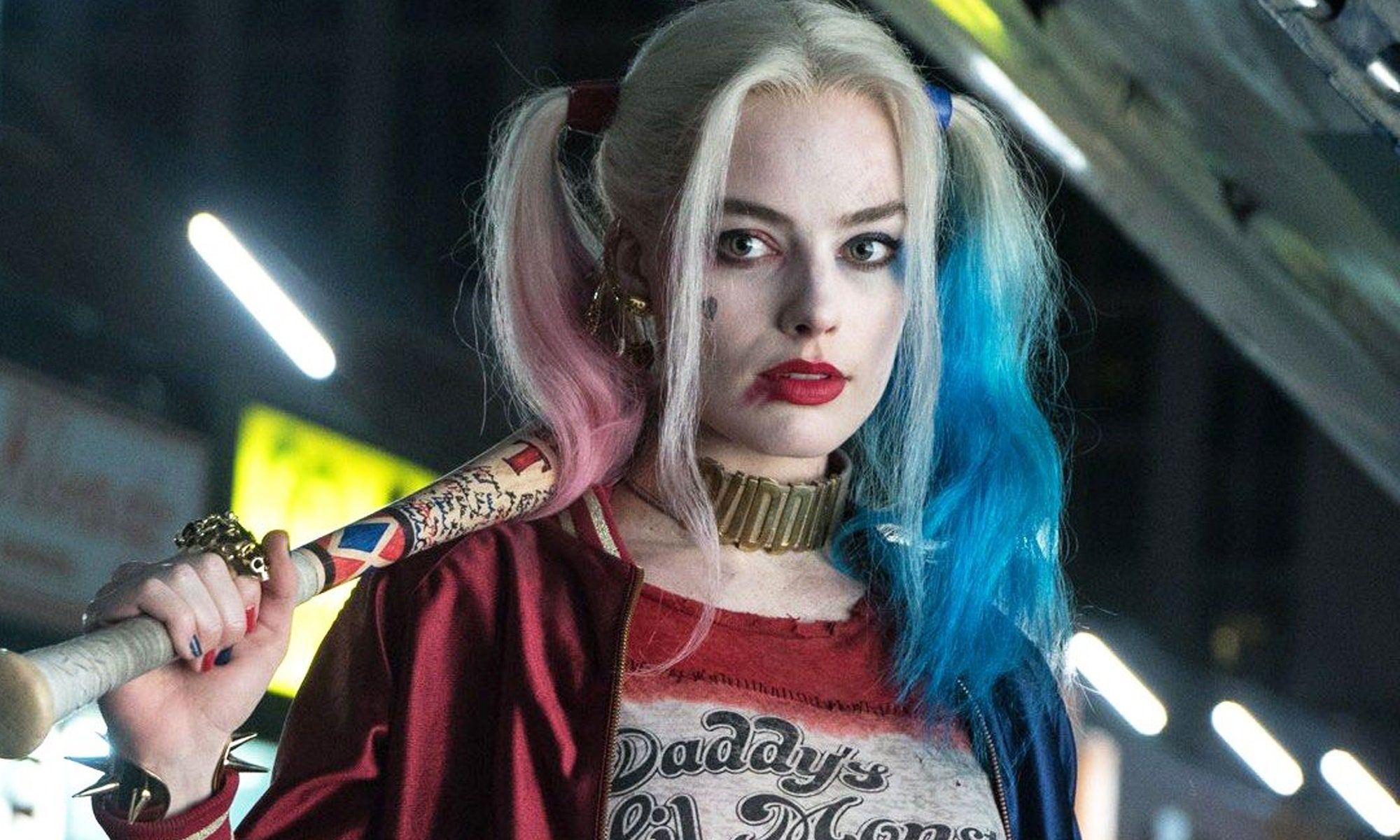 Harley Quinn has been a fan favorite since she first appeared in 1992 on the Batman: The Animated Series as the Joker's harlequin-esque sidekick. In 1994, Harley's origin story is explored in the graphic novel Mad Love, in which she is a psychiatrist at Arkham Asylum. Dr. Harleen Quinzel treats and subsequently falls in love with the Joker, becoming his accomplice. Harley has been in a variety of comics since 1993, including her own ongoing series from 2001 to 2003. In 2011 as part of DC's relaunch, The New 52, Harley Quinn is given a new look and new origin story, which according to the trailers, will be seen in the Suicide Squad film. In this story, Harley is pushed into a vat of acid by the Joker in an attempt to kill her. She emerges, however, mentally unstable with bleached skin and two-toned hair. Harley Quinn is a vivacious, unpredictable character who is sure to light up the screen.
Her complicated history makes Harley Quinn one of the most popular characters in the DC Universe, which can be seen in her many collectibles and costumes. In fact, Harley was the #1 female Halloween costume in 2015. My personal favorite bit of Harley merchandise is her figurine from the DC Bombshells collection.
Boomerang played by Jai Courtney
George "Digger" Harkness debuted as an enemy of The Flash in 1960 in Flash #117. Raised in Australia by his mother, Digger took on the persona of Captain Boomerang after he was hired as a boomerang performer for a toy company. He turned to a life of crime after he was ridiculed by audiences, utilizing his boomerang skills as a weapon. Boomerang is considered an ineffective member of the Suicide Squad, as he is dysfunctional and cowardly, and his offensive personality often puts him at odds with his teammates. Despite all this, Harkness can hold his own against enemies, as well as go undercover to serve the squad's various needs.
Boomerang's charisma is perfectly captured in this 12″ statue sculpted by Adam Ross.
Killer Croc played by Adewale Akinnuoye-Agbaje
Killer Croc makes an unnamed cameo in Batman #357 in 1983 as a mysterious figure clad in a trench coat. Batman eventually confronts him, revealing a large, reptilian man. Waylon Jones was born with a form of atavism, causing him to take on traits from an ancestral human species. Combined with a metagene, Killer Croc has many superhuman abilities, including speed, strength, enhanced sense of smell, and impervious skin. He is typically portrayed as ignorant, brutish, and cannibalistic. He acts on instinct rather than reason, and often lashes out against "normal" people.
Though Killer Croc's appearance has changed many times since his introduction, I think the design from the 2013 video game, Batman: Arkham Origins, is a great representation of the character. This action figure from DC Collectibles displays that version of the character all too well.
Katana played by Karen Fukuhara
Katana is a newcomer to the Suicide Squad, having never been part of the group in the comics. She first appeared as Tatsu Yamashiro in 1983 in The Brave and the Bold #200. Growing up in Japan, Tatsu was highly skilled in martial arts. She suffered the tragic death of her husband and children at the hands of her husband's brother. After training to become a samurai, she fled to America with the intent of fighting for justice. Taking on the name Katana, she wielded the sword used to kill her husband, that was now possessed by his spirit. Katana joins the Outsiders, a group of heroes formed by Batman, and later teams up with Black Canary in The New 52. In Suicide Squad, she volunteers as Rick Flag's bodyguard. She is not a criminal and therefore not under Amanda Waller's ruling.
Katana's fearlessness is captured perfectly by designer Stanley Lau in his statue for DC Cover Girls.
El Diablo played by Jay Hernandez
The character El Diablo has been written in three iterations in the DC Universe: Lazarus Lane in 1970, Rafael Sandoval in 1989, and Chato Santana in 2008. Lazarus Lane lives in the American Old West and is cursed to host a demon, "El Diablo", who walks the earth while he lies in a coma. In the modern DC Universe, Rafael Sandoval is a city council member turned vigilante when he dons a festival costume and calls himself El Diablo, or "the devil". Chato Santana, as seen in Suicide Squad, is a former gang member who has the power to summon flames. Diablo is the most passive member of the squad, preferring to stay out of their battles.
DC Collectibles announced at Toy Fair 2016 that they would be releasing a line of action figures for the DC Cinematic Universe, including Batman, Wonder Woman, Lex Luthor, and El Diablo. Diablo and Harley Quinn will be out in 2017.
Slipknot played by Adam Beach
Slipknot was introduced as Christopher Weiss in Fury of Firestorm #28 in 1984. Weiss was employed at a chemical company where he formulates durable ropes. He eventually uses a trademark knot, and his skills in strangling prove himself as an efficient villain.
Unfortunately for Slipknot, his merchandise is even more scarce than Rick Flag's. He did get this cool poster for the "Worst Heroes Ever" promotion for the film, though.
Enchantress played by Cara Delevingne
June Moone first appeared in Strange Adventures #187 in 1966 as a freelance artist who attends a costume party at a castle. There, she finds a mysterious being who imbues her with magical powers. By saying "The Enchantress", June becomes a black haired sorceress. She joins the Task Force X under the pretense she can keep her villainous side in line. In the Suicide Squad trailer, it appears that June is the romantic interest of Rick Flag, and stumbles upon the ancient evil force while caving. Enchantress is not a member of the squad, but Amanda Waller is intrigued by her powers.
Model and actress Cara Delevingne provided a haunting image of Enchantress for the cover of Empire Magazine.
Ready for the film? You can see these amazing characters and more, including Jared Leto's Joker and Ben Affleck's Batman, on the big screen on August 5, 2016!