Over the years there have been a lot of WWF (then later WWE) action figures. In the early LJN figure days they were a bit plain and couldn't be posed, but all that changed in the early 90s. Both the entertainment-driven sport of wrestling itself and the figures that followed were evolving. The sport was seeing a lot of mega personalities emerge. The first few action figure series from Hasbro (though by no means as detailed or articulated as the modern figures today) added articulation that now demanded fans get them into the ring for play.
Hasbro's WWF line of figures saw eleven main series released between 1990 and 1994. Of course, there were a few special series that filled out the line (tag team dual packs, SummerSlam, etc.) and a lot of new personalities were covered, some for the first time. These figures may have been more stylized and served up a cartoonish feel, but they represented the personality of the sport at the time. It was loud, playful, and had an almost superhero comic book narrative running through it. Here we see the final years for Hulk Hogan, the dawn of the Ultimate Warrior, and Undertaker plus a host of characters that are still remembered fondly even today.
With this article, I decided to take a look at the first four series at the dawn of this period and feature some of the colorful individuals that drove the sport and the ringside collectibles tied to the WWF!
1. Series 1 Hulk Hogan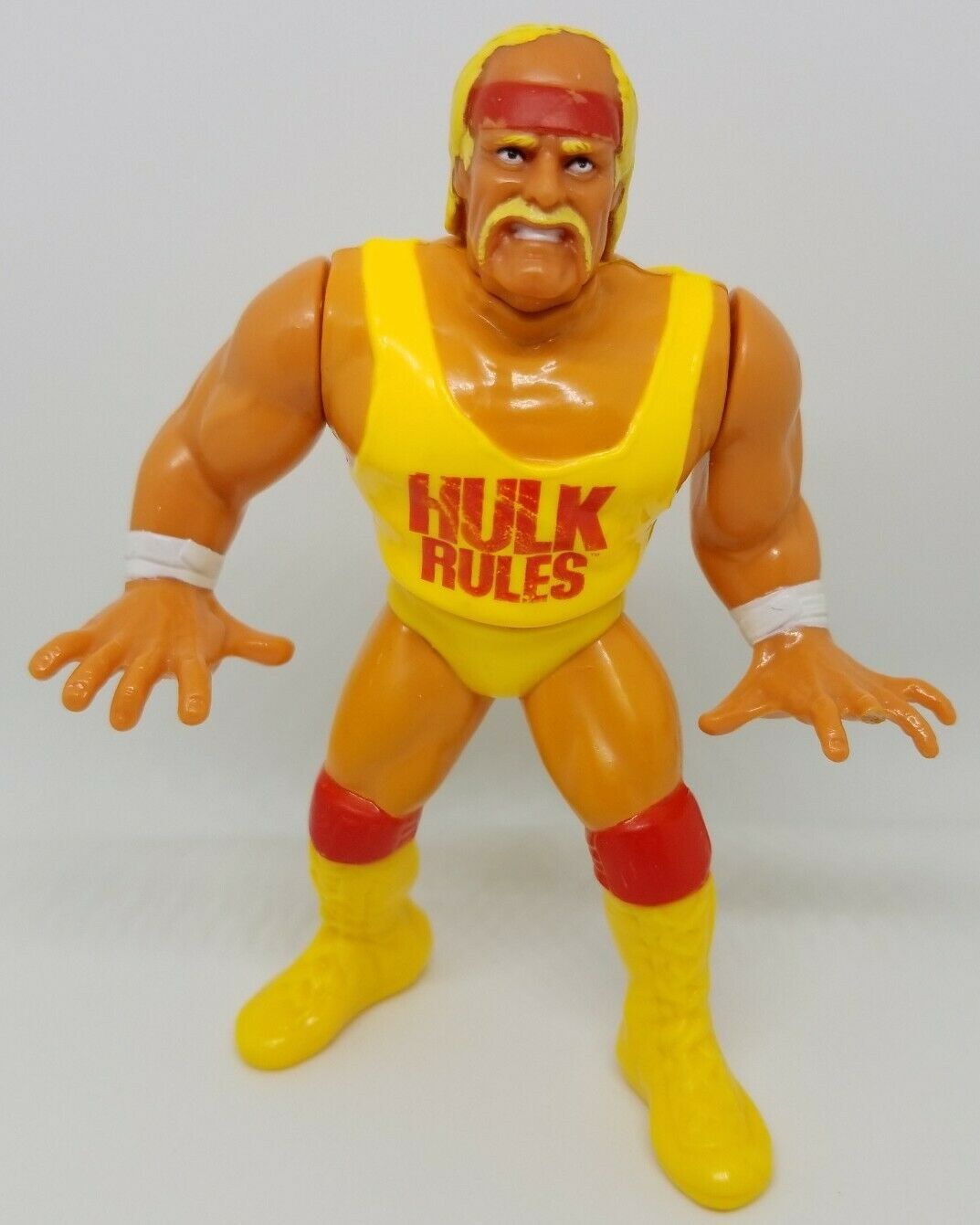 Arguably one of the most well known and popular individuals in the history of wrestling, Hulk Hogan moved beyond wrestling into mainstream popularity in the 80s and 90s. In addition to his shirt tearing, Hulkamania driven wrestling personality, Hogan saw success as an actor, television personality, and rock bassist (among other attributes). He drove the rise of pay-per-view events for the sport as a headliner and he is a twelve-time world champion, a six-time WWF/E World Heavyweight Champion, and a six-time WCW World Heavyweight Champion. Here, he's wearing his Hulk Rules shirt and you can almost see him putting hand a to his ear as he works up his fans pointing out into the crowd before a match.
2. Series 1 Jake "The Snake" Roberts
Aurelian Smith, better known as Jake "The Snake" Roberts had wrestling in his blood as his father preceded him in the sport as Aurelian "Grizzly" Smith. Known for dragging snakes into the ring to freak out opponents, his famous python Damien also became a household name for a time. Known for being more a cerebral wrestler, he often psyched out his opponents as much as wrestling them. His DDT finishing move was named the "coolest" maneuver of all time by the WWE back in 2014.
3. Series 1 Randy "Macho Man" Savage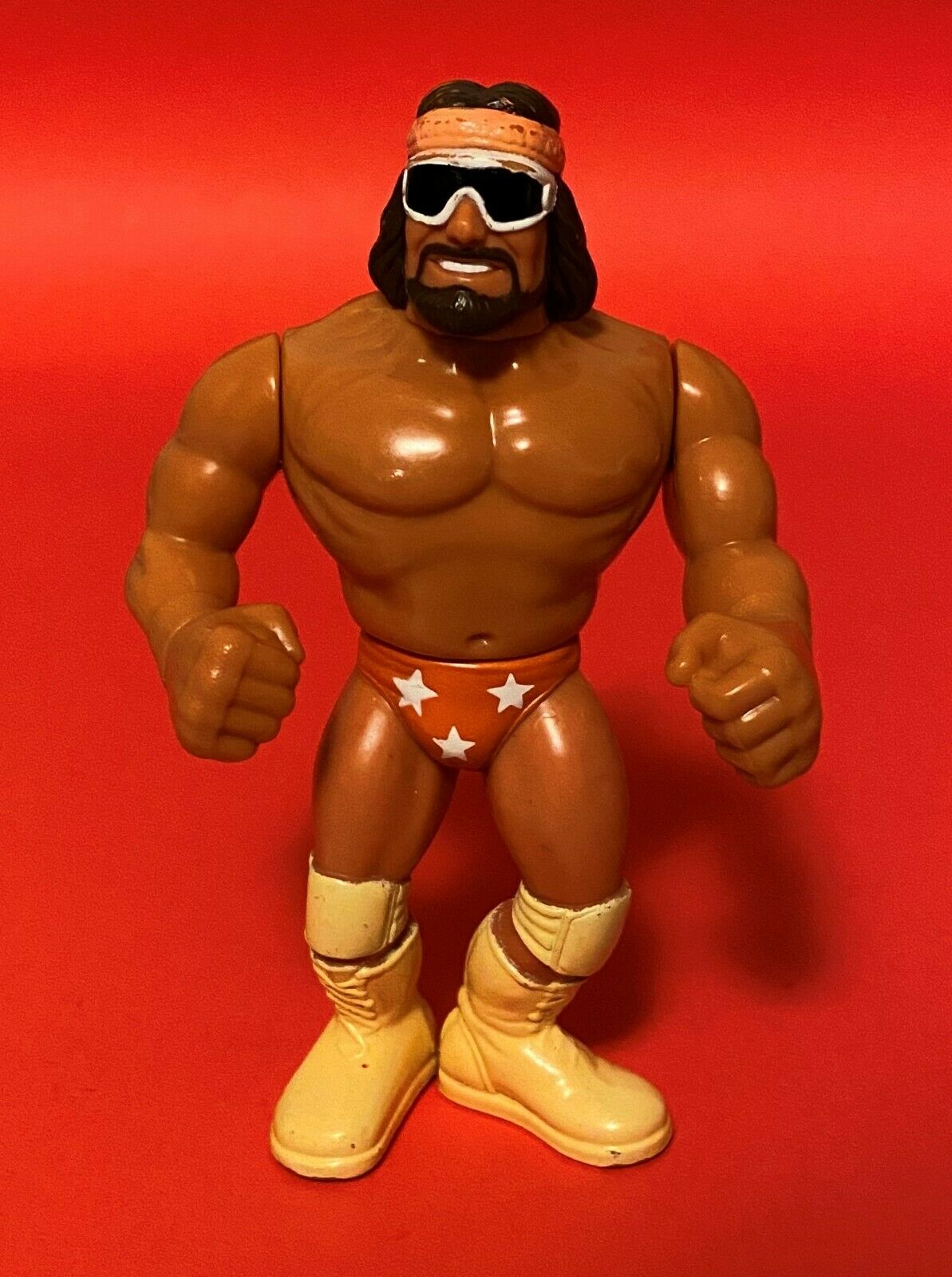 I bet you are already thinking you should snap into a Slim Jim ("oooooh yeah!") just at the mere mention of his name. Both a wrestler and commentator across the WWF (World Wrestling Federation) and WCW (World Championship Wrestling) days, Randy Savage won 20 championships over the course of a 32-year career. Managed by his real-life wife "Miss Elizabeth", she often factored into his character's stories. Savage was flashy and he would use "Pomp and Circumstance" when entering the ring, all the while making sure that his deep, raspy voice and flamboyant attire stood out from the crowd. It worked, as eventually, he was on Hulk Hogan's level in terms of drawing fans to events over the years. Also, his success in commercials didn't hurt.
4. Series 2 Dusty "The American Dream" Rhodes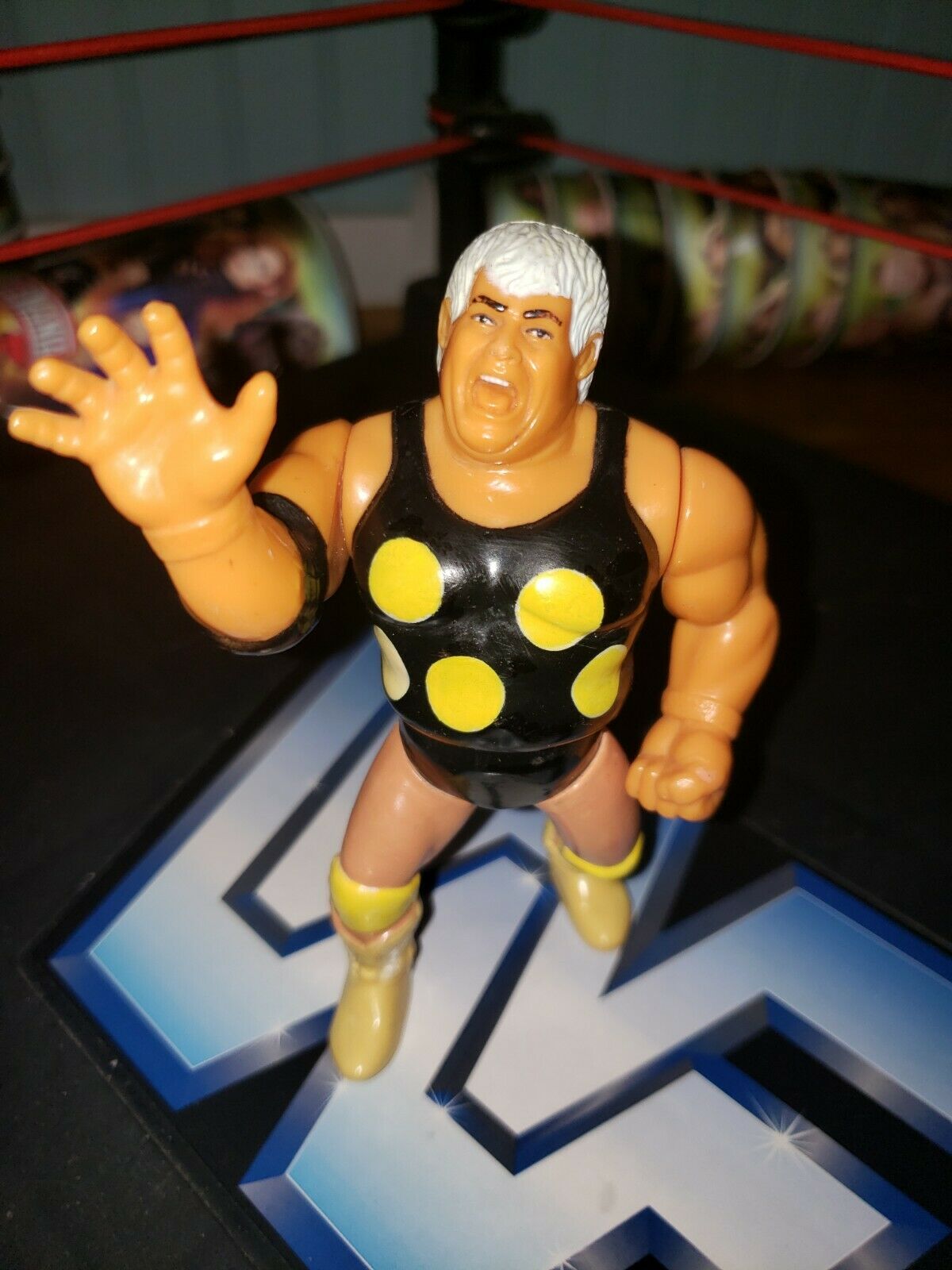 Born Virgil Riley Runnels, Dusty Rhodes became "The American Dream" by crafting a persona that painted him as a common man. He used this reputation to become the underground hero rising up against the odds within many of his matches. Billed as the "son of a plumber", he didn't fit normal expectations for a wrestler of his time. He was stocky, a bit plumper than most, and often fought his way to victory through heart, determination, and a cheering crowd. A fan favorite, he went on to become a three-time NWA World Heavyweight Champion and served as a commentator for the sport in later years. His most famous line, "I have wined and dined with kings and queens and I've slept in alleys and dined on pork and beans" sums up the man with the charisma of a television preacher well. Whatever you remember about him, he brought in fans that packed the seats in his support.
5. Series 2 Honky Tonk Man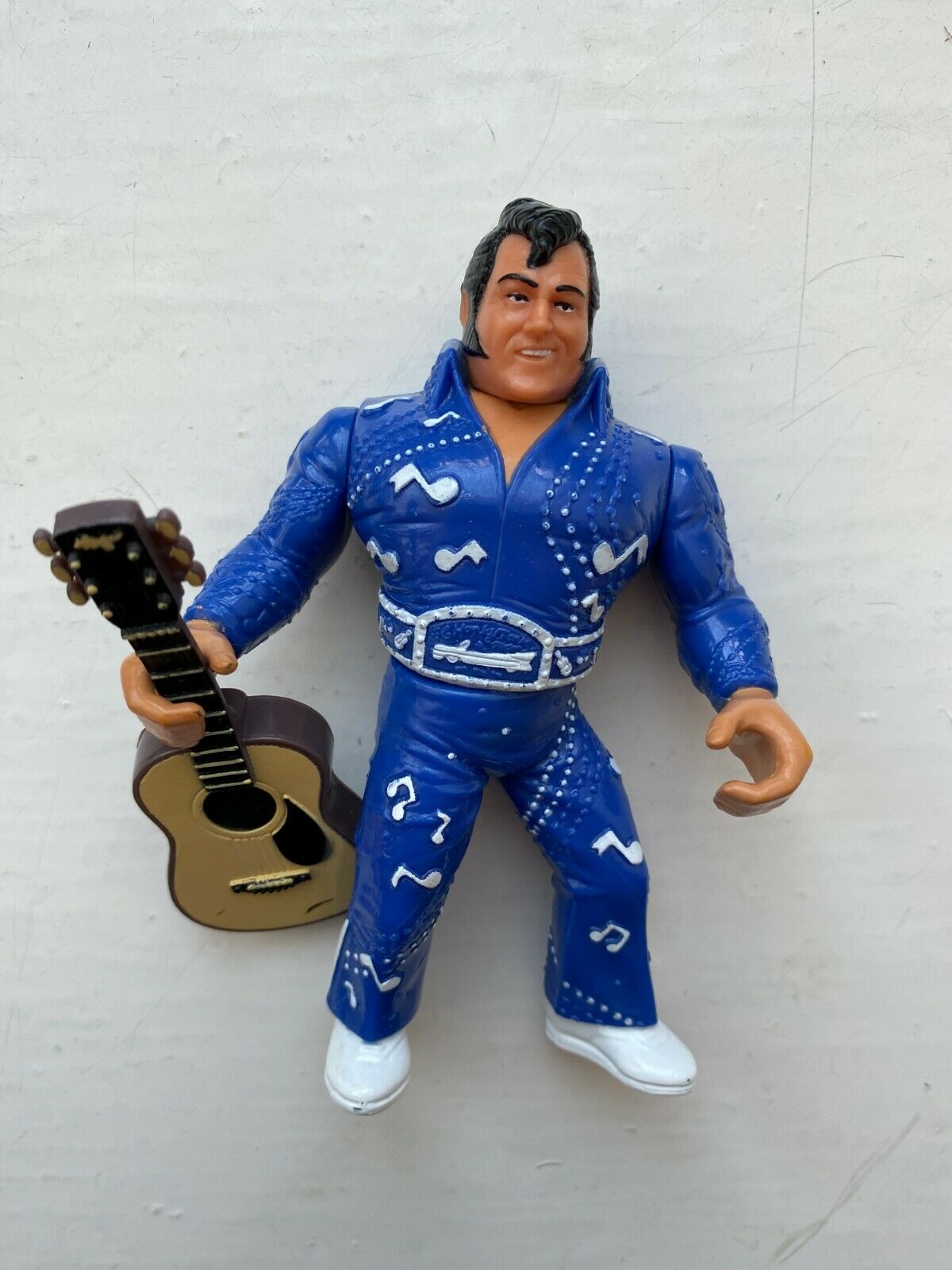 Every sport needs a little Elvis attitude, right? Roy Wayne Farris thought so when he created the Honky Tonk Man. Honestly hailing from a life in Memphis, this former high school football coach held the WWF Intercontinental Heavyweight Championship for a record 64 weeks. Given he wasn't even supposed to take that initial championship win under the established story, this was a feat that spoke to his willingness to step outside what was expected. Famous for his long sideburns, slicked back hair, and pink Cadillac, the Elvis impersonator schtick never seemed to get old. Not all gimmick though, his 'Tupelo Concession Stand Brawl' as it came to be known, was an early example of what would be known later as hardcore wrestling, ushering in a bloodier style of wrestling that rolled in everything the wrestlers could find (sometimes including the kitchen sink). Known for his attitude to this day, this is a wrestler who cared about his career, was willing to defy the story, left many a broken guitar in his wake and had no concern for making friends. I like him!
6. Series 2 "Million Dollar Man" Ted DiBiase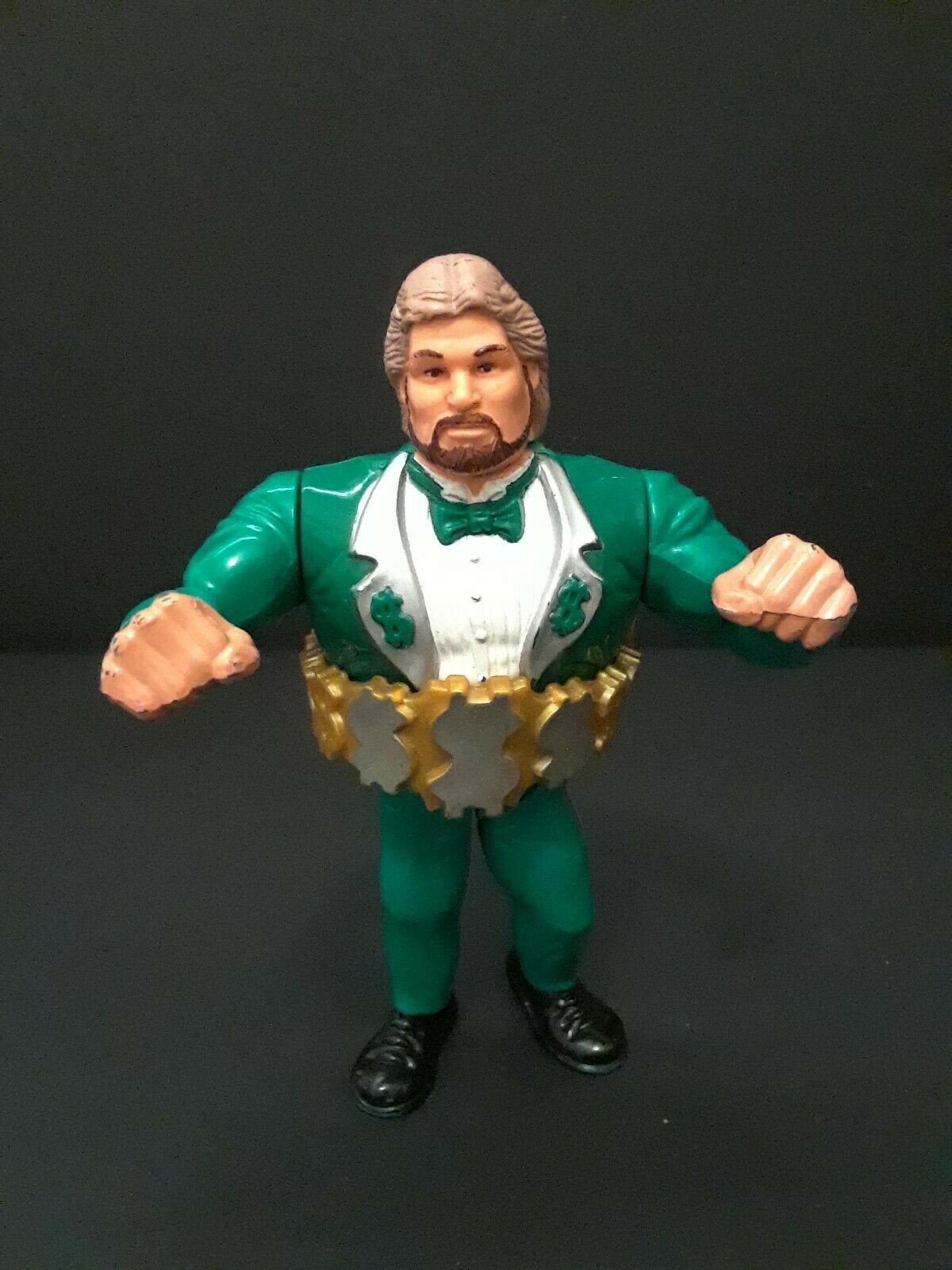 He was a manager, a wrestler, an ordained minister, and a colorful commentator, but most of all he was a showman. As "The Million Dollar Man", Ted DiBiase was one of the most despised villain characters of the 80s. Known for his trademark evil laugh, his stories often involved purchasing his way through a situation much like the time he bought a title from Andre the Giant. Looking for him these days? You won't find him in the ring but you can visit him over at Heart of David Ministries where he is taking a very different path from the WWE.
7. Series 3 Sgt. Slaughter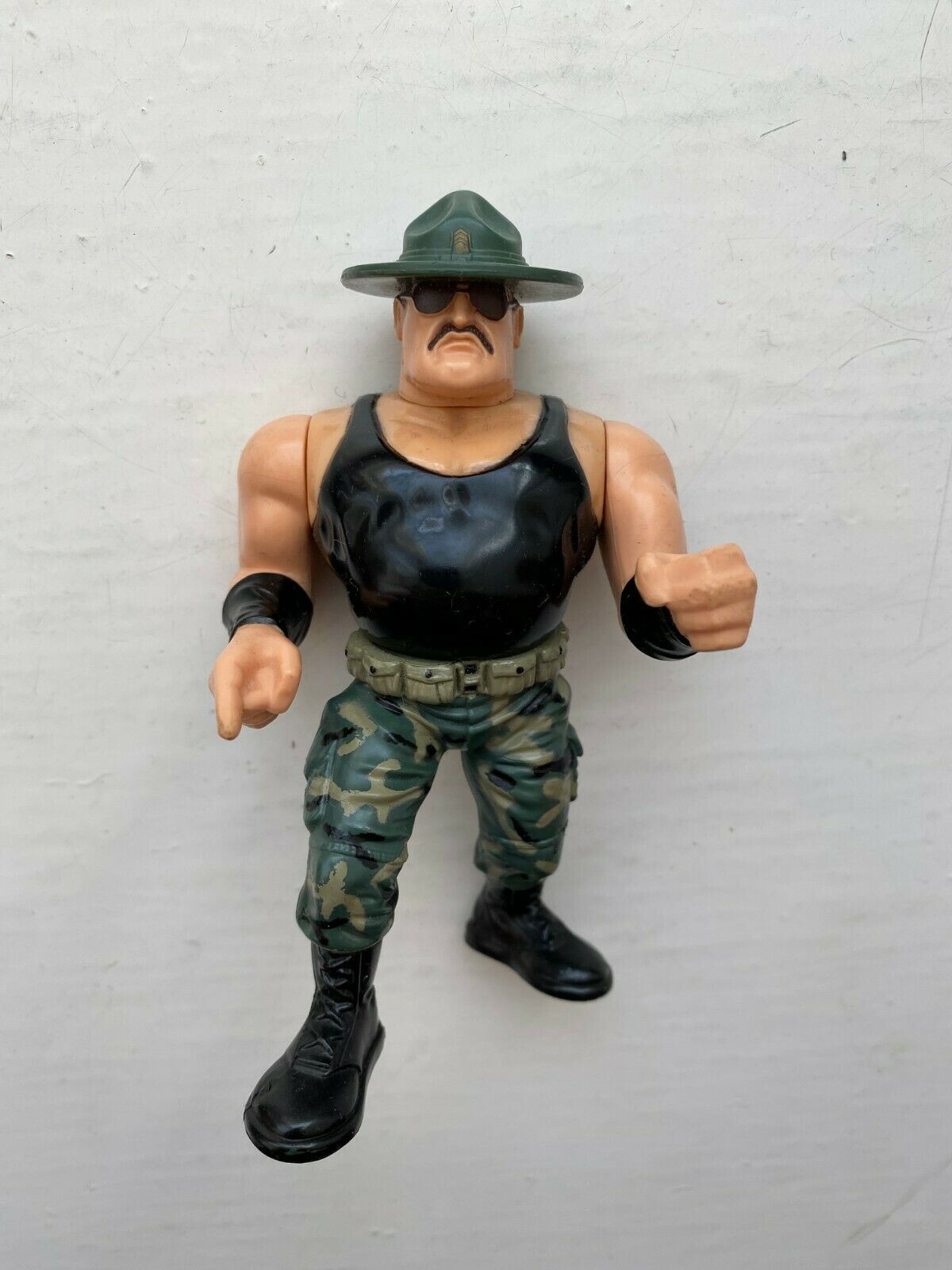 Detroit native Robert Remus, known better as Sgt. Slaughter, currently serves as an ambassador for the WWE. That said, from the late 70s to the early 90s he was a force in the world of wrestling! Known for his dark sunglasses, imposing hat, and Vietnam War-era fatigues, Slaughter was an imposing individual. He was also one of the only individuals to bridge over into the world of G.I. Joe where he was featured through action figures, the animates series, and in comics. For a time, everyone knew the name Sgt. Slaughter and not always for the best reasons. Yes, he headlined WrestleMania against Hulk Hogan but he often played the role of villain. He became one of the most hated figures in wrestling when he adopted a story involving him betraying America by aligning himself with an Iraqi military general. Given this took place in the broader context of the Gulf War, it caught attention even outside the world of wrestling.
8. Series 3 Ultimate Warrior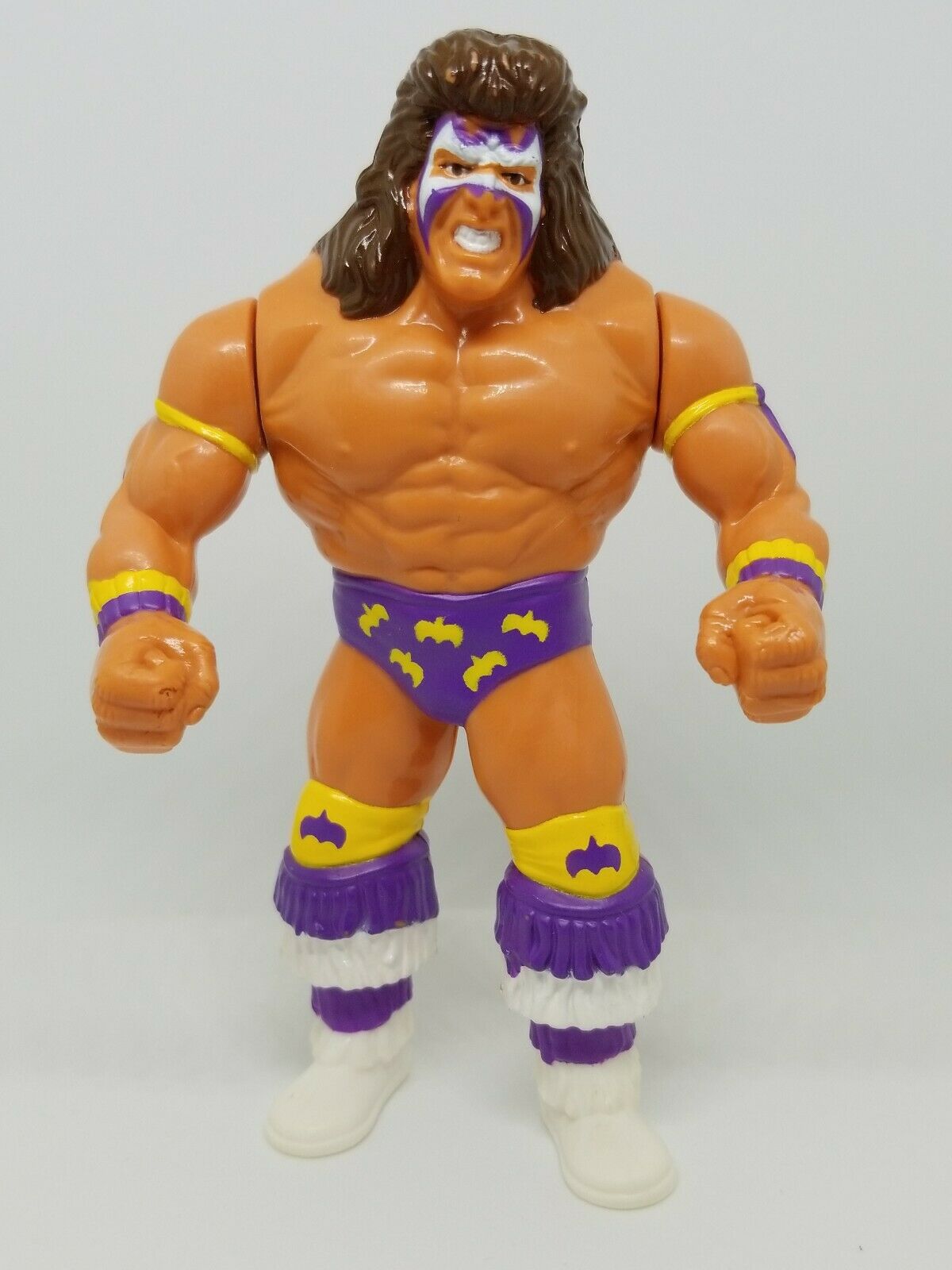 During the Ultimate Warrior's time in the WWF, he held the title of WWF Intercontinental Champion twice and won the WWF Championship in a legendary bout with Hulk Hogan where he pinned him during WrestleMania VI. He was the first wrestler to hold both titles concurrently. He was also involved in a non-story conspiracy where fans felt he had quietly passed away and been replaced by another wrestler. This all stemmed from Warrior's return to the WWF during WrestleMania VIII. He had been on hiatus for eight months and had cut his hair, dying it blond, and losing some of the physique associated with his character, he looked different. Rumors circulated that the WWF had had a new wrestler step in to take over his face painted role. These rumors, of course, were false. He was simply a changed man at that point. As his career continued, he became increasingly isolated from the wrestling establishment and only reconciled with many of his former colleagues just before his death.
9. Series 4 The Undertaker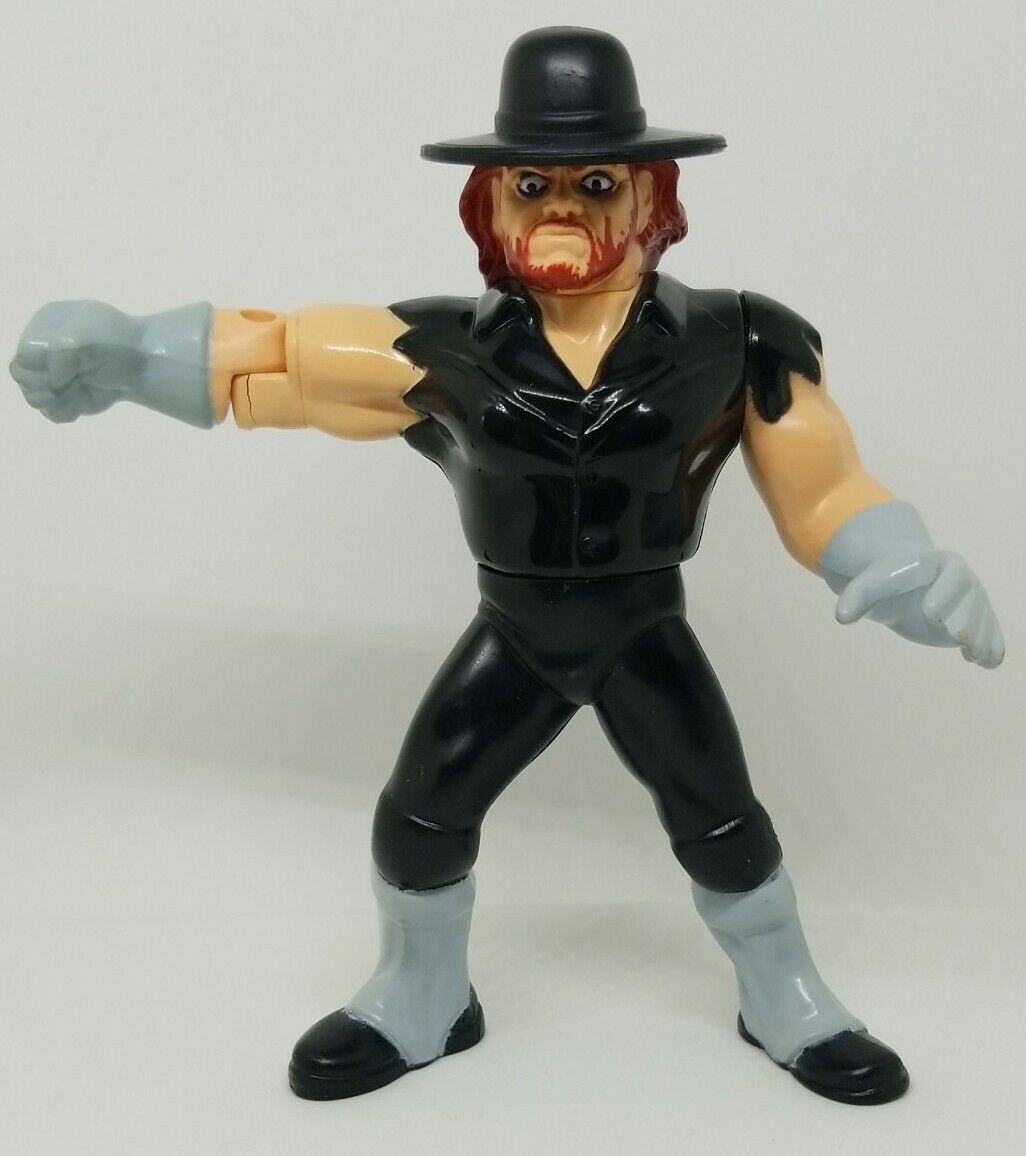 This man has the distinction of enjoying the longest running "in-the-ring" career in wrestling. From his start in 1990 to the present day, he has become what IGN calls "one of the most respected wrestlers, and characters, in the business; treated with actual reverence." When he came to the WWF, his zombie-like mortician mystique really resonated with fans and made him a nearly instant success. During his career, the Undertaker has never lost a match at a WrestleMania event and he has defeated thirteen Former World Champions at that event Including Ric Flair, Triple H, Shawn Michaels, and Edge. He's wrestling royalty from this Hasbro era that you can still see in action today!
10. Series 4 Bret "Hitman" Hart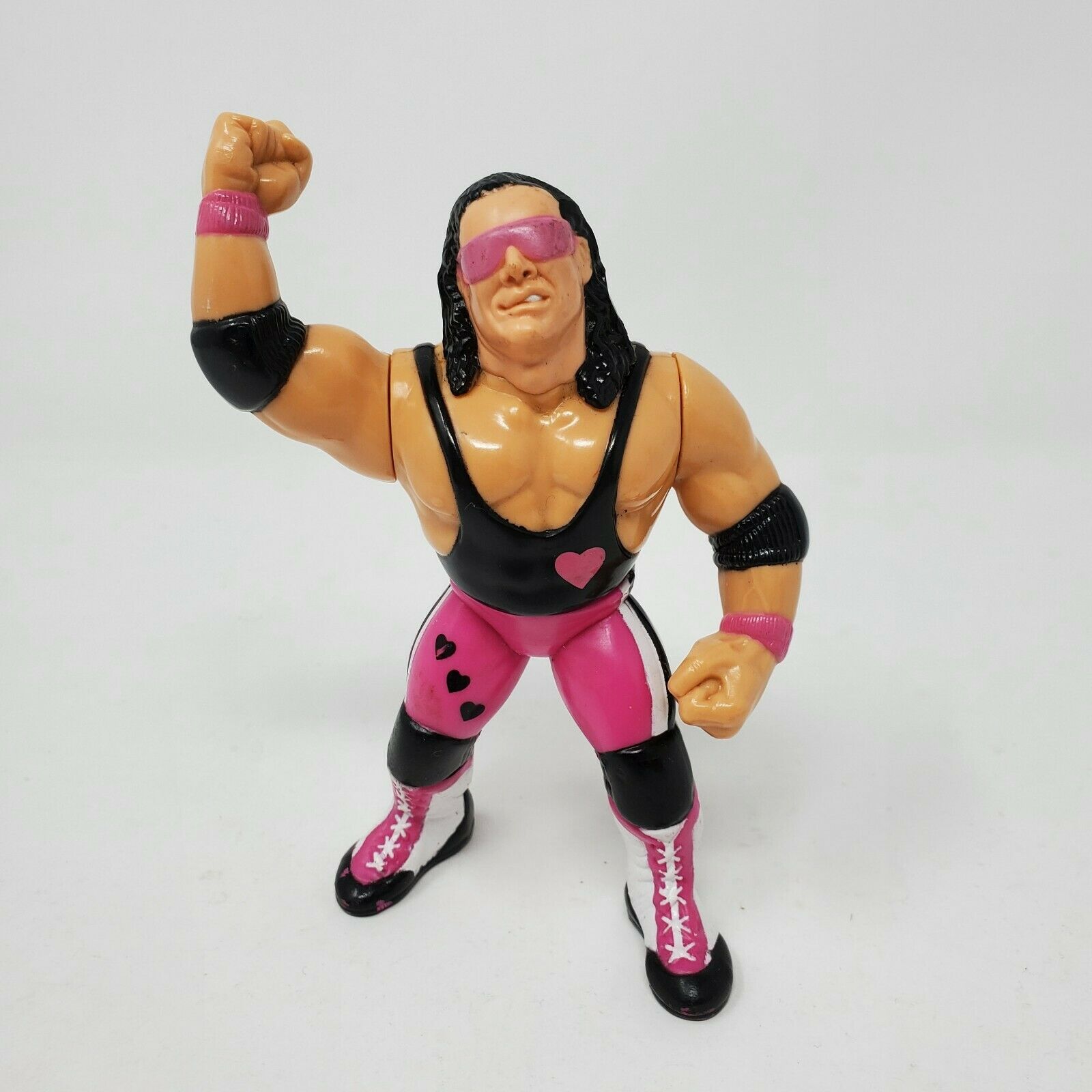 Bret Hart's career has been described as "a body of work so spectacular that it is beyond comprehension how brilliant a career he enjoyed." Bold words, but if you follow this Canadian American wrestler's career, it's hard to argue. A second generation wrestler, he has an amateur wrestling background but is widely regarded as the greatest technical wrestler in WWE history. Hart won the world heavyweight championship on five occasions in the WWF and twice with WCW. In addition, he won the WWE U.S. heavyweight title five times.