In 1956, American businesswoman Ruth Handler was vacationing in Germany with her husband and two children. There she came across a fashion doll of an adult character called Bild Lilli. Lilli, based on a comic-strip character from the newspaper "Bild", was a confident career woman working her way to the top. This was exactly what Ruth had been looking to create for her young daughter, Barbara, after she noticed the girl assigning adult roles to her paper dolls. During that time, most dolls were portrayals of babies. Ruth shared her ideas for an adult doll with her husband, a co-founder of Mattel, and other Mattel directors. None of them were interested in the concept; that is, until she showed them Lilli. In this article, we'll revisit the past seven decades to share the history of Barbie.
1950s Barbie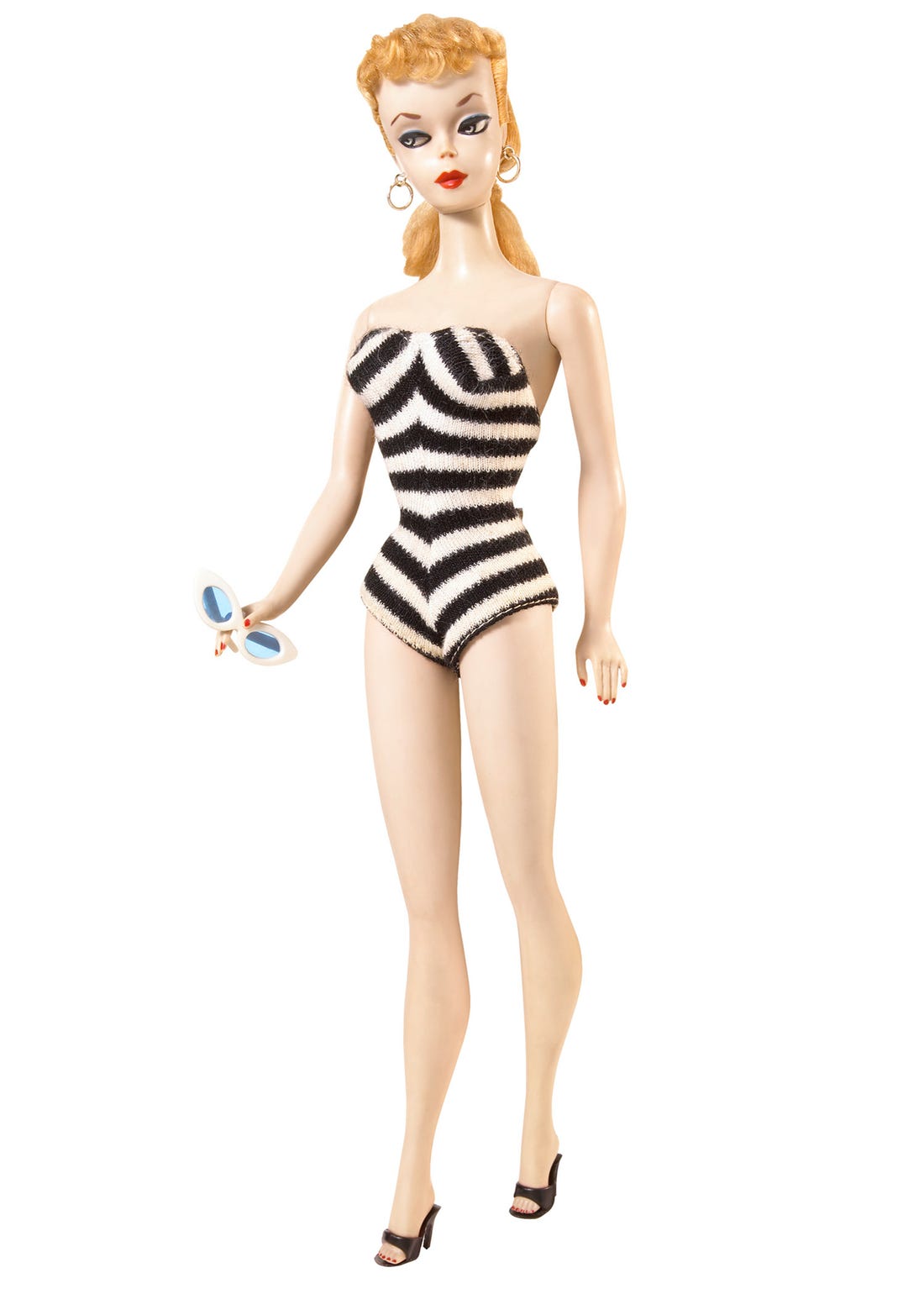 With the help of Mattel engineer Jack Ryan, Ruth redesigned the Lilli doll and named her Barbie, after her daughter. Barbie Millicent Roberts made her first public appearance on March 9, 1959 at the American International Toy Fair as a "Teen Age Fashion Model". Approximately 350,000 dolls were sold in the first year, and Barbie is still the top-selling doll of all time. The original Barbie doll donned a black and white stripe swimsuit, red lips and fingernails, and black high heels. The stylish figure was available in blonde or brunette.
1960s Barbie
The 1960s brought great change to the world, and Mattel followed suit with their doll designs. Barbie traded in the movie star glamour of the 1950s for the classic sophisticated style of First Lady Jackie Kennedy, including her bouffant hair. This look is especially evident in Barbie Red Flare from 1962. After the first female astronaut, Valentina Tereshkova, joined the Soviet space program in 1963, Mattel joined in the space exploration excitement with Barbie Miss Astronaut. Released in 1965, the doll sought to teach children that any career was possible for them. Barbie took a swing at the British Mod fashion in 1968 with Barbie Smasheroo, who sported a colorful mini-dress, fur coat and hat, and red go-go boots. Barbie's friend Christie debuted in 1969 and is the first African American Barbie doll to have unique features and use a different face mold than the white dolls.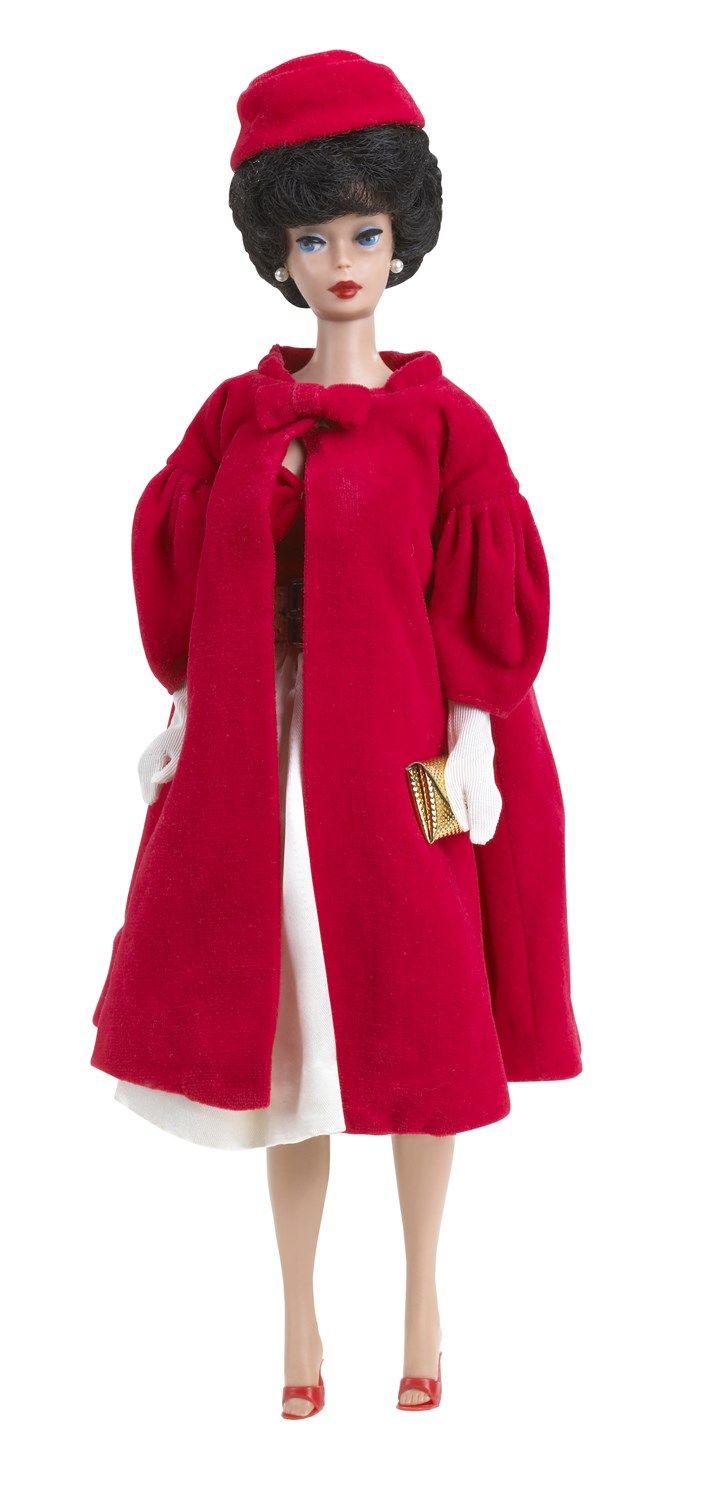 Barbie Color Magic released in 1966 allowed kids to be creative with the style of their doll. Color Magic crystals and a small paint sponge were provided, and could change the color of Barbie's hair and outfit. This doll is considered to be the most expensive vintage Barbie because of its rarity.

1970s Barbie
During the '70s, Barbie changed her look again to fit the style of the times. Her perfectly coiffed hair became long and straight with the 1971 introduction of cool casual California girl, Malibu Barbie. The feminist movement had a hand in Malibu Barbie's new face sculpt: her eyes faced forward for the first time. The same year, the funky spirit of the era was captured with Live Action Barbie. The doll came with a battery powered stage that made her appear to dance as she sang along to the included record. In 1972, the first Barbie with usable hands was released. Busy Barbie "with Holdin' Hands!" could hold her accessories, which consisted of a portable TV, record player, telephone, drink tray, and travel case. The doll also wore the popular maxi skirt, rather than the mod mini skirt of the '60s.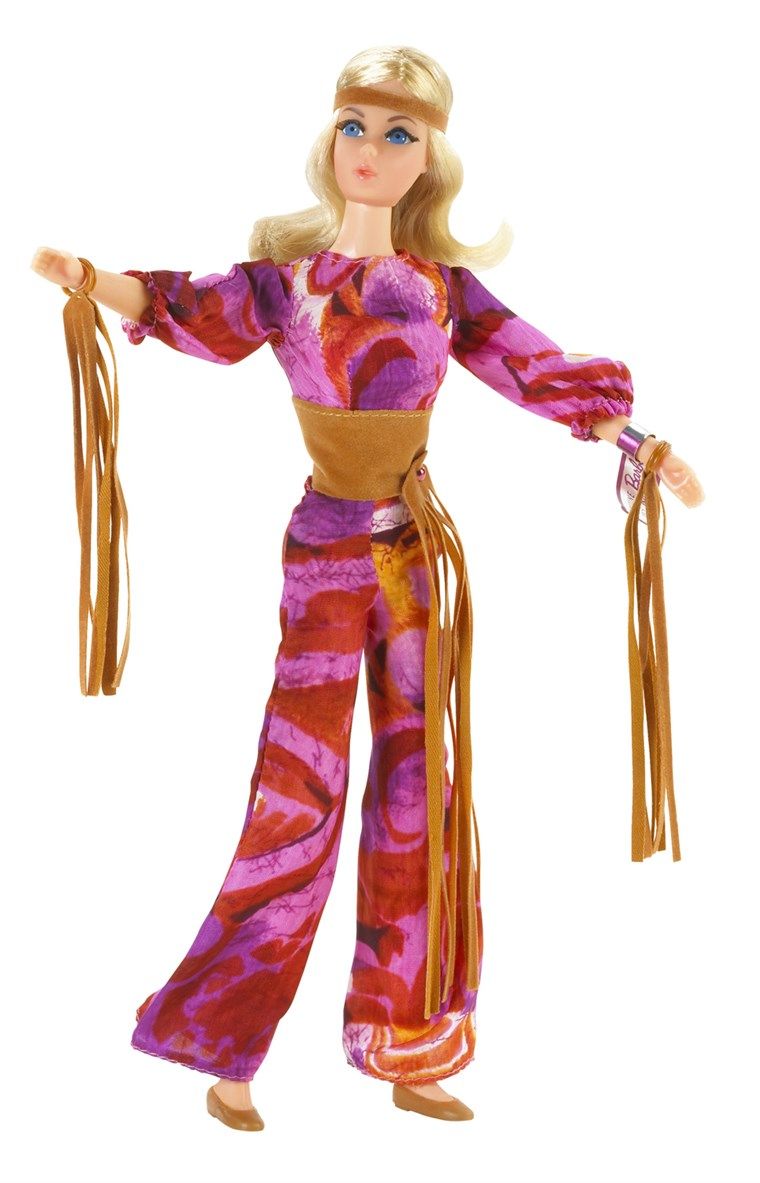 In preparation for the upcoming Winter Olympics the following year, several Olympic athlete Barbies were created in 1975, including a gymnast, figure skater, and skier with ski village.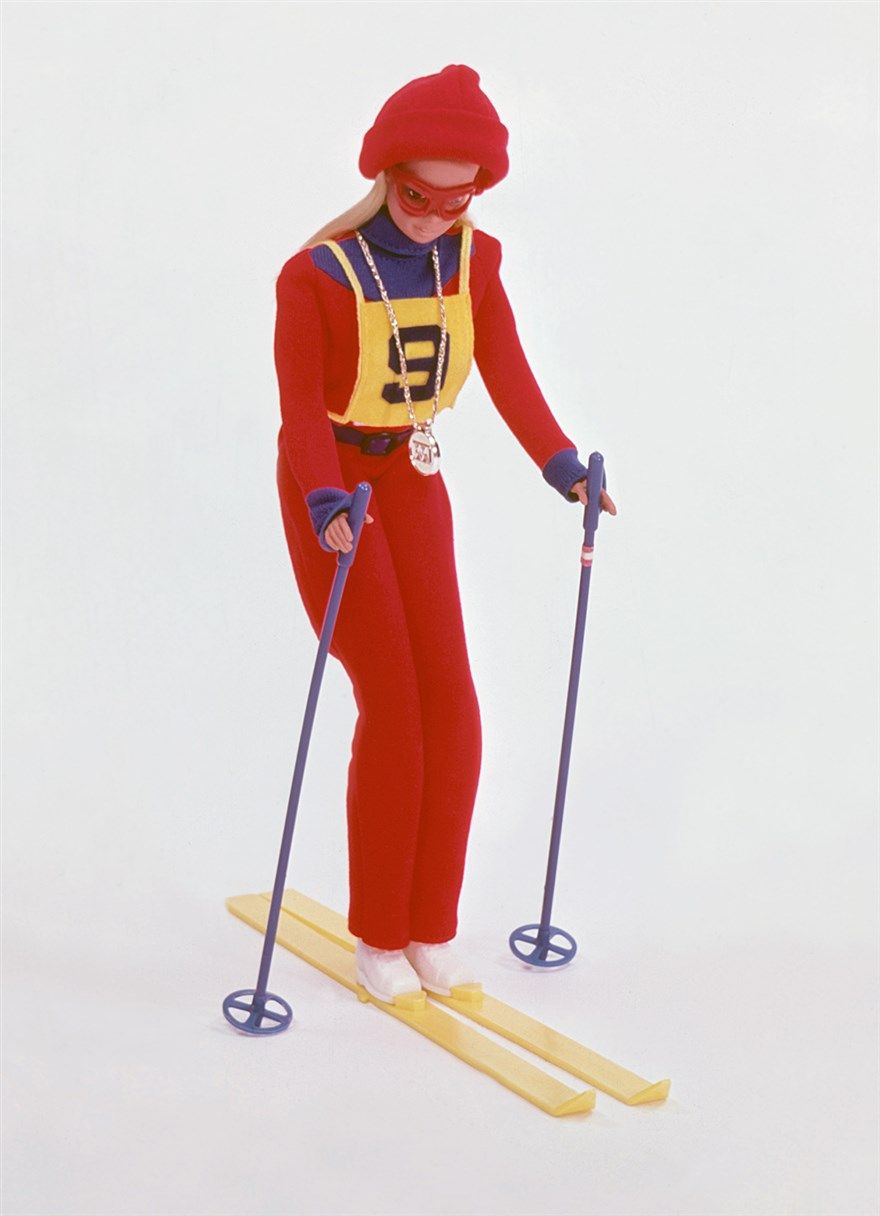 The glittery disco flair of the '70s was reflected in Superstar Barbie from 1977. The iconic doll featured bright blue eyeshadow, glossy pink lips, and fuller hair. Her chic pink dress and boa completed the super look. Superstar Christie wore a matching ensemble in yellow.
1980s Barbie
The decade began with the introduction of Mattel's first black and hispanic dolls to be named Barbie. Black Barbie wore a fierce red gown and an afro hairdo. Her box accurately stated "She's Black! She's Beautiful! She's Dynamite!" Hispanic Barbie wore a traditional red skirt with white blouse, and had long, shiny black hair. Her box declared "She's a Barbie doll just for you!", making girls with dark hair and dark eyes feel represented.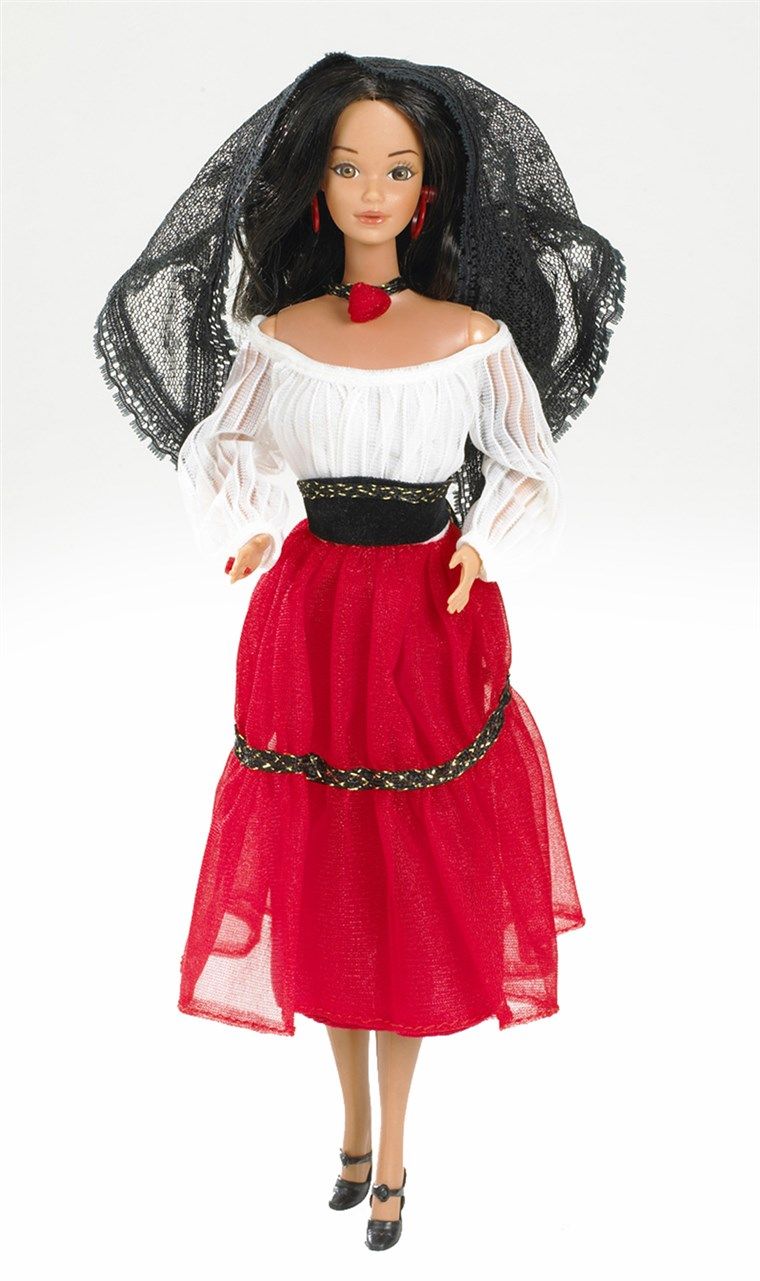 1984 brought the "We Girls Can Do Anything!" campaign with the release of Day To Night Barbie, a businesswoman who could easily change outfits and be ready for her date with Ken right after work. Though Barbie had many careers since her debut, the campaign renewed the idea that girls could do anything they set their mind to. In the '80s, Barbie became an elementary school teacher, actress, aerobics instructor, U.S. Army officer, rock star, UNICEF Ambassador, and more.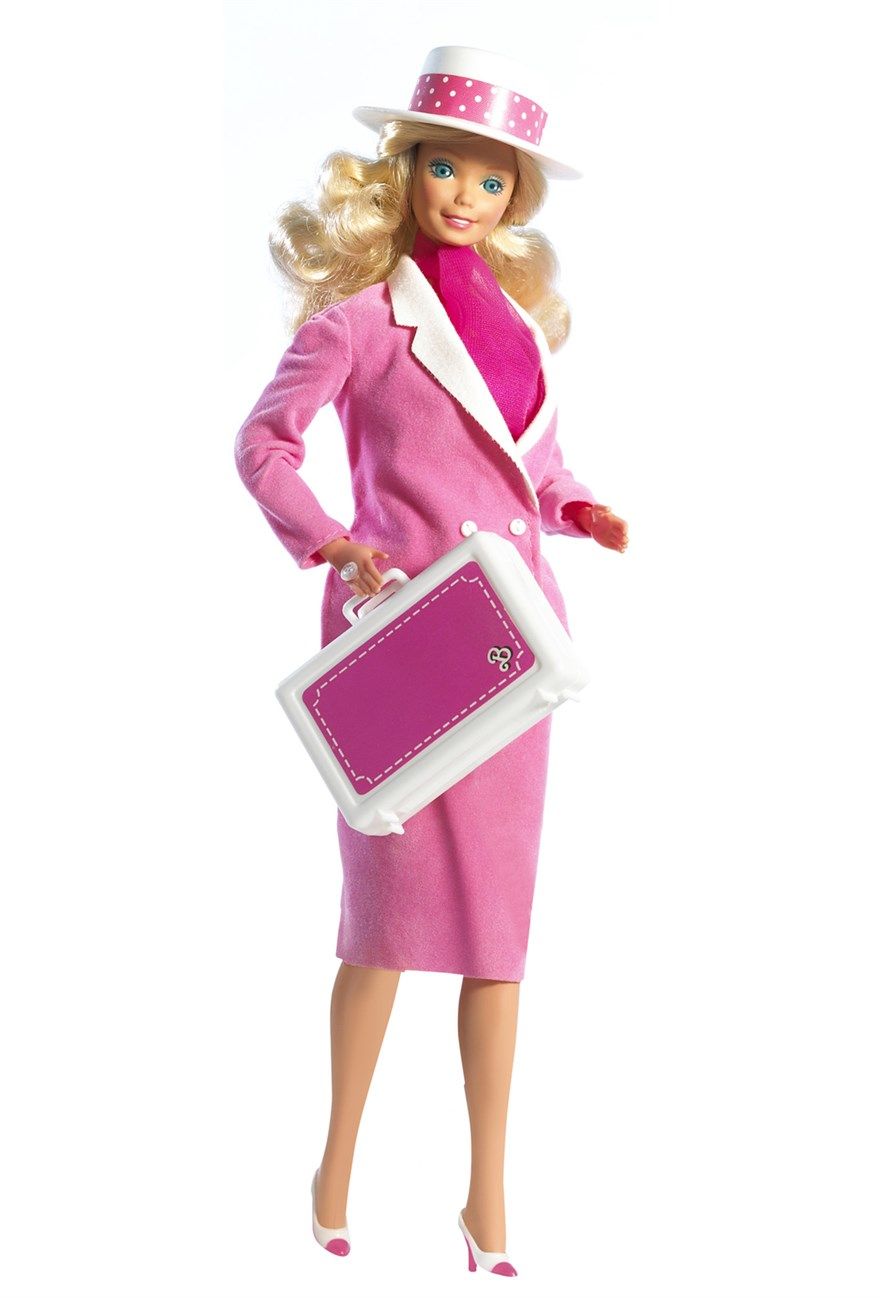 1990s Barbie
Barbie was busy in 1992, working on her rap career with Rappin' Rockin Barbie, and running her first presidential campaign with the Barbie For President dolls. The same year, Mattel released the top-selling Barbie doll ever. Totally Hair Barbie boasted 10.5 inches of crimped golden locks and rocked the flashy fashion of the early 1990s. The soft, casual style that came later in the decade was reflected in Cool Blue Barbie, with friends Extreme Green Skipper, Purple Panic Christie, and Perfect Pink Teresa. The gang wore long sleeve crop tops under corduroy overalls and included a dye to add colored streaks to their hair.  Barbie and friends underwent physical changes in 1998 with the Really Rad line. The dolls had smaller busts, bigger waists, and flat feet perfect for Doc Martens.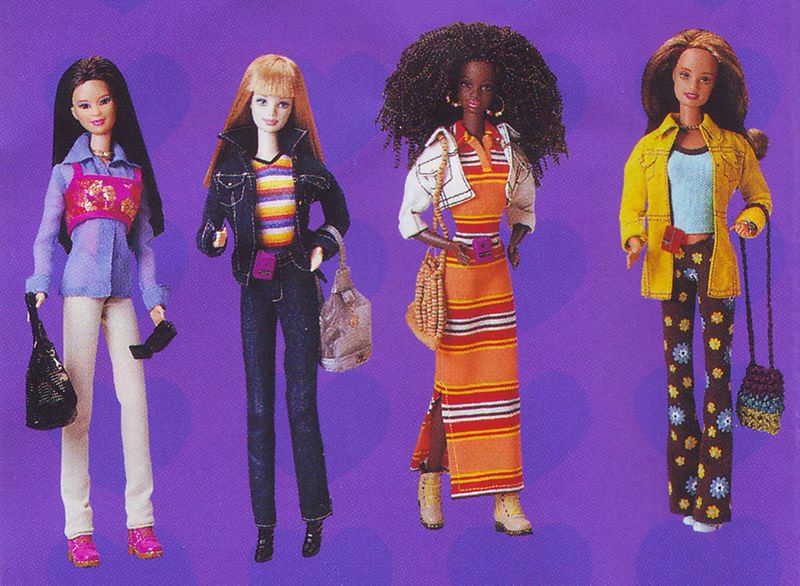 2000s Barbie
For the new millennium, Barbie got something she'd never had before: a bellybutton. Jewel Girl Barbie, Christie, and Teresa had athletic physiques, a bendable waist, and more natural makeup. In 2009, Barbie celebrated her 50th birthday with a party at her Malibu Dream House, complete with celebrity guests, and her first ever fashion show. Several commemorative dolls were released, including Barbie 50th Anniversary, and Generations Of Dreams whose gown was made up of images of Barbie through the years.
2010s Barbie
In 2010, Mattel created a line of non-articulated dolls for adult collectors called Barbie Basics. The first wave included 12 dolls of different ethnicities, hair styles, and head sculpts.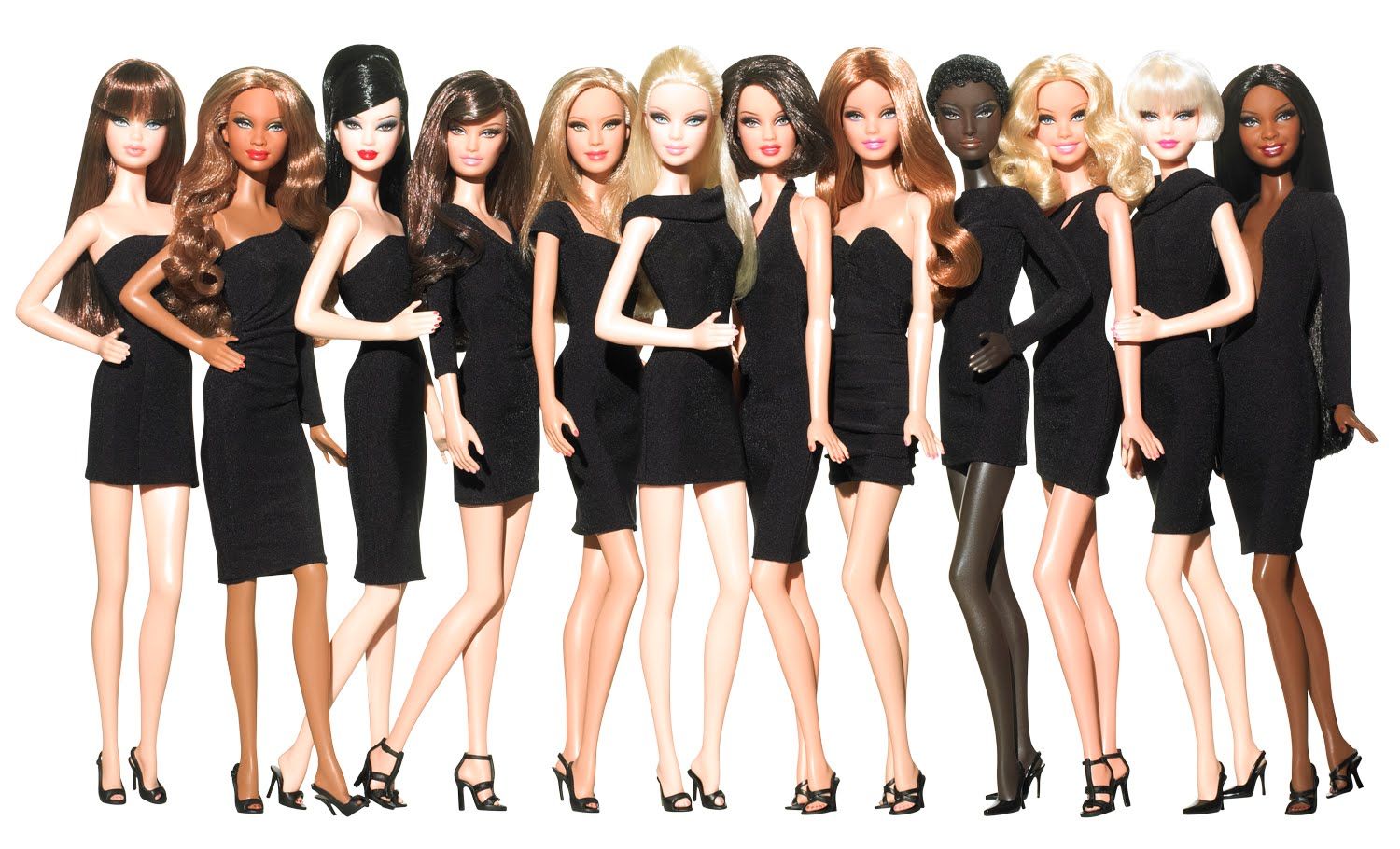 The era brought many careers to Barbie's life, including computer engineer, news anchor, architect, and yet another presidential candidacy. Once again, Barbie instilled in girls that they could do whatever they dreamed of with the hashtag campaign #unapologetic.
In 2016, Mattel released three groundbreaking new doll types: curvy, tall, and petite. Part of the Barbie Fashionistas line, the dolls come in all shapes, sizes, and colors like real people do, and sport the latest fashions and hairstyles.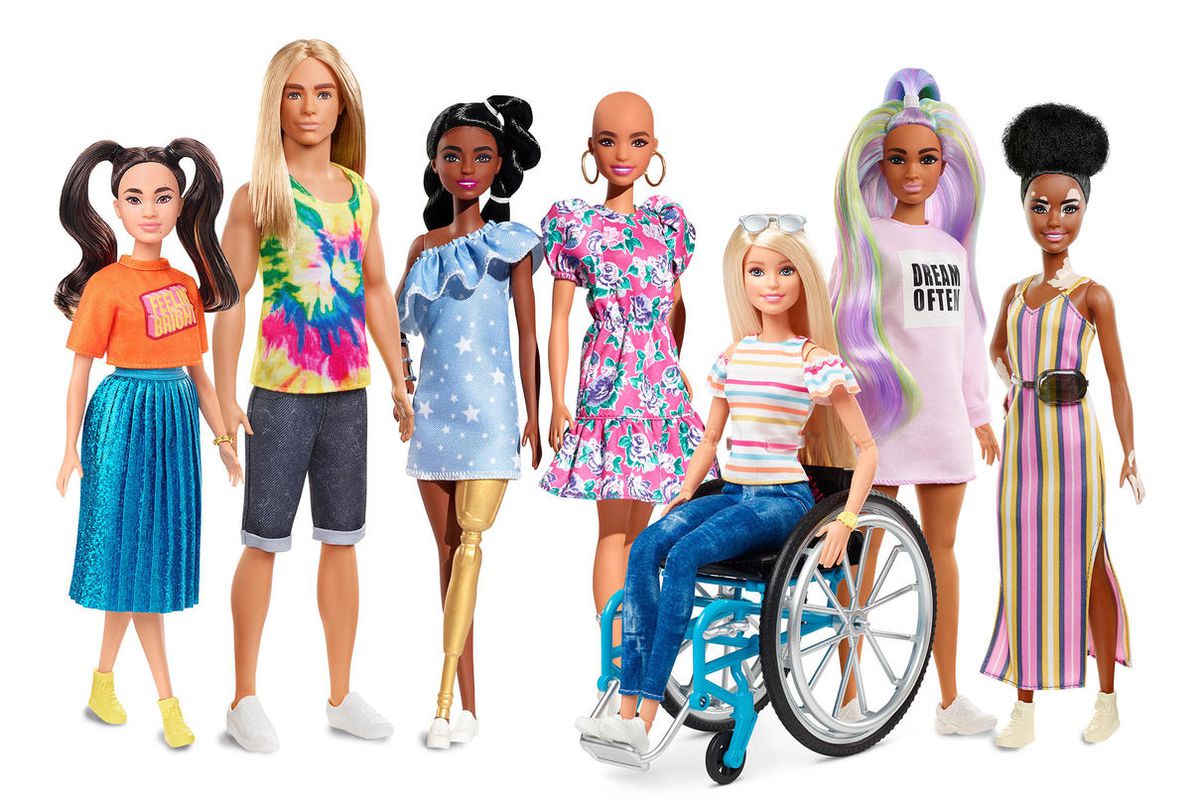 The most famous doll in the world has come a long way from her original design, and I hope to see Barbie continue to evolve!