As a female comic book reader and critic, female representation has always been important to me. This year I even made a documentary about female representation in comic books called, Women Out of Refrigerators: The Modern Female Superhero.
In this article, I want to highlight some of the most iconic and fan favorite female superheroes in comic books today. So let's jump right into the sequential mix!
Supergirl (Kara Zor-El)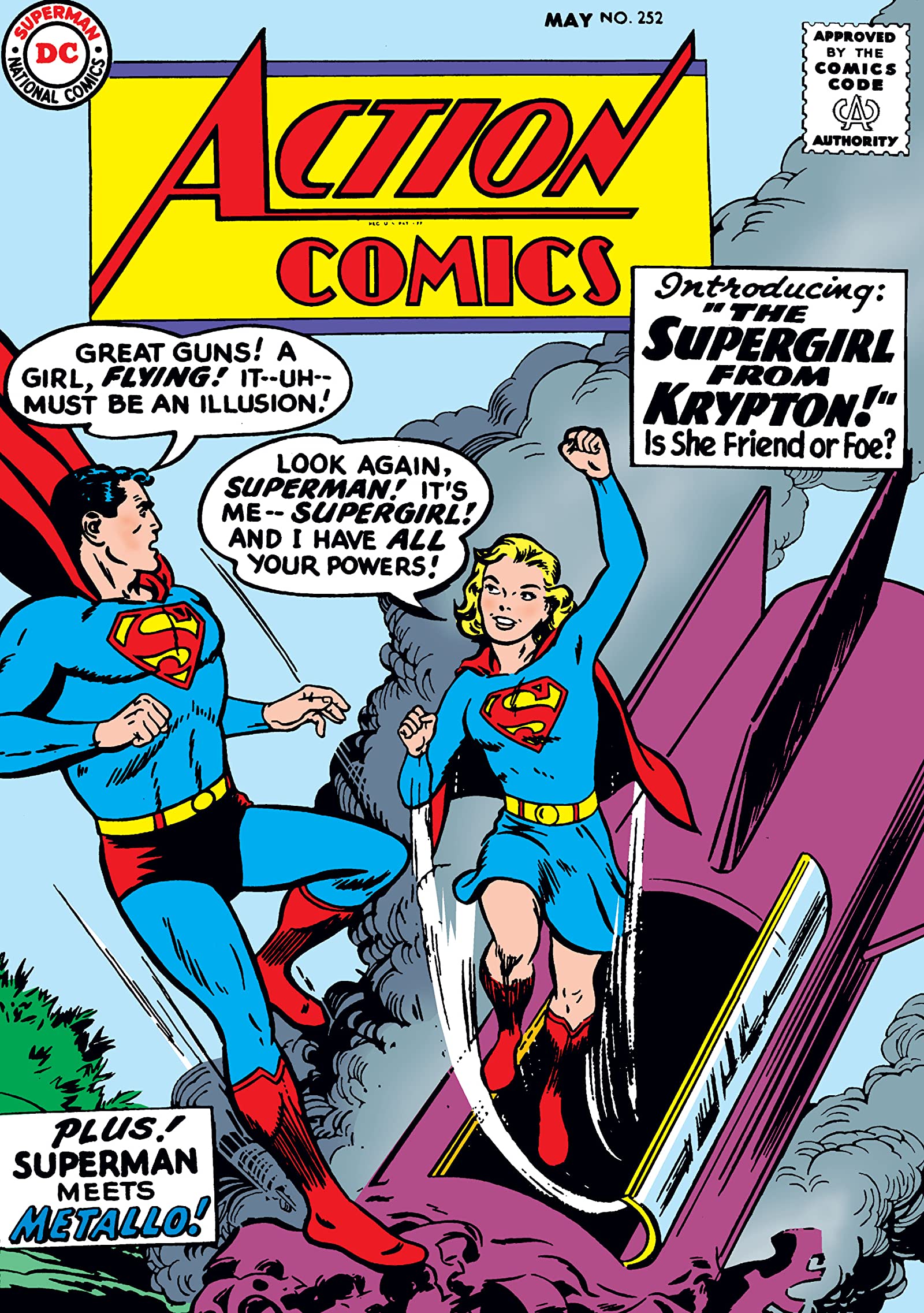 Supergirl's first appearance was in Action Comics #252 published in 1959. Kara-El was first introduced as Superman's cousin. She was supposed to be Kal-El's protector, but her ship went off course, delaying her landing on earth. When Kara's ship eventually lands in the right place she finds Kal-El as a grown man. Now Supergirl has to find her own purpose.
Reaction at the DC offices to Supergirl's first appearance was tremendous. Shortly after issue #252, thousands of positive letters began to arrive. That didn't sway the approach taken toward the character as Clark sent Kara to an orphanage to help her figure out her own earth identity. Superman felt she wasn't ready yet to be Supergirl and it took years before he allowed her to take up the Supergirl mantle. Some critics see this storyline as a negative and positive for female representation in comic books. It was a negative because it took so long for Kara to become a superhero, but also a positive because the Supergirl title was able to do more because Kara wasn't in the spotlight.
In the event Crisis on Infinite Earths (1985) Supergirl died a heroic death. This was around the time of the failed Supergirl film released in 1984. A modern version of Kara Zor-El made her return in 2004 with the Superman/Batman story arc called "The Supergirl From Krypton". This version of Supergirl was edgier, allowing Kara to fit into the times.
The character was rebooted again with the launch of the New 52 in 2011. Supergirl became an angrier character and even turned into a Red Lantern for a few issues. A new Supergirl series will be launching this August with DC Rebirth. It looks like it will be taking some nods from the CBS/The CW's Supergirl TV show.
Looking for the first appearance of Supergirl in Action Comics #252? There's a good chance you'll find one on eBay.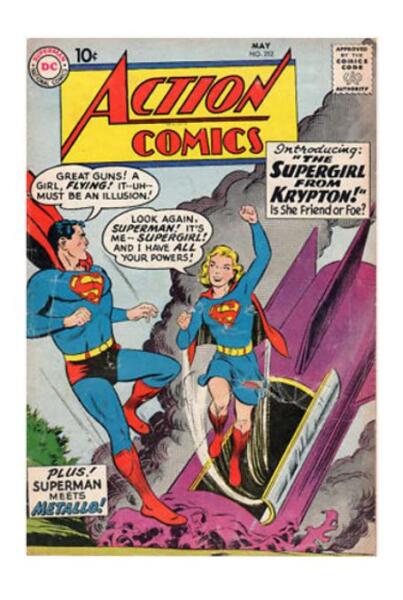 Spider-Girl / Spider-Woman (Mayday Parker)
Spider-Girl is my personal favorite superhero, but also a very important female hero when it comes to making comic book history at Marvel. May's series Spider-Girl lasted 100 issues and is still Marvel's longest running title with a female lead.
Mayday Parker was first introduced in What If? #105. This story was only supposed to be a one-shot issue, but fans enjoyed her character so much that she received her own spin-off series. May had continuous adventures for 12+ years, and still makes regular appearances in series like Web Warriors.
Spider-Girl is part of an alternate universe called the MC2. She is the daughter of Mary Jane Parker and Peter Parker. She shares many of the same traits as her parents but is still very much her own character. May has a passion for what she does, and always believes in second chances.
Wonder Woman (Diana)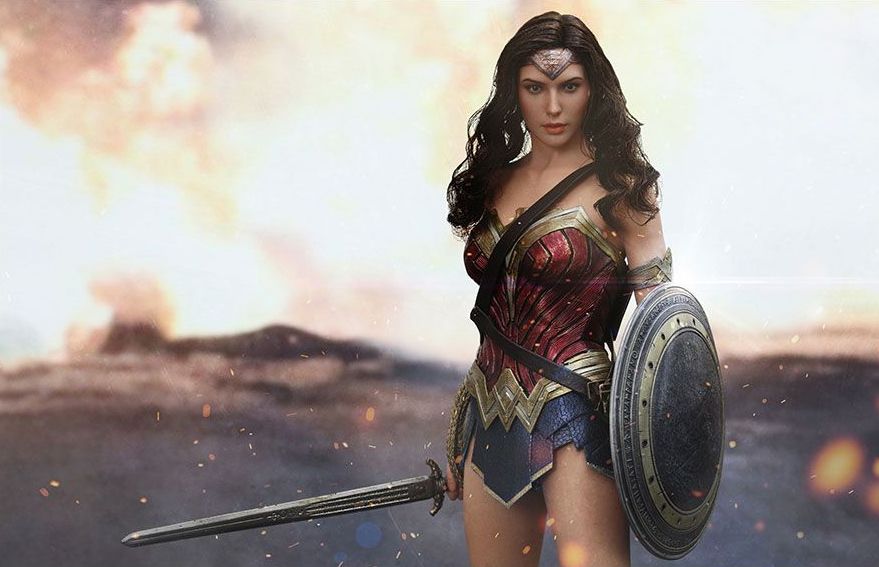 What's a female superhero list without Wonder Woman? She is debatably one of comic books most popular female superheroes. Wonder Woman is an Amazon and was granted her powers by the Greek gods. Much favored by Aphrodite, who created the Amazons, she is a shining example of what it means to be a hero. It has also been said that much of her strength comes from her training and ultimately channeling her mental acuity into physical abilities. Wonder Woman's first appearance was in All-Star Comics #8 in 1941, and has been a symbol of woman power ever since.
Wonder Woman has had many iterations over the decades. She's been a God of War, Queen of the Amazons, and even a secret agent. Currently, in DC Rebirth, Diana is tracing back her own origin story as she feels there's been something missing within herself. You can also soon find Wonder Woman, portrayed by Gal Gadot, on the big screen in her own film. This will be released in Summer 2017.
Shadowcat (Kitty Pryde)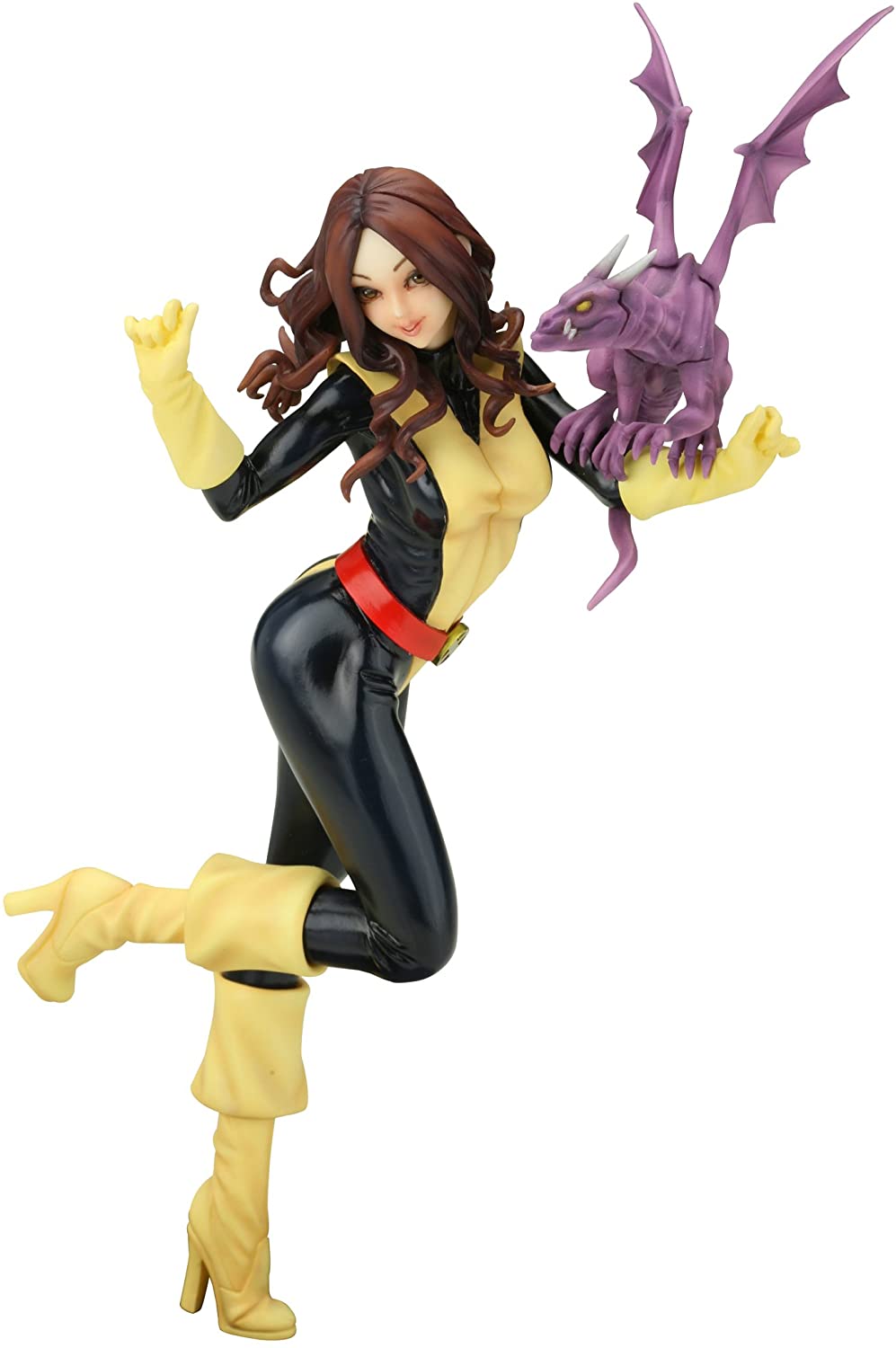 Kitty Pryde was introduced as the youngest mutant to ever join the X-Men. She first appeared in Uncanny X-Men #129. Kitty was 13 when she started getting headaches after her dance classes. She soon realized that these headaches were a side effect of becoming a mutant. She gained the power to phase through walls and disrupt technology as she passes through it.
Just like any teenager, Kitty used her teen years with the X-Men to figure out her own self-identity. She went through a few code names before finding one that would stick, Shadowcat. Kitty figured out her official codename in the impactful miniseries, Kitty Pryde, and Wolverine. Kitty's dad finds trouble in Japan, so she decides to go there to try and save her father. Instead, she comes face-to-face with the devil himself, Ogun. Kitty is taken over by this evil monster, and Ogun forces Kitty to cut all her hair. Wolverine trains Kitty to overcome Ogun, and with this arc we truly see Kitty develop into her own character.
Kitty is one of the rare comic book characters where readers were able to grow up with her. They first see her as a teen and now the join her as a young adult. You can currently find Kitty taking time away from the X-Men with her fiancé/boyfriend (it's complicated) in the Guardians of the Galaxy comic book series.
Batgirl/Oracle (Barbara Gordon)
Barbara Gordon had always wanted to follow in her father's footsteps becoming a cop. Commissioner Gordon didn't want this for his daughter, but Barbara fighting crime was inevitable. During the policeman's masquerade ball she dresses up as "Batgirl" saving the party from Killer Moth. Barbara thought this would be a one-time thing, but later on, she joins the Bat Family officially as Batgirl.
You can find a modern version of this story told in Batgirl Year One. Her origin story has also been told a few times on television, including in The Batman and Batman: The Animated Series.
Barbara's life took a turning point in 1988's Batman: The Killing Joke when the Joker shot Barbara and was paralyzed from the waist down. This was considered a "women in refrigerators" moment because the Joker shot Barbara for the sake of a story focused on Batman and Commissioner Gordon rather than progressing Barbara's own story.
Later on, other writers would make this moment part of Barbara's story by allowing her to become a new type of hero, Oracle. She became the computer wiz for the DC Universe and created her own team; the Birds of Prey.
In the New 52, Barbara Gordon returned to the mantle Batgirl. Gail Simone's run gave a lot of psychological weight to the events from The Killing Joke, especially when Barbara returned to the cowl. Later, also in the New 52 run, we saw a narrative shift to a brighter Batgirl with her Burnside story arc taking center stage.
Ms. Marvel (Kamala Khan)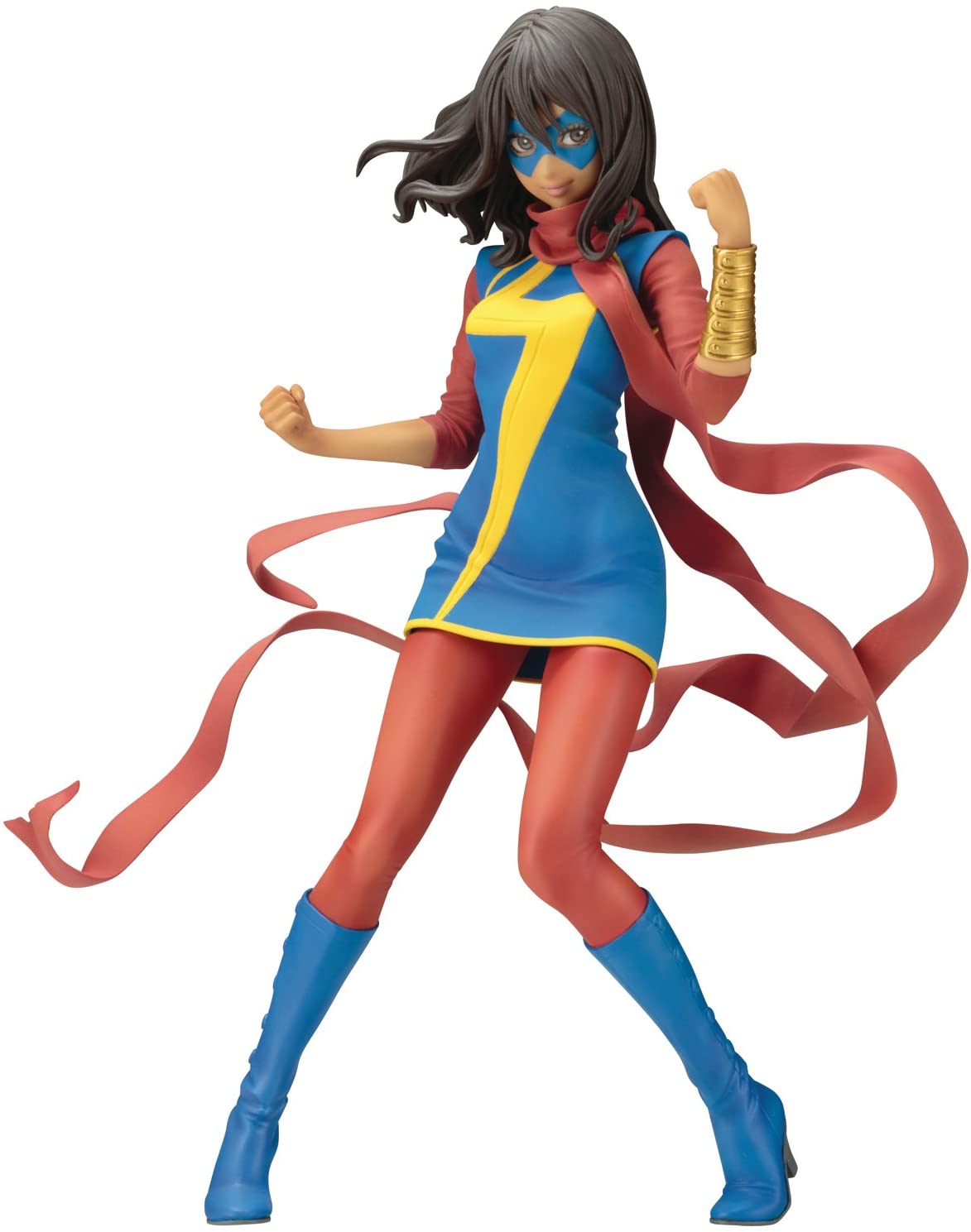 Kamala Khan became Ms. Marvel in Captain Marvel #17 (even though she was introduced to the Marvel universe in issue #14), and officially launched into her own series in 2014. She has quickly become a fan favorite that some people call the Peter Parker of the new generation because of her relatability as a hero.
A fan favorite whose star keeps burning brighter, you can currently find Ms. Marvel in her own series and very soon as a member of The Champions team book.
Love the Ms. Marvel action figure pictured above? It was made by Kotobukiya and available on eBay at the link below.

Spoiler/Robin/Batgirl… And Spoiler Again? (Stephanie Brown)
Stephanie Brown is the daughter of the C-List villain, Cluemaster. She didn't want to follow in her father's footsteps so she became the hero known as Spoiler. During her run as Spoiler, she became close to Tim Drake, taking on the role of a supporting character in his Robin series.
There was a time where Tim quit being Robin, and Batman allowed Stephanie to take on his mantle. This didn't last very long as Batman didn't feel Stephanie was ready. This ultimately this led to Stephanie's downward spiral and death.
This was another "women in refrigerators" moment in the Bat Family as Stephanie only died to allow Tim to retake his Robin mantle again within the series
Fans were upset! So upset that DC Comics allowed Stephanie to return, and very shortly after that she took on the mantle of Batgirl. But sadly Stephanie's run as Batgirl didn't last long. When the New 52 launched, Stephanie was nowhere to be found. Fans were very vocal about her going missing once again. In time she returned to the DC universe in Batman Eternal. You can currently find her in DC Rebirth's Detective Comics.
Spider-Gwen (Gwen Stacy)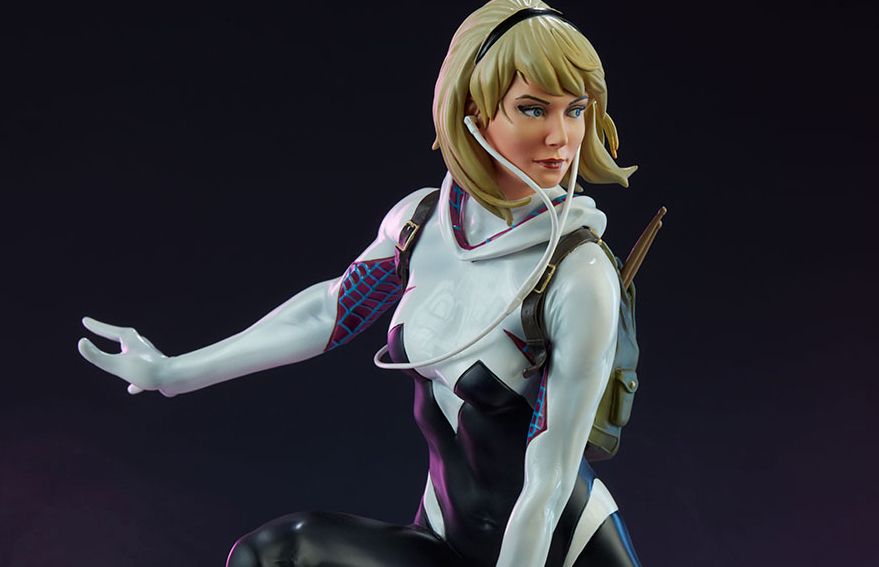 Rounding out our list, we close with Spider-Gwen. She has quickly become a fan favorite after her appearances in the Spider-Verse storylines. Readers loved her so much that Marvel gave Gwen her own series called, appropriately enough, Spider-Gwen.
Gwen has similar values to the Peter Parker Spider-Man, but she is very much her own character. The Spider-Gwen series follows Gwen as she tries to navigate her life as a young adult in New York City and also as a wanted superhero. Life on the run was never more exciting!
Pictured above is the Marvel Spider-Gwen Statue by Sideshow Collectibles, which is available on their website at the link below.