Where will you be on Gentle Giant Day? It's a question you may not have asked yourself but the event is coming, the company is impressive, and we have answers (and details). We're going to get you up to speed on the event first, then fill you in on the company (what a story) after the graphic below. That said, no matter your level of name recognition for Gentle Giant, if you take a look at the kinds of things they are producing and realize how they are doing it, you will find yourself involuntarily leaning forward, paying attention, and becoming surprisingly curious to see what they unveil next. It happened to me.
Set for November 14th, 2015 at Blast From The Past in Burbank, CA, Gentle Giant Day will serve as an end of the year round up showcasing the company's releases from the past year with a focus on their final quarter. We know that there will be production samples on display, but there are rumors of a reveal or two featuring unannounced products which have fans excited. In addition there will be door prizes, mystery black bag giveaways, trivia contests, and more during this six hour showcase which is free to the public.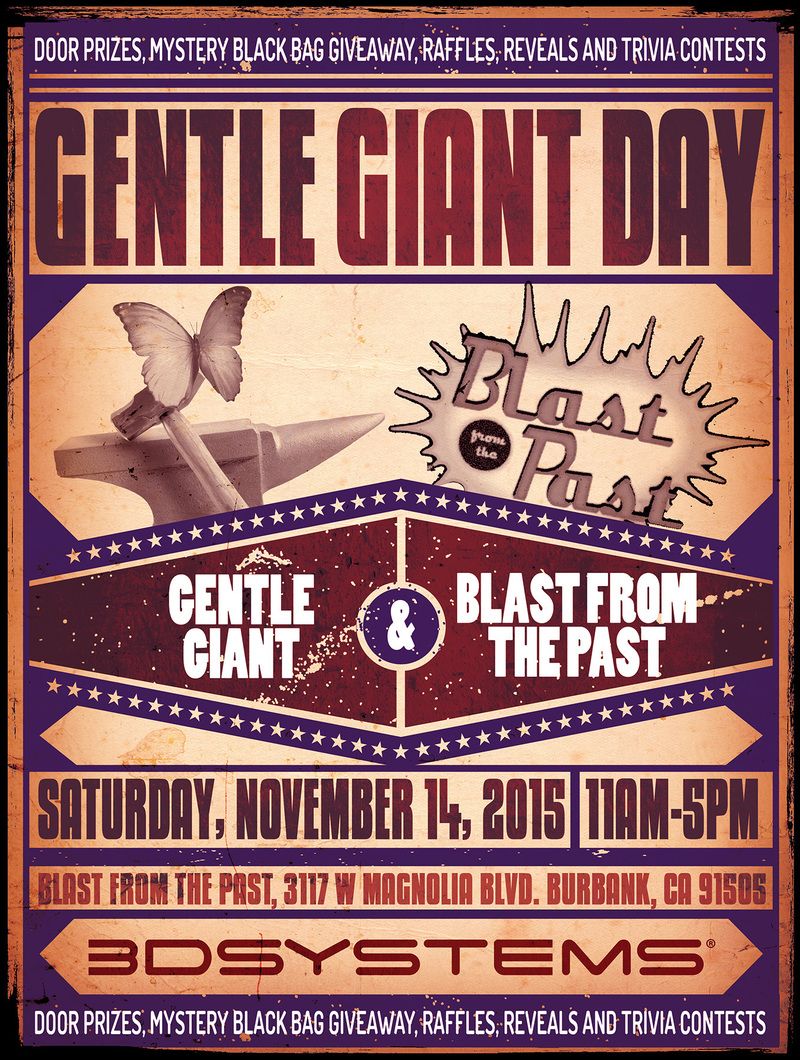 Now that we've shared the latest on their event and that's out of the way, let's get you up to speed on why this company is so interesting.
It all started when Karl Meyer began Gentle Giant Studios with sculpted toy designs in 1994. Gentle Giant was Karl's nickname and back then he would sculpt the designs locally then ship them overseas for manufacturing. Clay and wax resin was the starter mix for these works of art that mostly focused on things like cake and pencil toppers. Humble beginnings for a company that would grow to be astounding.
Disney came knocking on Meyer's door early for sculpting work but it was his decision around 1998 to invest in high-end imaging and scanning equipment that really marked his company as ahead of its time. Little did he know the direction scanning technology and 3D printing would take in the years to come, but his bet was sound. Here, he began putting it to use creating likenesses that hadn't really been seen before, and this put Gentle Giant on the map for its incredibly detailed sculpts.
Those early works were done on 3D Systems ThermoJet Solid Object Printers, which were as large as a refrigerator. After the initial scans, they would add layer upon layer of wax as they printed a build to form the basis for the sculpt. Next, they would take these designs and bath them in blue silicone allowing everything to set. When hardened they would heat and melt the wax leaving a cavity in the silicone that was then filled with urethane resin. Thus, an action figure with incredible likeness of the original individual was born.
This full push forward into a technological backbone for sculpting made the company stand out and landed them early licenses with Harry Potter, The Lord of the Rings, Spider-Man, and Star Wars. Meyer's company and its growing staff of sculptors were taking character likeness to new levels of precision and word spread. They had upped the ante and heads turned taking on even more franchise properties like Marvel, The Walking Dead, and Avatar to name just a few. They were even present on the set of Star Wars Episode II where they digitally scanned many of the props for posterity.
Growth continued leading up to the company's eventual acquisition in 2014. 3D Systems (who were tied into that early scanning technology) acquired Gentle Giant Studios at the start of that year. It was a partnership that had matured and made sense. 3DS stuck me as the builders and Gentle Giant were the dreamers taking those tools forward. The modern Gentle Giant Studio (a part of 3DS) now specializes in scanning, digital modeling, and sculpting, becoming the leading provider of 3D modeling for the entertainment and toy industry.
Seeing the solid product lines they crank out year after year, it's easy to forget the broader role they play within the industry. This company is so much more than the products they produce, but they've never lost the cutting edge that set them apart almost from day one. Today the mix of digital modeling, traditional sculpting, and digital imaging makes this toy manufacturer feel, to the casual observer, like it's part artistry and part technological wizardry, yet it all comes together to craft the amazing character likenesses we've come to expect from Gentle Giant.